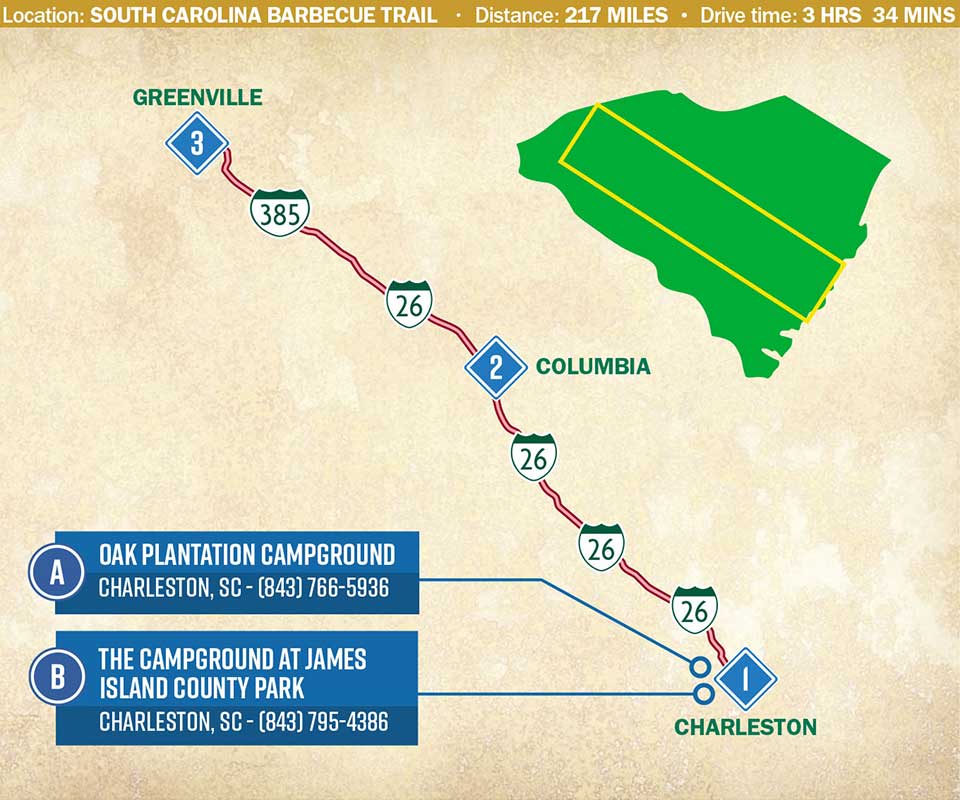 From the Lowcountry's best barbecue to Upstate's outdoors treasures, this road trip serves up the greatest hits of the Palmetto State. Start your journey exploring the historic heart of South Carolina in Charleston, before motoring inland to experience some of the state's best-kept cultural secrets. Unique flavors, welcoming locals and an unforgettable landscape await on a trip that redefines the meaning of Southern hospitality.
1) Charleston
Starting Point
Known for its stately mansions, hidden gardens and picture-perfect parks, Charleston has been a top destination for decades, but a new generation of chefs and retailers have energized the city's cultural offerings. The downtown "Museum Mile" is another must-see, boasting six museums along a short, picturesque stretch of Meeting Street. For an outdoors excursion, try a kayaking trip on the Ashley River, one of the area's most important waterways and the scenic home of abandoned rice fields, historic homes and abundant wildlife. Once you've worked up an appetite, head to Melvin's Legendary Barbecue, the state's oldest family-owned BBQ and originator of the region's famous tangy mustard-based sauce.
Recommended Stopovers

Oak Plantation Campground • Charleston, SC – (843) 766-5936
The Campground At James Island County Park • Charleston, SC – (843) 795-4386
2) Columbia
Drive 113 miles • 1 hour, 56 minutes
Northwest on Interstate 26, the capital city of Columbia is a college town with a buzzing music and arts scene, as well as plenty of nature just a stone's throw from the city center. Join the locals heading north to the Riverbanks Zoo parking lot (or the Palmetto Outdoor Center if parking is unavailable) to put in a kayak or inner tube and float the scenic Saluda River south towards downtown. After the confluence with the Congaree River, you can easily hop out at the Gervais St. Bridge and be back in town in no time. About 30 minutes away, Congaree National Park is home to otherworldly adventures including synchronized fireflies, towering trees and unique swampland that's begging to be explored. Once again, barbecue is on the menu at Southern Belly BBQ, an award-winning restaurant that focuses on whole-hog roasting and a variety of unique sauces. Don't forget to wash down that meal with an ice-cold, locally brewed beer. Burn off those calories with a walking tour of the historic district.
3) Greenville
Drive 104 miles • 1 hour, 38 minutes
Continue Upcountry to the foothills of the Blue Ridge Mountains, where Greenville, once a stopover halfway between Charlotte and Atlanta, has become a destination in its own right. If you haven't had your fill yet, follow the Greenville Barbecue Trail to discover some of the state's best-kept culinary secrets. Featuring at least three out-of-the-way spots (plus a bevy of downtown locations), it's the easiest way for visitors to eat like a local. From there, the outdoors await. Falls Park on the Reedy River is a must-see, and there are few things better than walking off a slow-roasted sandwich with a stroll through the 32-acre downtown green space. Liberty Bridge offers the best views of the city's famed waterfall.