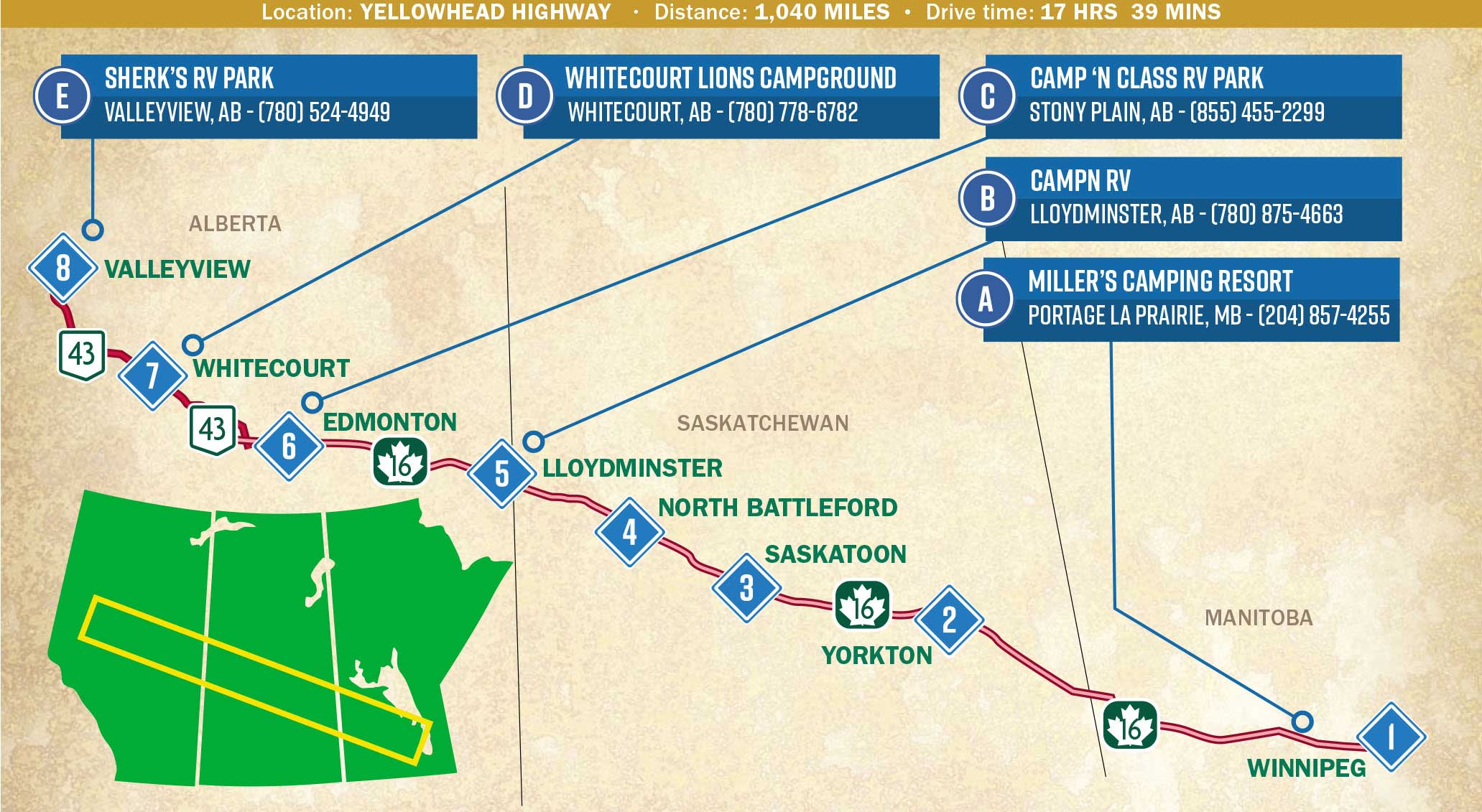 Explorers and adventurers in western Canada have been following the route of the Yellowhead Highway since 1820, when a fur trader with yellow streaks in his hair first blazed the way. These days, there are more road trippers than rugged frontiersmen, but the Canadian prairie stills serve up some of the most majestic vistas in the country. See for yourself on this epic, 1,000-mile road trip from Manitoba to Alberta as you hike, bike and fish your way between Provincial Parks, raging rivers and historic sites that offer a one-of-a-kind glimpse of the Great White North.
1) Winnipeg
Starting Point
Start your journey in Manitoba's provincial capital, a big city blend of world-class museums and urban playgrounds. After touring the historic sights and statues at The Forks, the city's cultural hub, head to Assiniboine Park to discover Winnipeg's quieter side. Home to a zoo, pond, English garden, beachfront and more, the park is a family-friendly destination for all-seasons fun. Adventurous types can head off-road on the excellent mountain biking trails, or you can simply tour the paved pathways that wind past floral gardens and picnic areas. Be sure to save time for a visit to the unique and important Canadian Museum of Human Rights. The first museum of its kind, there's simply nowhere better to learn about the role that human rights and justice play in both Canada and communities around the world.
Recommended Stopovers
Miller's Camping Resort • Portage La Prairie, MB – (204) 857-4255
2) Yorkton
Drive 283 miles • 4 hours, 57 minutes
Across the border, the small but growing city of Yorkton is a cultural oasis among the rolling plains of southeast Saskatchewan. Home to the Western Development Museum, a renowned public art gallery, film festival and more, there's plenty to enjoy downtown, but nature lovers shouldn't be too jealous. Nearby Good Spirit Lake is an angler's paradise boasting trophy-sized walleye and pike. Though you can hook keepers from the shore, head to the lake's deep water for the best chance to land the big one. About an hour's drive to the northeast, Duck Mountain Provincial Park is another popular sportsmen's destination, featuring fishing, hiking, trail riding and golf.
3) Saskatoon
Drive 204 miles • 3 hours, 19 minutes
Casting aside its legacy as a one-time temperance colony, the bustling, fun-loving city known as "the Paris of the Prairies" has fully embraced its role as the cultural capital of Saskatchewan. From nightly live music to top-notch museums like the Diefenbaker Canada Center and Wanuskewin Heritage Park, downtown Sask is the epicenter for arts and entertainment throughout much of the prairie. To earn your place as an honorary resident, start your visit by getting "Saskatoon'ed" at a local watering hole. The tradition includes chest-pounding, liqueur shots dropped in beer and a whole lot of toasting. Once you've earned your stripes, do as the locals do and head to the banks of the South Saskatchewan River for canoeing, kayaking, fishing and riverside hikes in the Meewasin Valley.
4) North Battleford
Drive 85 miles • 1 hour, 31 minutes
Less than two hours to the west, the city of North Battleford is nestled on the shores of the North Saskatchewan River, across from its sister city of the same name. Though it boasts local attractions like the wildlife-filled Finlayson Island and Fort Battleford National Historic Park, the real draw is nearby Battlefords Provincial Park about thirty minutes north of town. Home to a top-rated golf course, nearly 10 miles of hiking trails and a beautiful stretch of sandy beach, the park is the perfect year-round family destination. Sailing and fishing are also popular pastimes. After a day enjoying the outdoors, head to the Golden Eagle Casino for a night of fun at the area's top gaming and entertainment venue, including hundreds of slot machines and a jam-packed event calendar that includes musicians, comedians and world-class revues.
5) Lloydminster
Drive 95 miles • 1 hour, 37 minutes
The only Canadian city that straddles the border between two provinces, Lloydminster offers not only a unique geographic claim to fame, but the chance to enjoy a picturesque landscape and eye-catching downtown. Take a quick drive north to Sandy Beach Regional Park where you can swim, boat or paddle your cares away surrounded by white-sand beaches and serene skylines. Kids especially will love the recreation area, water slides and floating diving board. Back in town, join local residents in celebrating the community's artisanal, agricultural and pioneer past throughout the summer months with a series of annual festivals like Streetfest, Colonial Days and the CPCA Chuckwagon Finals.
Recommended Stopovers
CampN RV • Lloydminster, AB – (780) 875-4663
6) Edmonton
Drive 156 miles • 2 hours, 39 minutes
Continue west to the provincial capital of Edmonton, the beating heart of Alberta's business and arts community. One the fastest growing cities in Canada, it's home to a funky and fun university district, as well as the Art Gallery of Alberta and famed Muttart Conservatory. The summertime Folk and Fringe festivals are also big draws that pull in hundreds of thousands of visitors each year. To explore the city's other hidden gems, join one of the popular citywide bike tours or rent a ride and go at your own pace. Either way, chances are you'll eventually end up at the West Edmonton Mall. The largest shopping mall in North America, it's a shopper's Shangri-La, featuring 800 stores, themed streets, a water park, restaurants, and much, much more.
Recommended Stopovers
Camp 'N Class RV Park • Stony Plain, AB – (855) 455-2299
7) Whitecourt
Drive 111 miles • 1 hour, 54 minutes
Two hours to the northwest, this outdoors lover's retreat lies at the confluence of four major waterways — the Athabasca River, McLeod River, Sakwatamau River and Beaver Creek. It's no surprise that the fishing here is world-class. At Blue Ridge Recreation Area, anglers will have a field day fishing the south lake for stocked trout, while the adjacent Athabasca River is home to stunning rainbow trout, grayling and pike. Nearby lakes like McLeod, Emerald and Goose round out the best of the bunch. If you're looking for a break from the water, try the one-of-a-kind trails at Hard Luck Canyon, about 20 minutes south of town.
Recommended Stopovers
Whitecourt Lions Campground • Whitecourt, AB – (780) 778-6782
8) Valleyview
Drive 106 miles • 1 hour, 41 minutes
Nestled at the southern edge of the famously serene region known as Peace River Country, this small town is the perfect jumping-off point for exploring all points north and west. Start with a visit to nearby Sturgeon Lake, which despite being poorly named — there's no sturgeon to be found — is home to a bounty of northern pike, walleye and yellow perch. Even better, the lake's northern shore abuts Young's Point Provincial Park, a picturesque combination of beachfront and boreal forest. Explore over 12 miles of trails with amazing wildlife viewing and great mountain biking opportunities, as well as an observation deck overlooking a beaver pond that draws birdwatchers from across the region.
Recommended Stopovers
Sherk's RV Park • Valleyview, AB – (780 ) 524-4949