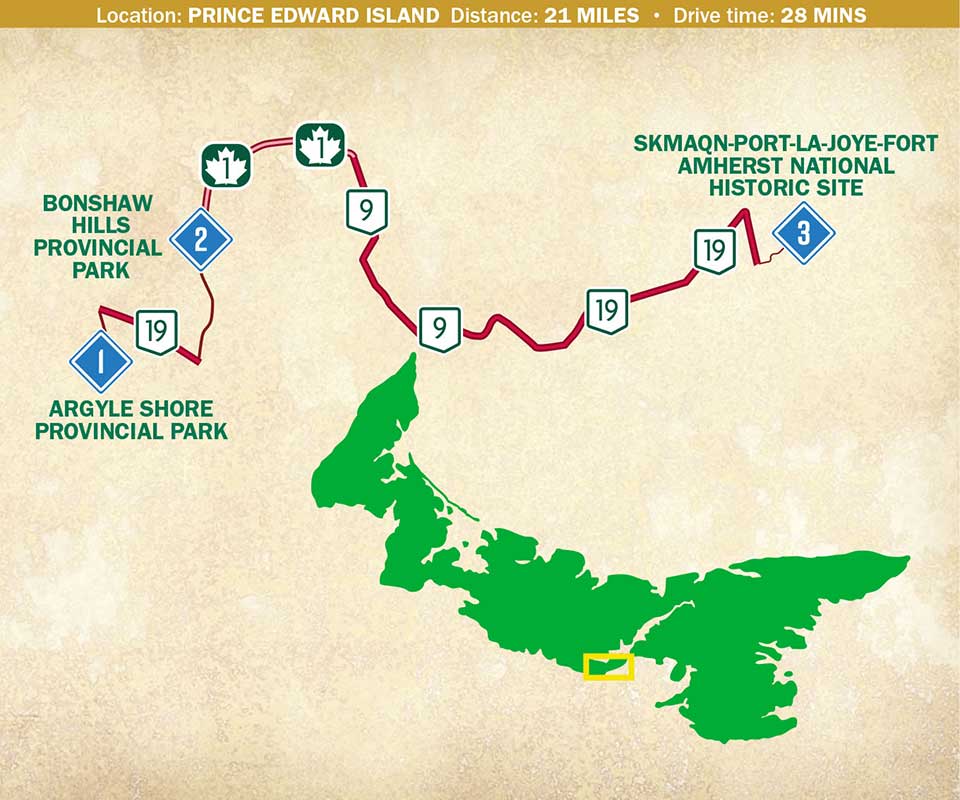 Have you read Anne of Green Gables? See the house that inspired the book. Visit Prince Edward Island National Park on the north shore for a brisk swim and lovely red sand beaches. See the sand dunes at Greenwich National Park. Hike, bike or even snowmobile the 270-mile Confederation Trail. Or shop 'til you drop up and down historic Victoria Row in downtown Charlottetown. Even shoot a hole-in-one at the Links at Crowbush Cove. Savor it all plus seaside drives and pastoral beauty that feel untouched by time.
1) Argyle Shores Provincial Park
Starting Point
Argyle Shores Provincial Park is within the island's Red Sands Shores area. Grab your kayak and paddle in the big, broad Gulf of St. Lawrence. Explore intriguing bays and inlets. Don't have kayaks? Rent 'em locally or take a kayak tour. Bonus: Take a road trip to the past at the Car Life Museum. Car buffs, don't miss this one. The family-run Car Life Museum celebrates the love of antique and classic cars and has an impressive array of beautiful restored autos.
2) Bonshaw Hills Provincial Park
Drive 5 miles • 7 minutes
Get your outdoor exercise any time of year in this four-season park. You'll find over 11 miles of well-maintained hiking and biking trails right along the Bonshaw River. Pick your route among many, many trails of varying lengths and degrees of difficulty. Have a picnic in Nature's beauty. Kids love the natural adventure playground! Take a serene paddleboard trip on the Bonshaw River. Bring your own kayak, rent one, or take a kayak tour. Fewer rentals for paddleboards — try "Paddles" in Charlottetown.
3) Skmaqn–Port-La-Joye–Fort Amherst National Historic Site
Drive 16 miles • 21 minutes
This historic site has seen indigenous inhabitation, French settlement, war, British colonialization, abandonment and revitalization. Extensive trails give outstanding views of Northumberland Strait. "Skmaqn" (say "ska-MAA-kin") means "the waiting place" in the indigenous peoples' Mi'kmaq  language. Later, Walk the old harbor interpretive path. Explore the location of an 18th century Acadian settlement; 19th century British farms; as well as Fort Amherst and an early homestead. Great views of Charlottetown, too.