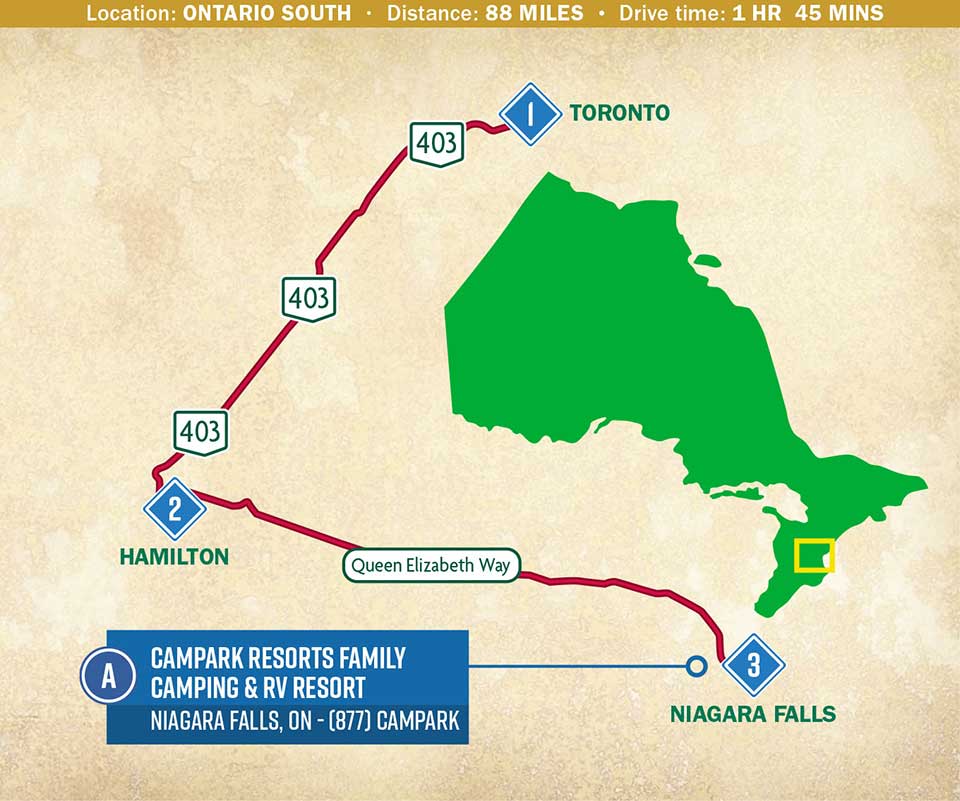 With hundreds of thousands of lakes and a sprawling northern wilderness, Ontario is a nature lover's paradise. But you don't have to travel to far-flung corners of the province for extreme adventure. From the vertigo-inducing heights of Toronto's CN Tower, to the thunderous roar of Niagara Falls, some of the most awe-inspiring experiences are waiting for you right on the easy-to-access shores of Lake Ontario.
1) Toronto
Starting Point
You could spend a lifetime exploring Toronto's vibrant and diverse ethnic neighborhoods, or see them all at once from atop the city's iconic CN Tower. The LookOut, Glass Floor and SkyPod levels serve up incredible panoramas, but true thrill-seekers can take it a step farther with the EdgeWalk, a one-of-a-kind experience that lets harnessed visitors circle the outside of the tower. Lean back and you'll be dangling 116 stories above the cityscape below. Back on ground, Toronto is undergoing a revolution when it comes to craft beer — some 30 breweries are serving up unique and exciting creations across the downtown scene. Visit the Royal Ontario Museum for art, history and more.
2) Hamilton
Drive 3 miles • 54 minutes
A former steel town, Hamilton has blossomed into a creative, artist-friendly city with the downtown to prove it. After exploring the quirky boutiques and cafes that have popped up in recent years, learn a bit about the history of the region with a hike on the Crooks' Hollow Historical Trail. British Loyalists settled the area after the American Revolution, and these days the self-guided trail is dotted with historic barns, sawmills and other landmarks. For an even more expansive understanding the landscape, the Hamilton stretch of the Bruce Trail — which runs for a total of 550 miles through southern Ontario — is well known for its waterfall hikes.
3) Niagara Falls
Drive 45 miles • 51 minutes
To truly experience the power of the Niagara River as it crashes 167 feet to the river basin below, join the Journey Behind the Falls, a one-of-a-kind attraction that leads visitors through a tunnel to two observation desks directly behind the endless wall of water. Along the way, you'll learn about the history of the falls and their impact on the region's industry. Just a few miles north, a rock cairn in Queenston Heights Park marks the terminus of the Bruce Trail, where you can hike along the Niagara River gorge.
Recommended Stopovers
Campark Resorts Family Camping & RV Resort • Niagara Falls, ON – (877) CAMPARK