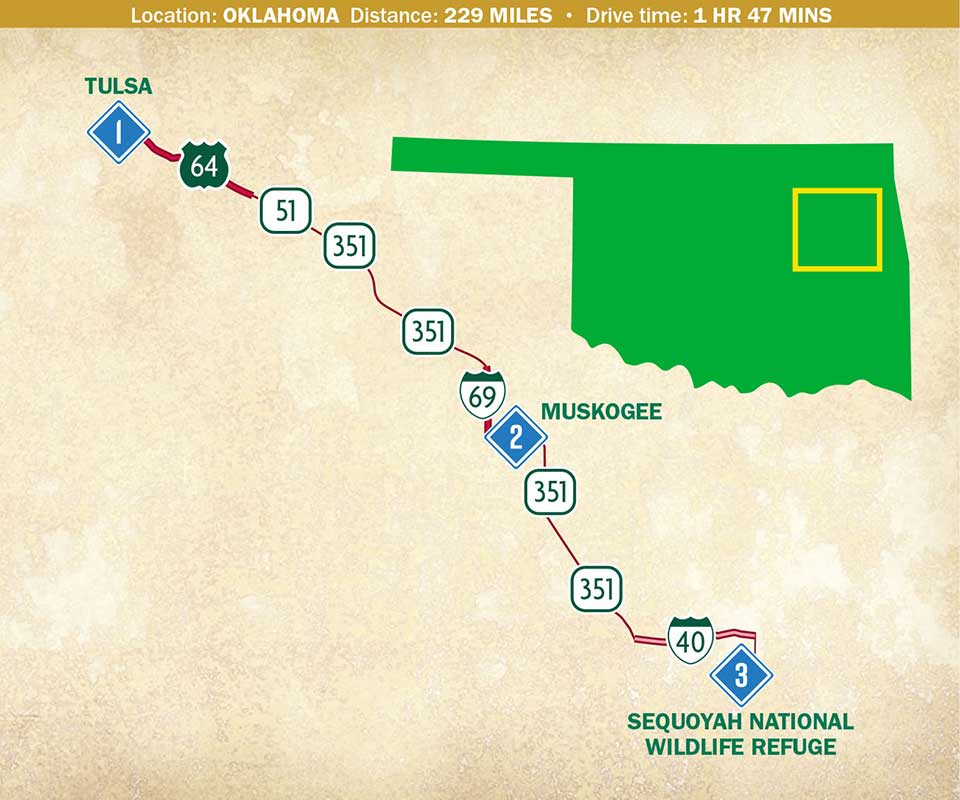 Why's Oklahoma called the Sooner State? In 1889, folks grabbed land sooner than was allowed. Those were wild days, but you can still have a wild time in the wilds of Oklahoma — there's much to do outdoors! You can ride a zip line through dramatic landscapes, go for a spin on a bike tour, take a skydiving leap of faith, get a whole new altitude on a helicopter adventure, relax in myriad state parks, hike Turkey Mountain, hunt pronghorns, reel in a prize fish, go boating and much more! Here are some of our favorite wild times in Oklahoma.
1) Tulsa
Starting Point
Does "adventuring" mean shopping swanky stores or getting way out in Nature? Do both in and around Tulsa. Downtown has every amenity, but it's a truly wild world in Tulsa's 300-acre Turkey Mountain Urban Wilderness area. Hike miles of trails of varying difficulty. It's big, rugged, and wild — bring your cell phone with GPS! For something human-made, take an architecture tour to see outstanding examples of Art Deco design. Art Deco architecture was all the rage in Tulsa and many fine examples are alive and well in the city — see the style in churches, schools, gas stations and homes. Our must-see pick? Boston Avenue Methodist Church. Also, if you've realized you packed a little too lightly or need a few extra supplies, Camping World in Tulsa is located just down the street from many of these beautiful sight-seeing adventures.
2) Muskogee
Drive 50 miles • 56 minutes
According to country music legend Merle Haggard, an Okie from Muskogee is a down-home kind of guy or gal. "We still wave Old Glory down at the courthouse, and white lightnin's still the biggest thrill of all." So grab a cup of joe at a local diner, and become an Okie-for-a-day with all the locals at one of the many seasonal celebrations at the Castle of Muskogee, a medieval-style structure that hosts Halloween events, Christmas festivities, Renaissance fairs and more. For even more laid-back, Oakie-style recreation, take a fishing trip at nearby Jackson Bay Recreation Area. The fishing's great!
3) Sequoyah National Wildlife Refuge
Drive 40 miles • 51 minutes
You gotta see this unique natural habitat at the confluence of the Arkansas and Canadian rivers. Managed by the Fish and Wildlife Service, its 20,800 acres are all for the benefit of wildlife and folks who love wildlife. Keep your eyes peeled for bald eagles, more water birds than you can count, and even alligator snapping turtles — whopping freshwater denizens that can tip the scales up to 200 pounds.