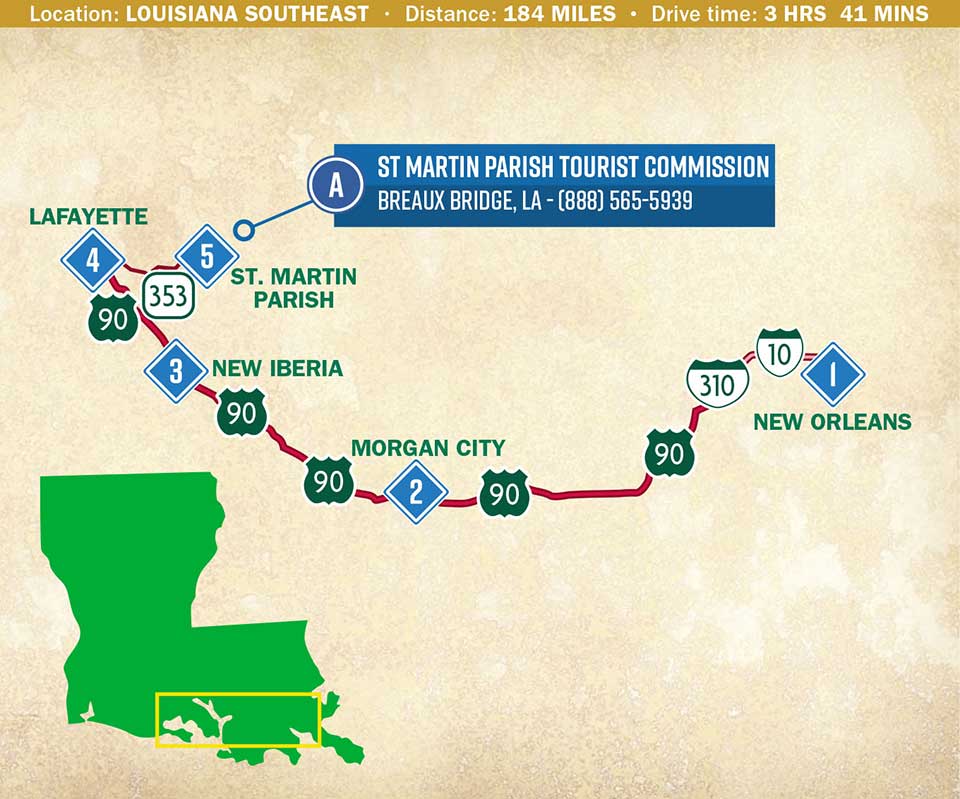 From crawfish étouffée to sausage jambalaya, Louisiana's spicy cuisine keeps road trippers happy at every stop. But what good is a meal without entertainment? Zydeco, jazz and blues music inspire listeners in fancy nightclubs and no-nonsense dance halls. Experience the back country, catching an airboat ride through the swamp or exploring the delta to see for yourself.
1) New Orleans
Starting Point
Cajun cuisine is at its peak in the Crescent City, and Slim Goodies Diner is the place to get an authentic breakfast from the bayou. Try Le Bons Temps on for size, with an omelet folded over and crawfish étouffée in the center, otherwise known as "Mama in the Middle." This local's favorite offers uniquely New Orleans fare, including duck bacon for a not-so-boring BLT. To top off your visit, enjoy a carriage ride tour through NOLA's historic district. Your guide will give you an entertaining journey through the French Quarter, or choose a haunted tour, if you dare!
2) Morgan City
Drive 94 miles • 1 hour, 49 minutes
Known as "The Jumbo Shrimp Capitol of the World," Morgan City combines its two greatest industries with the Louisiana Shrimp and Petroleum Festival every year. Located on the banks of the Atchafalaya River, this is the center of Cajun country, where spicy seafood cuisine meets off-shore drilling. Tour Mr. Charlie to see what working on an oil rig is like at the International Petroleum Museum and Exposition. Then book a charter boat for some sport fishing. There is no doubt that you will reel in your quota.
3) New Iberia
Drive 48 miles • 51 minutes
If hot and spicy is a food group to you, don't miss Avery Island Tabasco Factory. Explore the facility to see the Tabasco Museum and the barrel warehouse, then watch the blending and bottling process. Or indulge in a cooking class and culinary tour for a fiery finish to your visit. Then cool down with a boat ride through the nation's largest river swamp, the Atchafalaya Basin. With over 65 species of reptiles and amphibians, you are sure to encounter some swamp creatures along the way.
4) Lafayette
Drive 21 miles • 33 minutes
With more restaurants per capita than any other American city, Lafayette offers Cajun cuisine in spades. The downtown district has the flavor of a miniature French Quarter, complete with eateries and plenty of Zydeco music. There are numerous festivals and fairs all year long, giving visitors a chance to celebrate the spirit of Lafayette with its locals. And a flat bottom boat ride through Bayou LaFourche will introduce travelers to the "Longest Street in the World," where channels were once the only transportation to homes and towns in the lowlands.
5) St. Martin's Parish
Drive 21 miles • 28 minutes
This region is an ideal launching pad for adventures in the Atchafalaya basin, known for its bayous, moss-draped cypress and hardwood forests. There are great opportunities to kayak, bird-watch and sport fish for bass, bluegill and catfish in the Atchafalaya Basin National Wildlife Refuge just northeast of Henderson. Outfitters in town can point you in the right direction for wildlife viewing and more. The Breaux Bridge Crawfish Festival each spring is another way to introduce yourself to the heritage of the region. Workshops, art fairs and cooking classes abound at the popular yearly event.
Recommended Stopovers

St. Martin Tourist Commission • Breaux Bridge, LA • (888) 565-5939