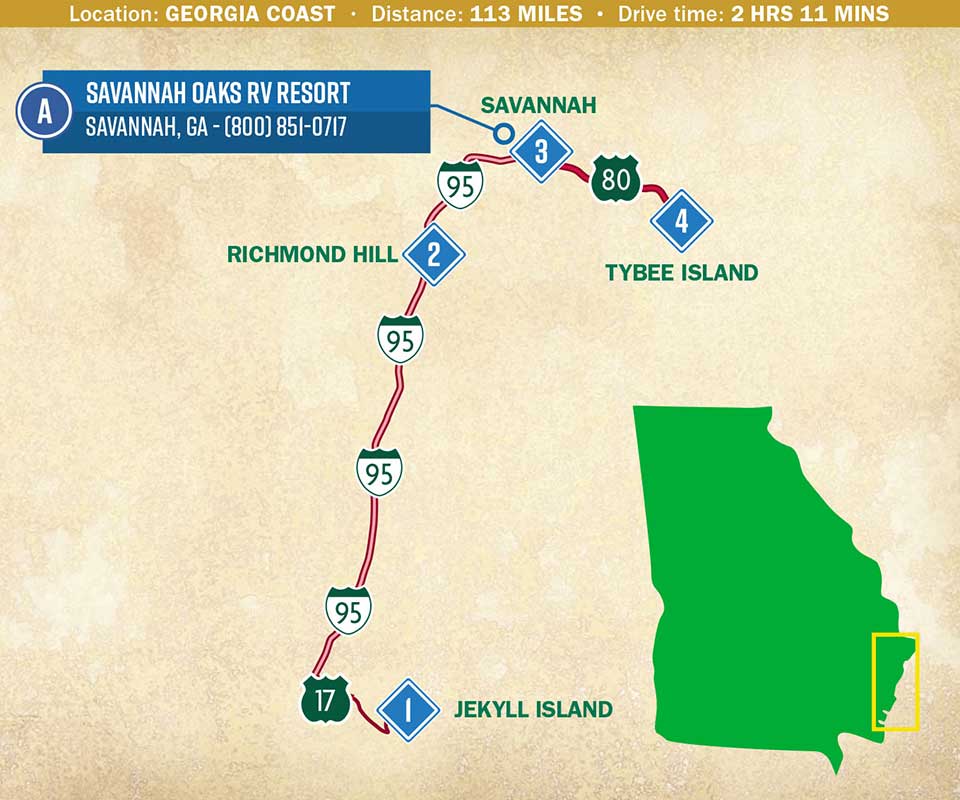 Take a spin down Georgia's 110-mile coast and soak up the history and beauty of a storied shoreline. Tour restored Gilded Age mansions, once home to America's ultra-rich, including the houses once occupied by the Rockefellers and Vanderbilts. Take a bike tour, see a colonial-era lighthouse and museum, or visit some of Georgia's 15 barrier islands.
1) Jekyll Island
Starting Point
Home to millionaire estates, Jekyll Island is known as the "Golden Island" for its role as the playground of the rich and famous in the late 1800s and early 1900s. Take a bike tour on the island's extensive bike trails and cruise by restored mansions in the lovely historic district, along with the famous Horton House, beautiful Driftwood Beach and the Georgia Sea Turtle Center. Love seafood? Go crabbing on Jekyll Island. The little crustaceans hang out in several creeks and estuaries on the island, and in the ocean.
2) Richmond Hill
Drive 74 miles • 1 hour, 15 minutes
Wander Richmond Hill's historic Coastal Bryan Heritage Trail and visit the deep history of this lovely region. See the Guale (WA-lee) Indian village site, where the locals built a defense against a possible Spanish invasion; learn about the Union Army's famous March to the Sea, which passed right through town as it rampaged through the Peach State. Henry Ford brought jobs and prosperity to the area when he purchased land and began extensive agricultural and forestry operations. He was an active philanthropist, implementing medical, educational, and cultural improvements. Learn more at the Henry Ford Plantation, Part of the Richmond Hill Historical Society and Museum.
3) Savannah
Drive 22 miles • 28 minutes
You can't walk more than a few blocks in downtown Savannah without finding yourself in one of the city's 22 gracious and historic squares. Take a refreshing break from shopping, dining or plain old sightseeing to savor these "pocket parks" full of lush greenery and opulent landscaping. Cruise the Savannah River on a paddleboat that seems ripped from the 1800s — the Savannah River Queen. Theme cruises are their specialty – take a lunch cruise, dinner cruise, sunset or moonlight cruise, even a gospel-themed cruise.
Recommended Stopovers

Savannah Oaks RV Resort • Savannah, GA – (800) 851-0717
4) Tybee Island
Drive 18 miles • 27 minutes
Tybee's a small city on a barrier island just outside Savannah. Its appeals are many: broad, white-sand beaches, an old-timey pier and pavilion. And, of course, there's plenty of ocean-based recreation here. Try ocean kayaking, paddleboarding, charter cruises, fishing and more. Check out the Tybee Island Light Station and Museum, one of the few lighthouses surviving from the colonial era, and Georgia's oldest (built in 1763). Standing (145 feet) the lighthouse allows visitors to explore the structure, a period cottage and the Tybee Museum.