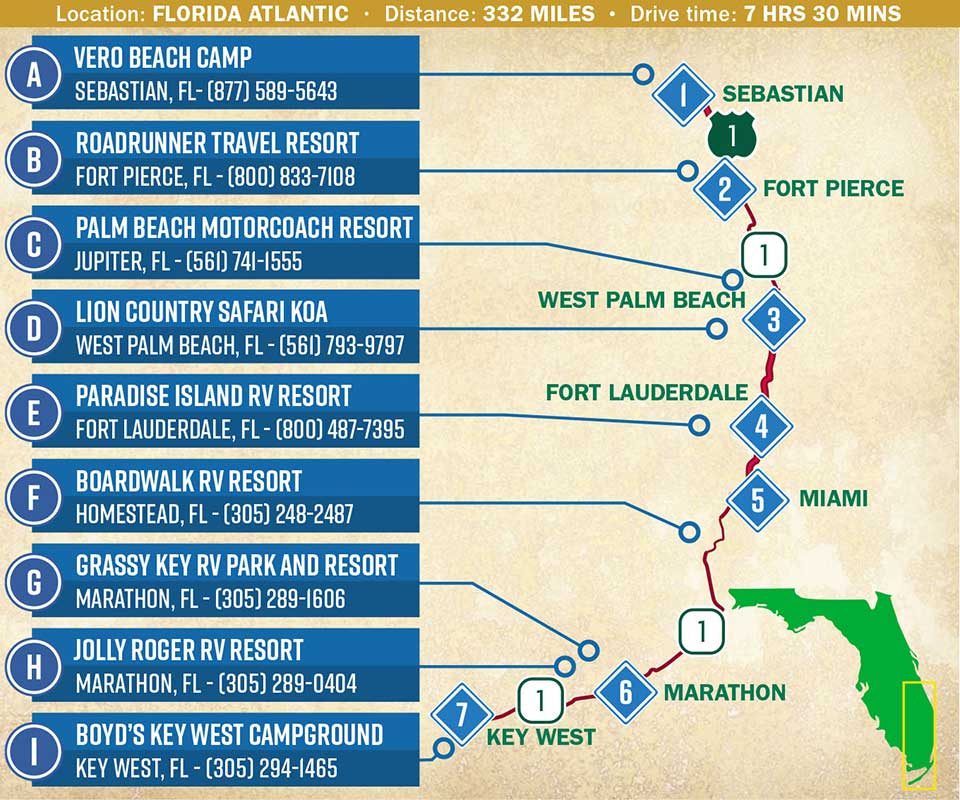 From big city lights to quiet mangrove forests, this trip down Florida's sweeping Atlantic Coast introduces you to the Sunshine State's wild side. End the trip in the Florida Keys, a place that once played host to pirates. It's a playground for those who know how to work hard and play even harder.
1) Sebastian
Starting Point
    Located along the Treasure Coast — so named for the cargo hauled by Spanish galleons — Sebastian serves up some of the best surfing waves on the Eastern seaboard. Monster Hole at Sebastian Inlet State Park consistently produces long wave lines for tube riders and body surfers, and calmer waters exist along the protected shores of The Cove, for swimmers and kayakers wishing to avoid the crashing surf. Fishing from jetties here is almost as popular as the McLarty Treasure Museum in the park, where valuable cargo from Spanish ships lost in the early 1700s is on display.
Recommended Stopovers

Vero Beach Kamp • Sebastian, FL – (877) 589-5643
2) Fort Pierce
Drive 28 miles • 44 minutes
   On Florida's Space Coast, the Indian River Lagoon is home to more than 2,200 animal and 2,100 plant species, making it a virtual showcase of Florida flora and fauna, and it's best viewed by kayak. Take a nighttime tour of this 156-mile-long estuary to enjoy a bioluminescence show, when resident plankton light up the water with an eerie green glow as paddlers pass by. Then see if you can outperform Seal Team Six on the obstacle course at the Navy SEAL Museum, where exhibits include equipment and vehicles that played roles in America's naval warfare history. Visit the memorial to Navy Frogmen and SEALs lost in battle.
Recommended Stopovers

Road Runner Travel Resort • Fort Pierce, FL – (800) 833-7108
3) West Palm Beach
Drive 63 miles • 1 hour, 47 minutes
    The underwater world of Rock Reef at John D. MacArthur Beach State Park is the perfect venue for snorkeling, with the reef acting as home for blue runners, yellow jack, stone crabs and turtles, among other aquatic animals. Rock Reef is shallow and easily accessible for an afternoon of natural splendor. Then head downtown to Clematis Street, the historical heart of West Palm Beach, where shopping, galleries, nightclubs and restaurants all come alive for that perfect coastal nightlife vibe.
Recommended Stopovers

Palm Beach Motorcoach Resort • Jupiter, FL – (561) 741-1555
Lion Country Safari KOA • West Palm Beach, FL – (561) 793-9797
4) Fort Lauderdale
Drive 47 miles • 52 minutes
For a romantic evening without the long flight to Italy, hop on a gondola in "The Venice of America." With 165 miles of canals, travelers can navigate their waters via paddlewheel, sport boat or water taxi, as well. Or head to exclusive Bahia Mar Marina for your chartered boat and some deep-sea sport fishing. It's all in a day's fun on the water at Fort Lauderdale.
Recommended Stopovers

Paradise Island RV Resort • Fort Lauderdale, FL – (800) 487-7395
5) Miami
Drive 29 miles • 41 minutes
   Eat like a local on one of Miami's culinary tours. Guests will not only have their palates tempted with Cuban-infused cuisine from across the city, but epicurean guides manage to squeeze some history and appreciation of the town's colorful architecture into every stop. It's a gastronomic scavenger hunt for tasty morsels scattered throughout this cosmopolitan community. Continue your adventure on the waters of Biscayne Bay with a jet ski ride. Choose to tour with a guide or rent your own personal watercraft to explore the coast or enjoy an island picnic.
Recommended Stopovers

Boardwalk RV Resort • Homestead, FL- (305) 248-2487
6) Marathon
Drive 115 miles • 2 hours, 18 minutes
    Covering parts of seven Florida Keys, the city of Marathon is home to sport fishing and mangrove forests. Take an eco tour by kayak for gentle way to explore nearby Boot Key, where visitors view tidal channels and lagoons of this coastal ecosystem and its resident animal population. Fascinating reptiles can be examined at The Turtle Hospital, where staff work to heal and rehabilitate ill or injured sea turtles. You might even get to attend a public turtle release to see recovered patients return to their natural habitat.
Recommended Stopovers

Grassy Key RV Park and Resort • Marathon, FL – (305) 289-1606
Jolly Roger RV Resort • Marathon, FL – (305) 289-0404
7) Key West
Drive 53 miles • 1 hour, 8 minutes
    Snorkeling in Dry Tortugas National Park will rival Caribbean locales for beauty and diversity. Corals are prolific in the region, providing food and shelter to a stunning variety of sea life. And shipwrecks are almost as numerous as the fish who inhabit them. Underwater photographers are sure to develop a liking for Dry Tortugas when exposed to the colorful marine life in these waters. Back on dry land, continue your water-themed adventure on the Old Town Trolley in Key West, passing Ernest Hemingway's home to pay respects to "The Old Man and the Sea."
Recommended Stopovers

Boyd's Key West Campground • Key West, fl – (305) 294-1465