Welcome to the Yukon
With a compelling First Nations heritage and rollicking gold rush history, the Yukon lives up to its "larger than life" reputation. Visitors will discover vast, untamed landscapes, ample outdoor recreation opportunities and a local population that embraces carefree, quirky fun.
Adventures Like No Other
Catch the spirit of the Yukon with a visit to Kluane National Park and Reserve, home to Canada's highest peak (the second-tallest in North America). Marvel at behemoth mountains, expansive fields of ice and roaring rivers in this wild paradise. The outdoor adventures found here are like no other. Take a flightseeing tour to the park's interior for views of Mount Logan and the expansive ice fields, or join a rafting expedition along the Alsek River, where you may spot grizzlies strolling on the shores. A drive along the Dempster Highway to the north allows you to soak in the scenery, while the adventurous will hit one of the many trails.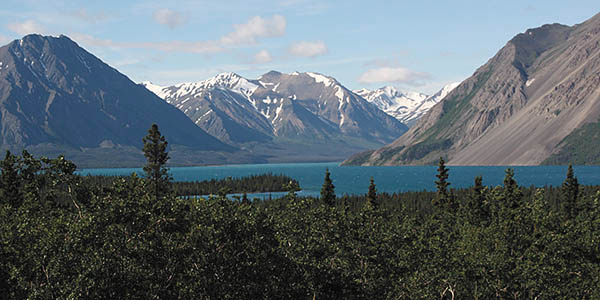 A Rugged Wilderness
The Yukon's chilly, pristine waters are chock-full of trout, graylings, pike and more. Hit the Yukon River and its tributaries near Whitehorse, or book a fly-in trip to the more remote lakes and rivers of the north. The Tatshenshini, Alsek and Teslin Rivers are top picks for paddling and angling. Hunting in the region is equally spectacular, but nonresidents are required to book with an outfitter or guide. For a scenic ride, hop aboard the White Pass and Yukon Route Railroad, which glides past glaciers, gorges and waterfalls on its journey through the region.
Cities and Towns
Known for its relatively mild weather, Whitehorse is Yukon's largest city and a popular layover for travelers along the famed Alaska Highway. The Yukon Beringia History Museum traces the rise of First Nations peoples. Located near the Alaskan border in northern Yukon, the town of Dawson City preserves its Klondike Gold Rush-era heritage with wooden sidewalks and vaudeville shows in Diamond Tooth Gerties Gambling Hall, complete with high-kicking dancers.