Welcome to Wyoming
The legend of the American West looms large over the state of Wyoming. The story reverberates on rangelands where buffalo still roam, in raucous saloons and formidable forts that have stood since the days of Buffalo Bill, and in the legacies left by those who traveled the Oregon Trail. Amid the iconic history, the state's stunning public lands serve as a dramatic backdrop.
Majestic Mountains and More
With clear waters reflecting the jagged peaks of nearby mountains, Jenny Lake in Grand Teton National Park paints an iconic scene. Located south of Yellowstone, the Tetons form a majestic skyline, with hiking trails that thread. Further south, the Snake River's westward current teems with fishing and rafting possibilities.
Top Towns in the Equality State
Located near the eastern border of Yellowstone National Park, Cody wears its Wild West cred on its sleeve with rowdy rodeos and the Buffalo Bill Center of the West. Head south to the picturesque town of Jackson (the surrounding region is known as Jackson Hole), where high-end shopping and dining mix with great views. Wyoming's most populous city and capital, Cheyenne in exudes the state's railroad and frontier history. Casper, closer to the state's center, is a base camp for adventure in rugged landscapes.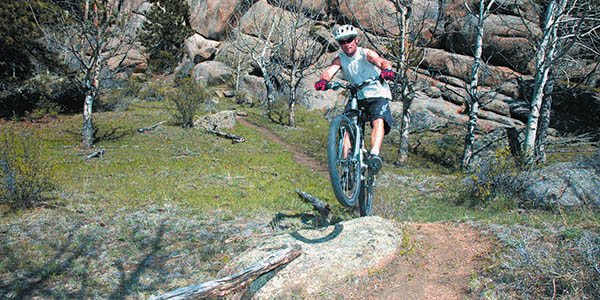 Landscapes Like No Other
There's no place like Yellowstone National Park anywhere else in the world. Occupying much of the state's northwest corner, the 3,472-square-mile park is an embarrassment of riches, with eye-catching geothermal pools, rocketing geysers and stunning waterfalls. Stop to watch the Old Faithful geyser erupt, or take a hike through any of the wondrous landscapes. These sights are only rivaled by the plentiful wildlife found in the park, which includes the largest bison population on public land in the nation. Watch for bear, elk and more. In addition to being home to the first national park, Wyoming is also home to the first national monument, Devils Tower, in the northeast. This conical geological feature is a sight to behold, dramatically rising almost 900 feet above the surrounding grasslands.
Where Wild Rivers Run
Some of the nation's best trout fishing can be found in Wyoming. Miles of mountain streams and clear, cool lakes provide prime habitats. Grab your fly rod, and take your pick of the Snake, the North Platte or the Big Laramie rivers. Within Yellowstone and the Grand Tetons national parks, you'll find spectacular fishing within spectacular landscapes. In eastern Wyoming, Glendo State Park and Keyhole State Park are top picks for boating and outdoor recreation.
Big Game Galore
Across the state, hunters will find public lands teeming with wildlife, including elk, moose, bear, antelope and bighorn sheep. The Bridger-Teton National Forest is a top choice near Jackson. In northeastern Wyoming, the Black Hills National Forest offers big and small game.