Welcome to Newfoundland & Labrador
With thousands of miles of shoreline, a jaw-dropping national park and the friendliest strangers you're ever likely to meet, Newfoundland & Labrador is like a secret you never knew you were missing. Take in the vibrant, 500-year history of St. John's, watch icebergs pass in the distance and get "screeched-in" by the locals — it's all a part of discovering the quiet confidence and unique island culture that makes first-time visitors swoon and keeps others returning year after year. Your only regret will be not discovering it sooner.
Pristine Parks
On the island of Newfoundland's western shore, Gros Morne National Park is a bucket-list experience boasting landscapes that cover the breadth of geologic history. Glacial lakes sparkle. Soaring waterfalls cascade down rock faces. On the Atlantic side, the 190-mile East Coast Trail consists of 26 paths connecting historic communities and viewing areas for whales and icebergs.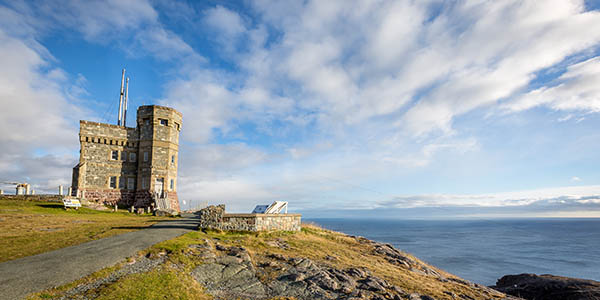 Capital with Character
St. John's is a capital city with character. Home to a high concentration of writers, artists and poets, the city has a charming old-meets-new feel. Adults should head straight to Christian's Bar to get "screeched-in" — a traditional welcoming ceremony that involves a shot of rum and kissing a cod. Another must-do is the hike to Signal Hill National Historic Site for spectacular views of the seaside neighborhoods of the Battery and Quidi Vidi. Early-risers won't want to miss being the first — on the continent, mind you — to watch the sun rise at the historic Cape Spear Lighthouse, the most easterly point in North America.
The Vikings Landed Here
To understand Newfoundland & Labrador's past, visit L'Anse aux Meadows National Historic Site, where the Vikings made landfall in the 11th-century. Peruse 1,000-year-old artifacts and see costumed performers reenact daily life. The quaint town of Bonavista honor's the 1497 discover of Newfoundland & Labrador by explorer John Cabot. Visit the replica of his tall-ship and view whales and icebergs near shore.