Welcome to New Hampshire
Don't let New Hampshire's diminutive size fool you. The Granite State packs more than its share of majestic peaks, dreamy forests, charming villages and alluring beaches within its borders. Its wide-open spaces and enchanting fall foliage cater to nature lovers, while charismatic New England towns and world-class resorts seal the deal for sedentary travelers.
Visit Quaint Communities
New Hampshire makes the most of its 18 miles of Atlantic coastline. In Portsmouth, visitors can explore the Strawbery Banke Museum, complete with preserved houses, costumed guides, and 30,000 artifacts. Other top attractions include the USS Albacore, Prescott Park, John Paul Jones House and Portsmouth Harbour Trail. Art lovers will want to stop by Manchester's Currier Museum of Art. For a change of scenery, head south to Rye Beach to play in secluded tide pools.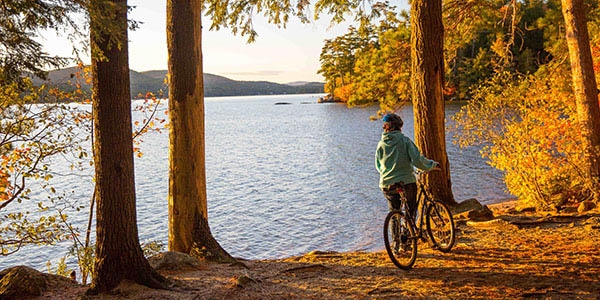 Fun-Filled Lake
There are more than 40 charming villages surrounding Lake Winnipesaukee, a 71-square-mile body of water that draws vacationers from all over. Cruise along the 93-mile Lakes Region Tour Scenic Drive to reach most of them and stop at popular places like Moultonborough's Castle in the Clouds Estate, Weirs Beach's boardwalk and Meredith's chic boutiques.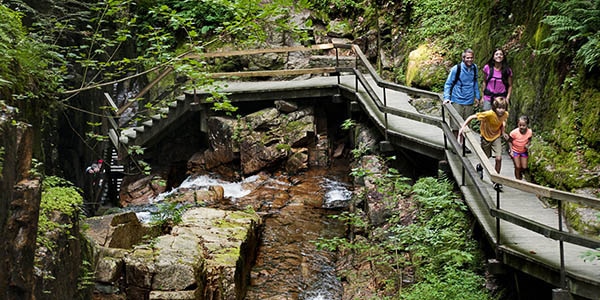 Boating Bash
Launch your boat from ramps found in many lakes and rivers, including Lake Winnipesaukee and the Squam Lakes. Most fishing destinations also provide boat ramps and launches. The Pemigewasset and Connecticut rivers teem with trout, making them prime fly-fishing spots, while Contoocook Lake is an excellent place to reel in catfish, sunfish and bass. Cod and haddock await deep sea anglers who head out from Hampton, Portsmouth or Rye.