Welcome to Nebraska
Rugged cliffs in the west, sweeping prairies and cornfields in the east, and towering sand dunes in between, Nebraska overwhelms with spellbinding landscapes at every turn. The Cornhusker State will also awaken your wanderlust with its rich Western heritage, epic outdoor recreation and thriving Midwest cities.
Fishing Fun
Notably, four Nebraska lakes showed up in a recent ranking of the top 100 family-friendly places to fish and boat in America. Catch walleye and white bass in Lake McConaughy State Recreation Area, bass and catfish in Harlan County Reservoir, and bluegill and crappie in Lake Wanahoo State Recreation Area. If you're just learning how to fish or teaching the kids, visit Two Rivers State Recreation Area, which is frequently stocked with trout.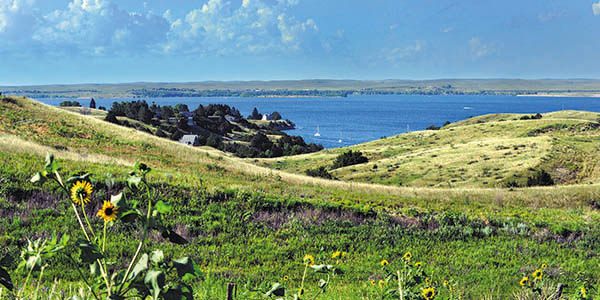 History in Stone
Nestled in Oglala National Grasslands in the state's northwest corner, Toadstool Geologic Park will make you feel like you landed on another planet, complete with intriguing toadstool-like rock formations. For a change of scenery, make your way to the Niobrara National Scenic River. Boasting rolling hills and over 200 waterfalls, this area was made for water sports, fishing and wildlife viewing.
Jaw-Dropping Outdoors
Nebraska takes "the great outdoors" to a new level with its diverse terrain. A visit to the iconic Chimney Rock in the state's southwest corner is a must. Soaring 300 feet above the ground, this jagged spire served as a landmark to travelers journeying west on the Oregon Trail. Just 22 miles to the west and covering over 3,000 acres of prairie and bluff terrain, Scotts Bluff National Monument consists of even more dramatic landscapes and unforgettable sunsets. Crown Rock, Dome Rock and Eagle Rock are stunning rock formations that will make you forget you're on the Great Plains. Back in Omaha, the Henry Doorly Zoo and Aquarium exhibits diverse ecosystems.