Welcome to Idaho
Home to 114 named mountain ranges, the Gem State ranks as the 14th largest state, yet a paltry 1.6 million people inhabit its borders. What does this mean for you? An uncrowded world of whitewater rivers, snowcapped summits, glacial lakes and enchanting volcanic landscapes just waiting to be explored.
Moonscape
Craters of the Moon National Monument & Preserve may make you think that a swath of alien landscape was grafted onto the earth's surface. The bizarre terrain of molten rock formed from volcanic eruptions thousands of years ago. Outdoor adventurers will have a blast hiking along lava tubes, trekking through caves and gazing up at countless stars while standing on a lava field.
Gem State Salmon and More
The Gem State is chock-full of streams, lakes and reservoirs, so there's no shortage of places to cast your line. A year-round fishing season means you'll have the opportunity to catch sturgeon, trout, king salmon, smallmouth bass and catfish. Catch beautiful sights at the 212-foot-high Shoshone Falls, just northeast of the town of Twin Falls.
The Great Outdoors
Nestled in the heart of Idaho is the Sawtooth National Recreation Area. With up to 40 mountain peaks rising over 10,000 feet, 300-plus alpine lakes and 700 miles of hiking trails, it's a haven for camping, rafting, cycling and more. Idaho also has the deepest gorge in North America: Hells Canyon along Idaho's western border. Cruise along the Hells Canyon Scenic Byway and follow the wild Snake River, which carved out the deep gorge. Marvel at colossal basalt cliffs, luscious valleys and jagged ridges.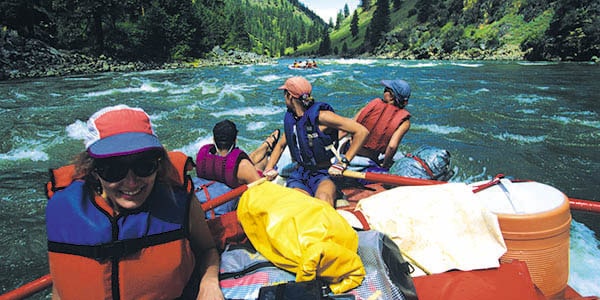 Rockin' Rapids
You've come to the right place if you want to get your adrenaline going. Several magazines have voted Idaho as the best state for whitewater adventures. For the thrill of a lifetime, embark on a half-day or multiday rafting trip down Salmon River, Payette River or Selway River. Those with a serious need for speed can also take a jet boat tour through Snake River.
Boise, Beer and Birds
Boise boasts a thriving food scene with lots of craft breweries, along with idyllic parklands and eclectic museums. Flock to the World Center for Birds of Prey to come face-to-face with owls, hawks, eagles and falcons. For more bird-watching, consider cycling or walking along the Boise River Greenbelt, a 25-mile path that links over 850 acres of parks and natural areas along the Boise River. If you're intrigued by the paranormal, stop by the Old Idaho Penitentiary. Believed to be haunted, the prison has not been in operation since the 1970s and now functions as a museum. Other popular attractions in town include the Boise Art Museum, Idaho Botanical Garden and Discovery Center of Idaho.