Welcome to British Columbia
Embrace the spirit of Canada's frontier with a visit to its westernmost province. British Columbia stretches from the rocky Pacific coast to the jagged peaks of the Rocky Mountains. In between, you'll find welcoming cities, abundant national and provincial parks, and secluded landscapes reaching all the way to Alaska.
Stunning Shores and Impressive Peaks
Snow-capped peaks, jewel-toned waters and utterly pristine forests…British Columbia has it all. A number of national parks across the province provide access to some of these amazing landscapes. Start on the western shores with a visit to Pacific Rim, where you can tour the jagged coast and the lush rain forests, or visit the Gulf Islands, where intricate tide pools display the wonders of marine life. Further north, the Haida Gwaii archipelago allows you to explore 138 islands. Inland, the Canadian Rockies run along British Columbia's eastern edge.
A Bounty of Beauty for Outdoor Adventures
With landscapes as wild as those found in British Columbia, opportunities for fishing, boating and hunting abound. Up north, the Haida Gwaii archipelago is renowned for its Chinook salmon. More salmon, steelhead and sturgeon can be found in the Campbell, Fraser and Skeena rivers. The province's waterways also provide optimum places to paddle and boat. Okanagan Lake and Barkley Sound are perennial favorites. U.S. citizens in British Columbia must apply for a license and declare any firearms upon entry from the border.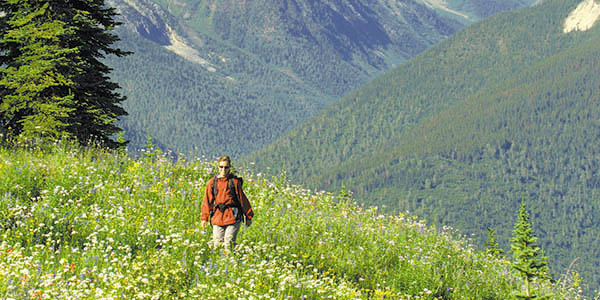 Colorful Cities, Lush Landscapes
Vancouver Island lies off British Columbia's Pacific shores. The southern tip is home to the capital city of Victoria. Thanks to its bounty of green spaces, the city is known as Garden City. Relax in the tranquil landscapes of Beacon Hill Park and Butchart Gardens before taking in the views of the harbor or touring the attractions downtown. The province's largest city, Vancouver, is a thoroughly modern metro area with stunning architecture and attractions for every traveler.