Welcome to Arkansas
Looking for a diamond in the rough? Put Arkansas on your travel-planning radar. From rugged mountains and soothing thermal waters to charismatic towns and historic sites, the Natural State exceeds expectations. It's also the only place in America where you can mine for real diamonds and take home what you find.
Hot Springs Haven
If rest and relaxation are what you seek, head to Hot Springs, where 47 thermal springs create "The American Spa." Hot Springs National Park preserves the elegant architecture of Bathhouse Row, once frequented by Al Capone and other gangsters. After a walk along the lovely Grand Promenade, relax in a hot mineral bath. Enjoy a rejuvenating soak at modern refuges like Quapaw Baths & Spa, or opt for a more traditional experience at Buckstaff Bathhouse.
Great Outdoors
The sprawling Ozark, Ouachita and St. Francis national forests provide a variety of backdrops for all your outdoor adventures. Traverse hundreds of miles of trails on foot, horseback or ATV to reach waterfalls, sweeping vistas and shimmering rivers. During your journey, keep your eyes peeled for an array of wildlife, including elk, black bears and bald eagles.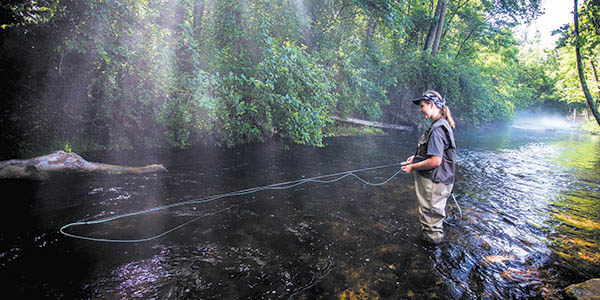 Aquatic Arkansas
With more than 600,000 acres of lakes and over 9,700 miles of streams and rivers, boaters and anglers will never run out of places to drop a line. White River is a world-renowned fishing destination, thanks to its abundance of rainbow trout, while Buffalo National River is a prime spot for catching smallmouth bass. Lake Catherine near Hot Springs yields largemouth bass, spotted bass and striped bass for anglers. Bass, crappie, bream and catfish can also be found in lakes around the Ouachita, Little Missouri, Caddo and Cossatot rivers.
Take Home Sparkling Treasures
If you're lucky, you may leave the Natural State with precious gems. Search for real diamonds in one of the biggest diamond-bearing volcanic craters on the planet at Crater of Diamonds State Park. Whatever you unearth is yours to keep and can be certified at the park's Diamond Discovery Center. In the visitor center, delve into interactive exhibits and see diamonds in the rough. For more gem hunting, make your way to Wegner Quartz Crystal Mines. This 40-acre surface mine in the Ouachita Mountains is abundant in rubies, amethysts, emeralds, aquamarines, garnets, quartz crystals and more. The mine offers a variety of "dig-your-own" adventures suitable for the entire family.