White Mountains
Every year, more than six million visitors set foot in the White Mountains region, making it one of the most visited areas in the country. It's easy to see why. Crammed with snow-capped peaks, verdant valleys and over a thousand miles of hiking trails, this spectacular slice of New Hampshire was made for every outdoor explorer. Traversing the famed Appalachian Trail, riding the world's first cog railway, skiing down powder mountains and conquering the highest point in the northeast are just some of the bucket list activities you can tick off here.
The Granite State's Greatest Gem
Crowning the region is the White Mountains National Forest, encompassing 800,000 acres of lush greenery, sparkling streams and rugged ranges. In the heart of it all is the charming town of Lincoln. Located 65 miles north of Concord on Interstate 93, Lincoln is a popular gateway to this national forest and ideal jumping-off point for your outdoor excursions.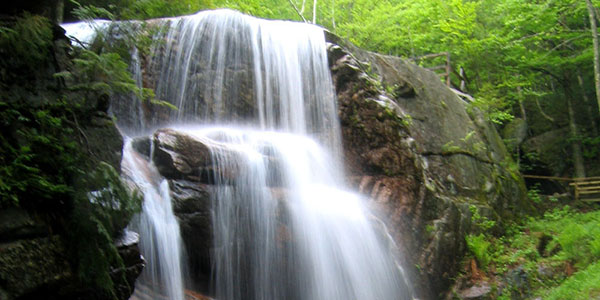 Hospitable Mountain Towns
Most people make Lincoln their base camp for exploring the White Mountains, but this charismatic town is just as worthy of your time as the dramatic landscapes that surround it. A great local hangout is Gordi's Fish & Steak House. Owned and operated by two former Olympic athletes, this cozy restaurant has a flair for ski culture. In the winter, Lincoln erects its stunning Ice Castles, which are sculpted out of solid ice with 10-foot-thick walls.
Franconia Fun
For less bustle, make your way to quaint Franconia. With most tourists just passing through to get to Cannon Mountain, Franconia will relax you with its laid-back, ski-bum atmosphere. Another top spot is North Conway, which is known for the Conway Scenic Railroad, Diana's Baths waterfalls and Mount Washington Observatory.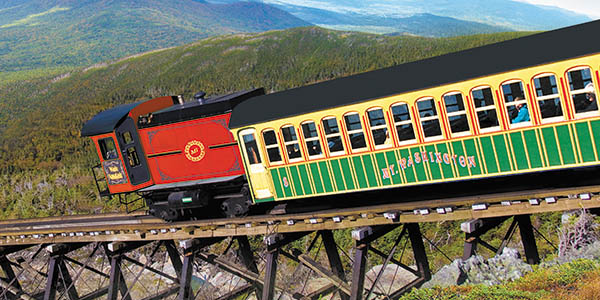 ATVs, Scotland and More
In summer, join in on local fun by getting your heart racing at the Jericho ATV Festival, savoring wild blueberry pies at the Attitash Mountain Blueberry Fest, or moving to the beat at the White Mountain Boogie 'n' Blues Festival. In September, take part in the New Hampshire Highland Games & Festival. Held at Loon Mountain Resort every year, this three-day event celebrates Scottish culture.
Soaring Above the Mountains
Take a ride on the Cannon Mountain Aerial Tramway to see soaring peaks from a birds-eye view. If you drive 30 minutes east, you'll wind up at the Mount Washington Cog Railway, the world's first mountain-climbing cog railway. Hop on to reach the summit of Mount Washington, the highest peak in the northeast U.S. At the top, fall under the spell of views that stretch all the way to Canada and the Atlantic Ocean.
New England's Best Fall Colors
Visiting in the fall? Take a scenic drive to see a hypnotizing array of red, orange and yellow leaves waving in the breeze along country roads and mountain highways. Keep your eyes open for the famous covered bridges, too. Swing by the historic Albany Covered Bridge to snap a photo of its vibrant red roof or stroll along the pedestrian-only Sentinel Pine Covered Bridge for views of the Flume Gorge.
For More Information
White Mountains New Hampshire
800-346-3687
www.visitwhitemountains.com
New Hampshire Department of Business and Economic Affairs
www.visitnh.gov