St. George
Situated below the rim of Utah's Great Basin, St. George makes the perfect getaway, complete with sunny weather, stunning red cliffs and vibrant pioneer history. Equally compelling is the town's history, with deep roots to one of the state's iconic pioneers. In 1861, Brigham Young sent more than 300 families here to develop cotton farming. Despite the failure of the agricultural enterprise, the town of St. George flourished and has become a year-round, action-packed destination for those looking to escape the northern cold.
Fish for Bass and History
Don't forget to bring your pole and tackle. Excellent bass fishing is found in San Hollow Reservoir and Quail Lake to the east and Gunlock Reservoir to the west. Back on land, uncover the area's unique pioneer history by visiting an old cotton mill, the Brigham Young Winter Home or the Daughters of the Utah Pioneer Museum. Follow recently discovered dinosaur tracks and peer at fossils at the Dinosaur Discovery Site at Johnson Farm. Nearby, the Rosenbruch Wildlife Museum showcases over 300 animals.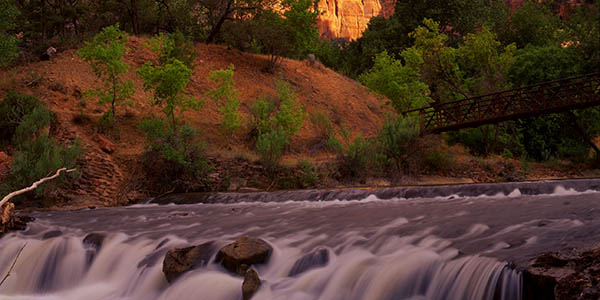 Gateway to Great Parks
One of the biggest draws to St. George is Zion National Park, 40 miles to the east. This gem is home to 148,000 acres of epic waterfalls, staggeringly tall cliffs and majestic mountain peaks. With elevations between 4,000 to 8,700 feet, you'll find everything from forest to desert in this diverse terrain. Plan a hike through Zion Canyon to see jaw-dropping sandstone monoliths in a dazzling array of colors. Other popular pursuits here include biking, climbing and cruising along the Zion-Mt. Carmel scenic drive.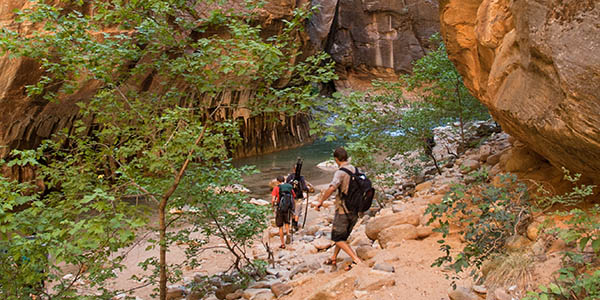 Crimson Cliffs and More
Don't miss Snow Canyon State Park, with its crimson Navajo sandstone cliffs and black lava rock. You can also horseback ride on over 15 miles of equestrian trails, rock climb or enjoy ranger talks.
Golf, By George
Mild winters mean great golfing year-round. Each course offers dazzling views of near-vertical canyon walls and black lava rock. Tee off at top courses like Entrada at Snow Canyon, Sand Hollow Resort or Coral Canyon Golf Course.
For More Information
St. George Area Tourism Office
435-634-5747
Utah Office of Tourism
800-200-1160