Provo
Home to Brigham Young University, and situated between Utah Lake and the Wasatch Front, Provo is known for its singular blend of bustling city life and outdoor recreation. From lake swims to waterfall hikes to historic museums and walking tours, you'll be hard-pressed to fit it all into one visit. And yet Provo's most enduring feature is the deep sense of community and welcoming attitude that has earned it the nickname "Happy Valley" and a consistent place on several top-ten rankings for best places to live and play in America.
Big Catches
The nearby shores of Utah Lake beckon visitors to Provo. Between boating, swimming and fishing for walleye, bass and catfish, there's no shortage of ways to enjoy a day on the water. Fly-fishing enthusiasts should head east to the Provo River, a blue-ribbon trout fishery that often rewards anglers with record hauls. Outfitters in town can help organize trips to exclusive stretches of the top-notch waterway. For a different kind of adventure, the Timpanogos Cave National Monument can only be explored on a ranger-led tour, but these visits are a one-of-a-kind chance to experience a well-conserved cave system. If you'd rather stay above ground, day hikes like Provo Peak and Bridal Veil Falls are rewarding routes. More water fun can be found in Deer Creek Reservoir to the northeast and East Canyon Reservoir to the north.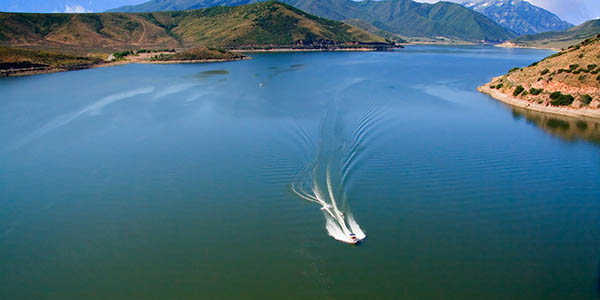 Y Not?
Get the lay of the land with an early hike to the top of Y Mountain just east of town. It's a short but steep trail, rewarding hikers with sweeping views of downtown Provo and Utah Lake. The enormous cement "Y" at the peak is lit up during sporting events in support of BYU teams and it's the perfect place for a picnic. After working up an appetite, you'll want to head back into town where you can enjoy farm-to-table cafés, barbecue and more in the diverse, bustling downtown district. Head north to Thanksgiving Point in nearby Lehi for a unique and interactive museum experience. Home to the Museum of Ancient Life, Ashton Gardens and the popular Museum of Natural Curiosity, the complex is a sprawling collection of over 400 hand-on exhibits, fossil displays, acres of manicured gardens and more.
Freedom Festival
Provo is the place for patriots from May to July, when America's Freedom Festival comes to town. Really a collection of 25 different patriotic events, the spectacle includes firework shows, musical performances, hot-air balloon launches and parades, many of which are broadcast to servicemen and women overseas. For insight into the region's historic global roots, try the Museum of Peoples and Cultures at Brigham Young, which boasts exhibits on Native Americans, explorers and important anthropological sites around the world. The Heber Valley Railroad is popular scenic rail route that serves up stunning views of the Provo Canyon on 16-mile scenic excursions. Keep an eye out for bald eagles, deer and elk.
Evermore, Ever Europe
North of Provo, a corner of the Utah landscape has been converted into a window into Europe's medieval past. Evermore park is an old-world, gothic-styled European village that's nestled among beautiful botanical gardens. Explorers will be transported to a time and place where life was simpler and, in many ways, more magical. Evermore dazzles visitors with theatrical performance, movie quality costuming, state of the art effects and cutting-edge technologies. Designed to match the look and charm of a period European hamlet, hundreds of actual antique relics from the countries of Europe adorn the Park.
Foodie Fun
Provo's eclectic food choices give you a new perspective on dining and drinking. Enjoy bubbly beverages at Sodalicious, with unique, quirkily named drink flavors that will bring a smile to your face. Feel like adventurous street-side fare? Every Thursday, dozens of food trucks roll into the paved lot next to the Startup Building in Provo. Visitors can savor a variety of flavors, enjoy live bands and mingle
Lumberjack Living
Get in touch with your inner Paul Bunyan at Heber Hatchets, a haven of ax-throwing fun. Real-wood targets are ready for you and your group to cut to pieces as you play nine-plus different axe-throwing games. And when you're not up to throw, you can take an ice-cold swig from your giant mug of specialty soda on tap. A restaurant will soon be added.
Provo Temple
Get a glimpse of a beautiful house of worship at the Provo Utah Temple for Church of Jesus Christ of Latter-day Saints. Set amid stunning mountain scenery, the beautifully designed temple inspires visitors from all walks of life.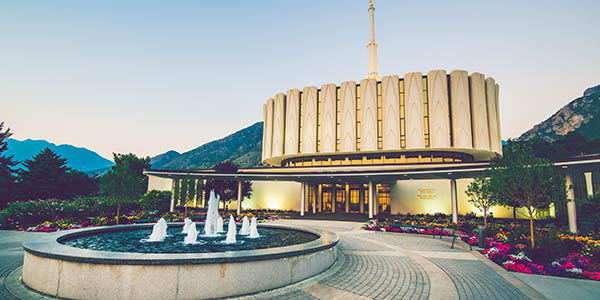 Go Hang Gliding
Take your love of outdoor recreation to new heights at the Flight Park State Recreation Area. Hang gliders and paragliders of all levels are welcome here, and instruction can be arranged for folks eager to master the art of flight. Defy gravity over beautiful countryside.
For More Information
Visit Provo
800-222-UTAH
www.utahvalley.com/visit-provo
Utah Travel Council
800-200-1160