Port Aransas
Ask a Texan for a favorite in-state beach destination, and the answer will most likely be "Port Aransas." Situated on the north end of Mustang Island off the Gulf Coast, Port Aransas is a small, easygoing beach town that's big on coastal recreation. From plush beaches and excellent fishing to scintillating seafood restaurants to boating, Port Aransas offers everything you need for the ultimate beach vacation.
Forever Summer
Port Aransas sits on the northern tip of Mustang Island, a long, thin barrier island off the Lone Star State's southeast coast. It sits 30 miles east of Corpus Christi, 200 miles south of Houston and 175 miles from the Mexican border. If you're coming from the north, follow Highway 361 to the transport terminal and then take a ferry over to the island. There's no need for a ferry if you're coming from Corpus Christi; just take Highway 358 across the John F. Kennedy Memorial Causeway to Mustang Island and then head north. Anytime is a good time to visit, as the town enjoys a subtropical climate and long, hot summers.
A Shore Thing
Discover your slice of paradise on Mustang Island's 18-mile stretch of public beaches. Ultra-fine sand and bath-temperature water create the perfect environment for sunbathing, surfing, parasailing, kayaking and windsurfing. From deep-sea fishing enthusiasts to pier anglers, everyone can reel in the big one here. Stick around the bay to catch redfish, trout and flounder, or take your boat out for your chance to catch kingfish, marlin and tuna.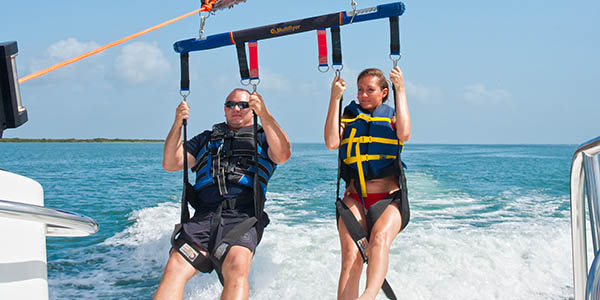 Land-based Pursuits
Back on land, go duck hunting on the Aransas Pass Flats, play 18 holes at Palmilla Beach Golf Club or keep your eyes peeled for a diverse array of native and migrating birds. Home to six sites on the Great Texas Coastal Birding Trail, Port Aransas offers plenty of excellent lookouts for wildlife enthusiasts and photographers.
Small-town Feel, Big-city Amenities
Port Aransas is small and home to only 3,000 residents, but you'll find that it's anything but a sleepy beach town. A wide array of activities are at your fingertips: Indulge in retail therapy at a wealth of shops and boutiques, watch a live play at the Port Aransas Community Theatre, feast on seafood at oceanfront restaurants or uncover the secrets of the sea at the University of Texas Marine Science Institute. You can even learn how to build your own boat at Farley Boat Works if you're in town for at least a few weeks. The fun doesn't stop when the sun goes down, as lively nightclubs and funky bars keep you entertained until the wee hours of the morning.
Regattas, Fishing and More
Get your heart racing at Port Aransas' action-packed festivals. Put your fishing skills to the test and compete with other anglers at the Deep Sea Roundup. Catch boat-building presentations and try constructing one with your family at the Wooden Boat Festival. Admire impressive, larger-than-life sand sculptures and learn how to make your own masterpieces at Texas SandFest. You can also cheer on sailboats at the Harvest Moon Regatta. Beginning in Galveston and finishing in Port Aransas, this October regatta is the longest point-to-point sailboat race in the nation. Bird-watchers will want to swoop in on the Coastal Bend Whooping Crane Festival to see these rare, majestic birds in close proximity.
Mustang Adventures
Outdoorsy folk can experience Mother Nature at her finest in Mustang Island State Park. Just a 15-minute drive south of Port Aransas, this park lures kayakers with its epic paddling trail. Made up of three sections (North Trail, Shamrock Loop Trail and Ashum Trail), this route is renowned for its bird-watching and fishing opportunities. A bit further south is Padre Island National Seashore. Covering over 130,000 acres, this area is the longest stretch of undeveloped barrier island on earth. There's no end to what you can do here: Conquer sand dunes, take a stroll along the Grasslands Nature Trail, spot baby turtles scurrying across the ocean floor, go off-roading at the beach or take a birding tour.
Port Aransas' Past
From Native Americans and Spanish pioneers to pirates and legendary anglers, Port Aransas has been home to many colorful characters over the centuries. The best way to uncover the town's past and people is through the exhibits, videos and pictures at the Port Aransas Museum. Afterward, make your way to Lydia Ann Lighthouse. Completed in 1857, this landmark was fought over by Union and Confederate forces in the Civil War. Avid fisherman can also visit the place where Texas sport fishing began: Tarpon Inn. This hotel is the oldest continuously operating business on the island and showcases tarpon scales caught by guests like Franklin D. Roosevelt and Hedy Lamarr.
Two-wheeled Fun
Bicycling the beach is a great way to spend an afternoon in Port Aransas. Wheel yourself down to Port Aransas Nature Preserve at Charlie's Pasture. The preserve houses just over three miles of trails for biking and hiking.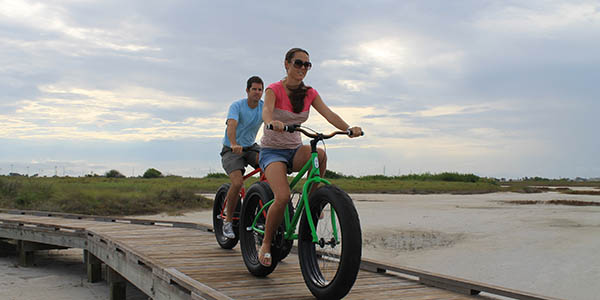 For More Information
Port Aransas Chamber of Commerce and Tourism Bureau
800-45-COAST
Texas Office of the Governor, Economic Development and Tourism
512-463-2000