Ogallala
The Wild West lives on in Ogallala, a town that proudly celebrates its roots as a vital frontier community. See where many early Ogallala gunslingers found their final resting places at Boot Hill (not to be confused of the cemetery of the same name in Deadwood, South Dakota). Although the "residents" have since been relocated, historical markers tell the tale of many an outlaw drawn to Ogallala by the booming cattle trade of the late 1900s, only to meet a bloody end. Front Street is a quaint throwback to the dusty Old West, with false fronts that mimic the businesses once lining a frontier town's main road. The free museum here is home to antiques and artifacts reminiscent of Ogallala's early days.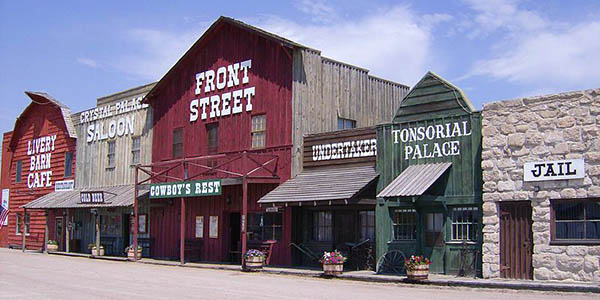 There's a Mansion on the Hill…
Wander through the Mansion on the Hill, a preserved residence that showcases the riches enjoyed by the Ogallala elite. The Manson was completed in 1887 and once served as the home of the town's mayor. Visitors are dazzled by the deep, narrow windows and solid brass hardware, as well as period furnishings throughout this stately historic home. Class is always in session at the District #7 one-room schoolhouse from the 1800s, located on the grounds of Mansion on the Hill. It's been renovated and is open for public tours. District # 7 Schoolhouse was built in 1902 and is a well-preserved example of rural one-room schoolhouses that served towns like Ogallala.
Paddling on the Plains
Lake McConaughy draws visitors to relax on sandy beaches and cruise the waters by boat. Drive around the lake to the dam and enjoy the view, and stop at the interpretive center to learn about the lake's history and impact on the community. Near the lake's west end is Ash Hollow State Historical Park. The park's interpretive center details the area's history through geology, paleontology, Native American history and 19th-century pioneer settlement. Ash Hollow Cave is a preserved site that shows evidence of use by prehistoric residents as many as 6,000 years ago. On Windlass Hill, the ruts left by wagon wheels as pioneers entered the valley remain etched in stone. Each June, Ash Hollow Pageant is held at the park to commemorate the arrival of settlers.
Petrified Ogallala
See how time has been frozen in the beauty of petrified wood at Ogallala's Petrified Wood Gallery. The displays showcase the region's natural history through displays of petrified wood, fossils and Native American artifacts. The collection was started in the 1950s and was donated by the owners in 2000. Today, the gallery also displays visiting artists' works and exhibits on loan from various collectors.
For More Information
Visit Ogallala
800-658-4390
Nebraska Dept. of Economic Development
877-NEBRASKA