New York
The City that Never Sleeps. The Big Apple. The Capital of the World. You know the nicknames, you've seen the movies and TV shows. But a visit to New York, New York, will still surprise you. The history runs deep in our nation's very first capital city, as do the opportunities for exciting, singular arts, entertainment and sports. Even the parks here are larger than life. You'll never have time to see it all, but that's no reason not to try.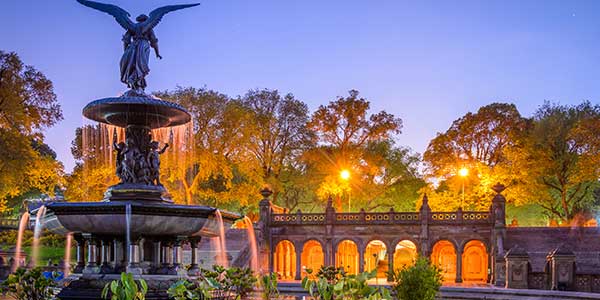 Central Park Perks
Not expecting outdoors adventures, visitors to New York City are often surprised to find an abundance of vast green spaces. Designed over 150 years ago by the famed architect Frederick Law Olmsted, Central Park encompasses nearly 850 acres of paths, trails and wide-open fields, as well as events and performance spaces. Take a stroll through the densely wooded Ramble, or sprawl out with an afternoon picnic in the pastoral Sheep Meadow section. Keep an eye out for Pale Male, the most famous of the red-tailed hawks that call the park home.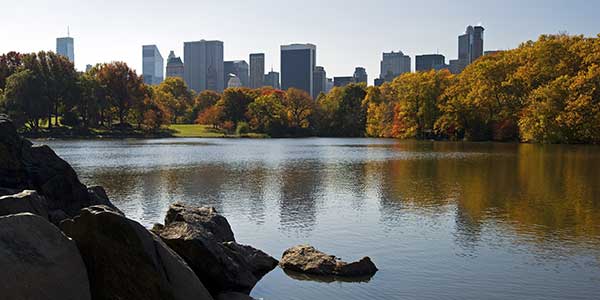 A Park Sprawls in Brooklyn
In Brooklyn, Prospect Park is a worthy rival to its more famous neighbor. The first urban Audubon Center in the country, Prospect Park is a popular migratory stopover and a haven for urban bird-watchers. It's also home to ice skating rinks, fishing ponds, a lake and a zoo. Bring your pole for catch-and-release fishing of largemouth bass, and bluegill and pumpkinseed sunfish.
Crossroads of the World
No trip to New York would be complete without a stop in Times Square. Dubbed the "Crossroads of the World," the corner of Seventh Avenue and Broadway is a bustling, photogenic hot spot 24 hours a day. Street performers, neon lights and real-deal New York pizza await. In the heart of the Theater District, you can easily pick up tickets to a show while exploring the sights. Rockefeller Center is another must-see. In the winter, it's home to the famed ice skating rink and Christmas tree, and in the warmer weather it's not unusual to see celebrities coming and going from the 30 Rock building.
Towering Views
One of the most popular tourist sites in the world, visiting the top of the Empire State Building is a bucket list affair. Dazzling views of Central Park and the New York skyline await, whether you visit day or night. The Museum of Modern Art, Guggenheim Museum and Metropolitan Museum of Art house some of the world's great creative treasures and are the perfect remedies for rainy-day visits. For history buffs, head south to Battery Park, the southernmost tip of the island of Manhattan, and hop a ferry to the Statue of Liberty and Ellis Island. Seen together, they are enduring symbols of the American spirit that shed light on our melting-pot history. At Ellis Island, you can walk in the footsteps of immigrants.
For More Information
New York City
800-NYC-VISIT
New York Department of Economic Development
800-225-5697