New Orleans
Marinating in a festive atmosphere and a sultry climate, New Orleans is renowned for its stunning French colonial architecture, vibrant jazz music, rich Cajun and Creole culinary traditions, and — of course — its annual Mardi Gras celebration. Though the city has been through its fair share of hardships over the years – including the devastating Hurricane Katrina of 2005 — the Big Easy never fails to bounce back with boundless sass and infectious joviality.
Cruising to Crescent City
New Orleans sits on the east-pointing toes of the Louisiana boot. Straddling the southern banks of Lake Pontchartrain and bordered by Lake Borgne to the east, the town sprawls along the Mississippi River before the waterway turns south and empties into the Gulf of Mexico. Interstate 10 runs through town, connecting New Orleans to Houston, Texas (five hours by car to the west), and Mobile, Alabama (about two hours east of the city center). The climate here is pleasant most of the year, with warm winters and hot summers frequently punctuated by afternoon thunderstorms.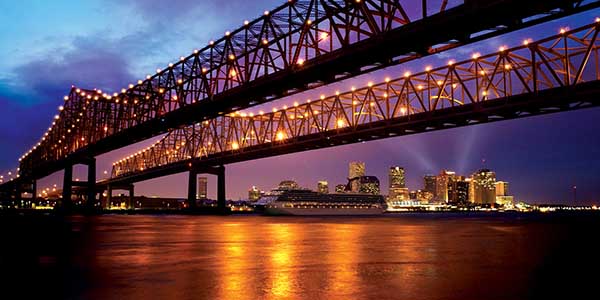 Big Fish in the Bayou
New Orleans' proximity to the Gulf Coast and endless Louisiana bayous have long made it a center of boating and fishing, and there are numerous charter companies in the city that offer both inshore and inland trips. Game fish in the area includes flounder, redfish, marlin and trout. Popular areas include the Bayou Sauvage National Wildlife Refuge, a 15-minute drive from the French Quarter and home to hundreds of avian species along with alligators, fish and other marshland creatures. A little further away is the Barataria Preserve, part of the Jean Lafitte National Historical Park and Preserve. Here, travelers can engage in wetland walks, go bird-watching or simply hike — canoeing and boating are not currently allowed here due to overgrowth.
Parties and Parades
New Orleans is synonymous with Mardi Gras, dubbed the "Greatest Free Show on Earth." Held just before Lent, this annual rollicking affair brings revelers from around the world to gather for food, drink and colorful parades. The Garden District is a particularly good place to watch scores of elaborate floats go by — be prepared to catch the beads thrown by float riders.
For More Information
New Orleans & Company
800-672-6124
Louisiana Office of Tourism
800-677-4082