Myrtle Beach
When it comes to the ultimate American vacation, Myrtle Beach has you covered. From an entertainment-packed boardwalk and bustling beaches to amusement parks and golf courses, Myrtle Beach is all about wild good times. It's not just beaches and golf courses here—Vegas-like performances, lively nightlife spots, endless shopping options and renowned seafood restaurants make Myrtle Beach a prime destination for every kind of traveler.
South Carolina's Top Resort Town
Nestled on South Carolina's Atlantic coast and just a stone's throw from North Carolina, Myrtle Beach is home to 60 miles of fun-filled beach and plenty of oceanfront resorts. U.S. Route 501 is the most well-known route to get into town. Take the South Carolina Highway 22 if you want to get to the northern neighborhoods of the Grand Strand. It's best to come from June to August, as hot temperatures allow you to play outside all day and night. Spring also brings warm temperatures, and during winter, the snowbird scene is bustling for folks who like hitting the coast.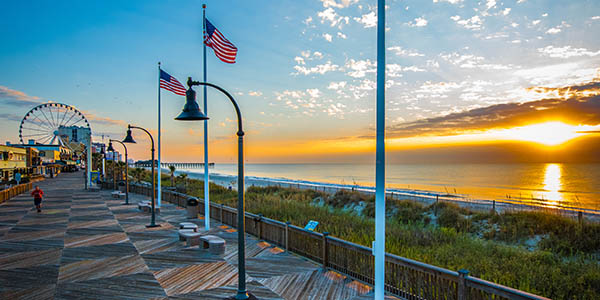 Calling all Beachgoers, Anglers and Golfers
You'll find the usual beach activities and more on Myrtle Beach. Work on your tan, cool off in the refreshing sea, look for shells, fly a kite, try windsurfing or scuba dive to dozens of shipwrecks. Don't forget to pack your rod. Eight fishable piers and countless charter companies make it easy to snag that big catch. For great freshwater fishing, drop a line in Kingston Plantation, Big Cypress Lake or Murrells Inlet — all three areas have largemouth bass and bream. Hunters will find a bevy of choices east of town and inland in the Pee Dee region.
Find more Myrtle Beach camping locations.
Hitting the Links
Myrtle Beach is also known as the golf capital of the world. Home to hundreds of courses ranging from beginner to pro, you'll be sure to find one that suits your skills and budget. Tee off at links like Caledonia, Dunes Golf and Beach Club, Barefoot Resort and True Blue.
Excite Your Senses
You can't help but experience sensory overload when you walk along the 1.2-mile-long Oceanfront Boardwalk and Promenade. From thrilling rides and arcades to live performances and stunning views, this area is guaranteed to wow the entire family. While you're here, immerse yourself in the weird and wacky at the Ripley's Believe It or Not! Museum and ride the SkyWheel to see the town from a whole new perspective.
More on the Shore
More exciting attractions await at Broadway at the Beach. Challenge the kids to a game of mini golf, make a splash in Myrtle Beach Water Park, strike a pose at Old Tyme Portraits and play with more than 100 interactive exhibits at WonderWorks. Finish your action-packed day by watching Legends in Concert, a celebrity tribute show, or taking a paddleboat ride under the Broadway bridges.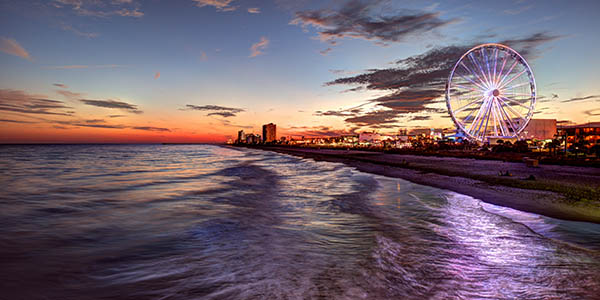 For More Information
Visit Myrtle Beach
800-356-3016
South Carolina Department of Parks, Recreation and Tourism
803-734-0124