Houma
Just 57 miles southwest of New Orleans, Houma is a world all its own, with unique Cajun traditions, a singular dialect and a joie de vivre that's impossible to find anywhere else in the country. From pontoon tours of cypress swamps to all-night cookouts, the magic and mystery of Bayou Country comes alive in this fascinating and fun corner of the Deep South.
Wild Wetlands
Southern Louisiana lays claim to nearly 45 percent of all the wetlands in the Lower 48, and Houma has as its showpiece some of the most beautifully pristine swamps in the Atchafalaya Basin. Whether traveling by canoe, airboat, pontoon boat or even in a small plane, the scenery and wildlife captivate visitors.
Fishing Gateway
Houma also is considered the official gateway to Louisiana's best Gulf fishing and is home to several charter companies that can arrange coastal, inland and swamp fishing excursions. The variety of fish in these waters is so diverse, the hard part will be deciding what you're looking to land. You'll discover abundant populations of trout, redfish, black drum and sheepshead, among others.
Taking Wing
Just 5 miles southwest of town, the Mandalay National Wildlife Refuge is a bird-watcher's dream. Home to nearly 45 percent of the wetlands in the entire country, this stretch of the coast is shelter to herons, pelicans, egrets and more. In fact, nearly 250 exotic birds call the bayou home. The park's nature trail allows visitors to explore the wetlands on foot and from viewing platforms that offer excellent opportunities for photographing flora and fauna. Hunting also is available in certain areas with a permit.
Plantation Country
History buffs will relish stepping back in time with a visit to Southdown Plantation, whose immaculately restored manor house and sprawling grounds harken back to an era when the sugar industry was king in southern Louisiana. Tours of the property give expert insight into the region's complex history, from its earliest settlers to its most successful tycoons. A swamp tour, whether by airboat or pontoon, is a must-do in Bayou Country, and there are numerous operators in Houma who can set you up.
Gator Time
Few Houma luminaries are as famed as Alligator Annie, who began the tradition of bringing visitors deep into the swamps for tours decades ago. Her family's business, now operated by her son and called Annie Miller's Son's Swamp and Marsh Tours, is a top local attraction. The tours feature spectacular sightings of gators along with local lore shared by the knowledgeable tour guides. Make sure to call ahead for reservations.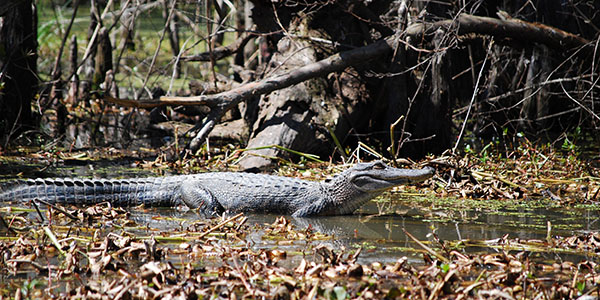 Great Garden
On the banks of the nearby town of Chauvin, a reclusive bricklayer began constructing the Chauvin Sculpture Garden on his property in the late 1980s. It's now open to the public and heralded as one of the premier examples of modern folk art in the world. After an afternoon exploring gator-filled swamps, it's a great way to explore some of the cultural traditions of the area that are still being written. A visit to Houma wouldn't be complete without a night spent learning the two-step from a local at the Jolly Inn or A-Bears Café, two classic spots for home-cooked food and traditional Cajun rhythms.
Cajun Culture
You might want to brush up on your Cajun phraseology before landing in town. A mix of French, Acadian French (descendants of French settlers exiled from Nova Scotia in 1755) and English, Cajun words are as spicy and fun-loving as the foods for which the culture is so renowned. Craving some couche-couche, boudin or pain perdu? Get your tongue ready to order and your taste buds ready to savor some culinary delights.
Creative Cuisine
Cajun cuisine is a beloved tradition. It's a blend of classic French and Southern cooking with a pinch or two of vibrant influence from Germany, Spain, the Canary Islands, the Philippines and various Native American cultures. Toss the lot in a bowl, mix for 300 years and voilà! There may be no more richly nuanced culinary tradition in the world than real, authentic Cajun cuisine. And out-of-the-way small towns like Houma are the places to find it.
Hot Enough For Ya?
Be prepared before you dine and make sure the requisite glass of cold water or cold beer is standing by. From andouille sausage to spicy crawfish, the only thing hotter than a Cajun-inspired menu is Louisana's summer sun.
Greet the Gators
For a quick-and-easy day trip, nearby Gibson is home to a pair of family-friendly attractions that offer fun for all ages. The Wildlife Gardens provides visitors with the opportunity to walk through a live cypress swamp, tour a small alligator farm and see a 110-pound loggerhead turtle. Also in Gibson is Greenwood Gator Farm, which annually houses and hatches between 5,000 and 10,000 baby alligators. Visitors enjoy a range of informative live shows, enjoy a behind-the-scenes tour and learn how to safely catch and hold baby alligators.
Mardi Gras, Houma Style
Houma is a showplace for music festivals and other celebrations year-round, including its very own version of Mardi Gras — a two-week, 24/7 party from January to February. Fantastic food, colorful floats and outlandish costumes make this a special event. If you're looking for the right beverage to wash down that spicy food, then check out the Annual Bayou Beer Fest in November. Hundreds of craft and specialty brews from all of Louisiana's craft breweries will be on tap.
For More Information
Houma Area Convention & Visitors Bureau
985-868-2732
Louisiana Office of Tourism
800-677-4082