Historic Triangle
Brimming with living history museums, fascinating monuments and Colonial towns, the Historic Triangle of southeast Virginia transports you to America's pivotal historic moments. Start your journey in Jamestown to explore North America's first permanent English settlement. Following northeast along the Colonial Parkway will take you to the triangle's apex, Williamsburg, a Colonial town that roiled with revolutionary fervor in the 1770s. Go southeast along the same parkway and you'll wind up in Yorktown, the spot where American forces won a pivotal battle.
Colonial Roads Take You Home
Let southeast Virginia's Colonial Parkway take you on a trip through American history. The north tip of the Historic Triangle (Williamsburg) is only an hour's drive east from Richmond on Interstate 64. You can start your American Revolution adventure here, or carry on to the Colonial Parkway. If you're coming up from the south through Norfolk, I-64 is your best bet for heading straight to Williamsburg. Veer off to the east on U.S. Route 17 if you'd rather begin in Yorktown. Plan to visit in May, June or September, when temperatures aren't too hot, because you'll be doing plenty of walking and reenacting at Colonial Williamsburg, a 300-acre living history museum.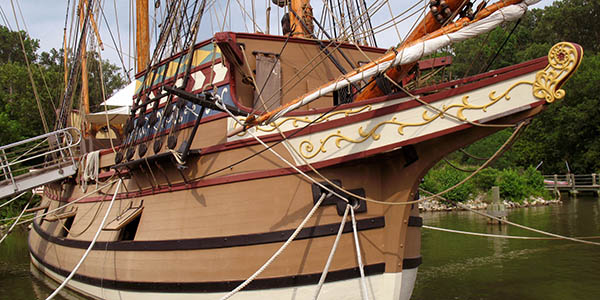 There's Wildlife, Too
Uncover the wild side of the Historic Triangle at College Landing Park in Williamsburg. Set on the shores of College Creek, the park is threaded with trails that wind through lush marshlands and a lookout tower; watch for a variety of birds as you stroll through the landscape. Near Jamestown, you can paddle to your heart's content in Powhatan Creek Park and enjoy stunning views of Jamestown along the way. Cast a line from your boat or from one of five fishing piers to catch spotted sea trout, black sea bass, bluefish, catfish, largemouth bass and more. You can also take in the area's spellbinding landscapes at a slower pace by cycling the 23-mile Colonial Parkway. If you want to take it even slower, play 18 leisurely holes or practice your swing at the handfuls of golf courses nearby.
Indulge in Art and Shopping
The Historic Triangle is home to riveting living history museums, but there's so much more to this part of the Virginia peninsula. Gaze at the world's largest collection of Southern furniture and impressive British ceramics at Williamsburg's DeWitt Wallace Decorative Arts Museum. The town also houses one of the biggest collections of American folk art in the world. The Abby Aldrich Rockefeller Folk Art Museum showcases exquisite portraits, quilts, toys and more from the 18th, 19th and early 20th centuries. Take a break from the history lessons by shopping at Williamsburg Premium Outlets. Boasting top names like Nike, Banana Republic, Coach, Gap and J. Crew, this outlet mall offers incredible deals on quality clothes and accessories.
Fuel for the Mind and Stomach
You can feast like American revolutionaries did thanks to an overload of delicious eateries. Stop by a replica of George Washington's favorite seafood joint, Christiana Campbell's Tavern, and devour their signature crab cakes just like the former president did. Dine like 18th-century royalty at the King's Arms Tavern, Colonial Williamsburg's most elegant restaurant. Costumed waiters serve up early American cuisine such as game pie, venison, rabbit and duck braised in port-wine sauce, while serenading guests with live traditional music. Festival season kicks off in spring and offers everything from art displays and concerts to garden tours and wine tastings.
Lifestyles of the Colonial
Jamestown sends you back to the 1600s with its Colonial fort and stunning replicas of 17th-century ships. History buffs will love wandering through its wide array of exhibition galleries while snapping photos of authentically re-created ships and buildings. Visitors also can gain insight into the Powhatan way of life and learn about Pocahontas at the re-created Powhatan Indian Village. In Colonial Williamsburg, explore 88 historic buildings, including authentic homes and reconstructed trade shops and taverns. Costumed interpreters never break character here, so you'll feel as if you've been transported back in time.
Yorktown Under Siege
Journey further east to reach the location of the 1781 Siege of Yorktown, the last major battle of the American Revolution. Today, it's part of the Colonial National Historical Park with the Yorktown Victory Center and Yorktown Battlefield open to the public.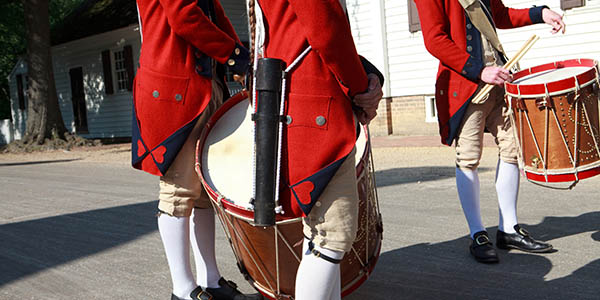 Back to the Future
Ready to return to the present? Swing by Busch Gardens Williamsburg theme park for the ultimate adrenaline rush. Ride thrilling roller coasters like the Loch Ness Monster, dine in European-themed restaurants or enjoy fun family-friendly shows and live entertainment throughout the year. Not far away is Water Country USA, Virginia's largest waterpark at 43 acres. Cool off during hot summer days by racing down over 40 rides and attractions. Kids can get their hearts racing on exhilarating water rides like the Colossal Curl mega-slide, while adults can float along the lazy river or relax in the gigantic wave pool.
For More Information
Virginia Tourism Corporation Tourism
804-545-5500