Hershey
No place in America satisfies a sugar craving quite like Hershey. Billed as the "Sweetest Place on Earth," the fun-filled and family-friendly destination has gained global cachet for its world-class attractions, amusement park rides and, of course, for its celebration of all things chocolate. Feel free to spoil your appetite at this singular locale, where recreation, Americana and decadent Hershey's confections blend in a tantalizing mix.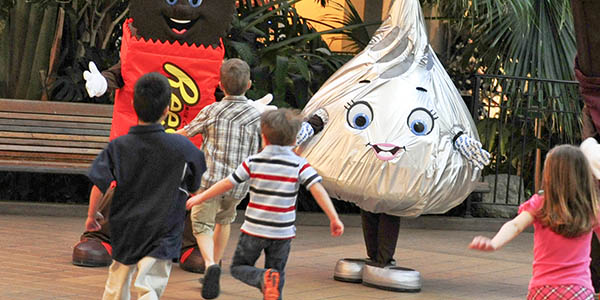 Milton's Vision
In 1905, Milton S. Hershey completed construction on the world's largest chocolate manufacturing plant 10 miles east of Harrisburg, the Pennsylvania capital. He wanted a place for his new employees to live and prosper along with him, so the town of Hershey was born. It wasn't long before family homes, tree-lined streets and top-notch schools sprouted up around the company plant.
Sweet Rides
Fast-forward to today, and the inviting town of Hershey has grown to include Hersheypark, one of the nation's finest amusements parks, and the iconic Hershey Theatre, which boasts concerts and Broadway shows. Visitors also can tour Hershey Gardens, a 23-acre wonderland of diverse plants and trees highlighted by an indoor butterfly atrium. You probably won't have any difficulty finding your way around, but if you get lost, just look for the streetlights shaped like Hershey's Kisses.
Paddling Plenty
Cocoa Kayak Rentals organizes paddling trips along the quaint Swatara Creek, just north of Hershey. Be prepared for ample wildlife sightings, including the reclusive bald eagles that live along the tree-lined waterway. In nearby Hummelstown, guides can arrange pontoon trips along the nearby Susquehanna River that include tubing and fishing.
From Flavors to Fairways
Hershey is designed to be a fun and relaxing destination, and the outdoor activities are no different. The Hershey Country Club has three award-winning golf courses, but only the nine-hole Spring Creek Golf Course is open to nonmembers. Hummelstown offers many challenging public courses.

A World of Chocolate
At Hershey's Chocolate World, visitors can see how confections are made and learn some company history. One of the draws is a ride that tours the chocolate-making facility, explaining each step of the process that turns cacao into Hershey's bars. Pick your own ingredients and wrapper and create your own chocolate bar. Also on the menu is a guided chocolate tasting session that explores the rich palate of chocolate flavor.
Hershey's Wild Side
Get wild with the residents of ZooAmerica, Hershey's wildlife park that's home to more than 200 animals from five regions of North America. Well-known and well-loved residents include the mountain lion, black bear and American alligator — but other lesser-known creatures that are just as fascinating live here, too. Meet a coati, a relative of the raccoon, along with an American marten and a long-eared owl. The zoo offers regular programs and behind-the-scenes tours for guests, and its popular Animal Tales program entertains young children.
Cars, Not Candy Bars
Switch gears from animals to autos at the Antique Automobile Club of America Museum. The interactive exhibits highlight the beauty of more than 100 cars from the late 1800s to modern-day roadsters.
Lady Luck Reigns Here
Roll the dice on a day trip to Hollywood Casino in Grantville and if you're lucky you'll come up a winner. Located at Penn National Race Course, the casino offers slot play, table games and a museum filled with memorabilia and props from popular Hollywood films. Live music has a starring role, too, as do the horses. If racing revs you up, stick around for a race or two and see if you can pick a winner.
Bikes and Big Catches
Take your bicycles out for a spin on the fabulous trails that run through Hershey; the Jonathan Eshenour Memorial Trail winds more than 13 miles through the township. If fishing is your preferred pastime, dip a line in Grub Lake to the south for largemouth bass, smallmouth bass and crappie. Plenty of fishing spots are available.
Beer and Wine
Quench an adult-size thirst at Tröegs Brewing Company, where guided tasting tours provide insights into the production of the company's tastiest creations. Samples are available for lovers of craft beers. At Cullari Vineyards and Winery, sip some of Hershey's distinctive varietals, including chocolate wines. Cassel Vineyards in nearby Hummelstown tempts taste buds with its own locally crafted wines made from six varieties of grapes.
For More Information
Hershey Entertainment & Resorts
800-437-7439
Pennsylvania Department of Community and Economic Development
800-847-4872