Glenwood Springs
The Rocky Mountains cut through Colorado in dramatic fashion, providing a stunning backdrop for the scenic towns tucked amid the peaks and valleys. Located on the range's western slopes, about 195 miles west of Denver, Glenwood Springs entices visitors to escape to refreshing mountain air. Spend your days hiking, biking, paddling and fishing in the hills and waterways, and then unwind in the spas and hot springs or with a stroll through the historic downtown.
Roaring Rivers
The Colorado and Roaring Fork rivers converge in town, providing ample fishing in many locations. Several sections are designated as Gold Medal Waters by the Colorado Wildlife Commission, making them top picks for hooking trout. You'll also find kayaking, canoeing and whitewater rafting in the nearby smaller creeks. Looking for a wild ride? The Glenwood Whitewater Park will test your skills. For hiking and biking, check out the 16-mile Glenwood Canyon Recreation Trail and the 42-mile Rio Grande Trail. Hunters will want to venture into the White River National Forest to find elk, mule deer, moose, black bears and bighorn sheep.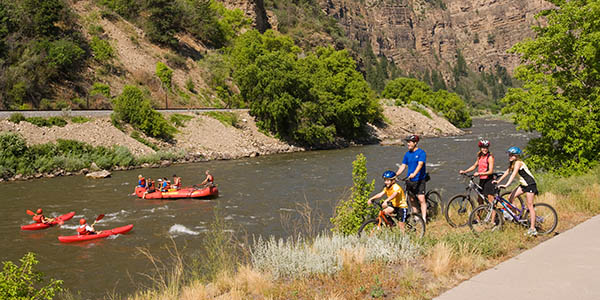 Unwinding
After your adventures in the great outdoors, Glenwood Springs is a haven for unwinding, starting at the Glenwood Hot Springs Pool or the Iron Mountain Hot Springs. Find a spot in these naturally heated waters and let the heat drain the tension from your muscles. Water slides make this an adventure the whole family can enjoy. You'll find more relaxation at the Yampah Spa and Vapor Caves.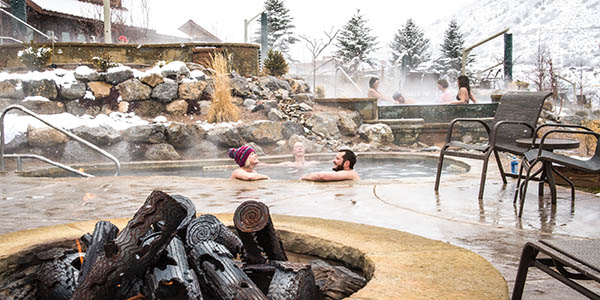 Picturesque Parts
One of the region's most picturesque sights is found at Hanging Lake. Making the 1-mile hike up the rigorous, rocky Hanging Lake Trail is worth the effort when you gaze into the clear turquoise waters of this travertine lake. Considered one of Colorado's best hikes, the Grizzly Creek Trail follows the rushing waters through a lush forest for over 3 miles. For more adventure, head up Iron Mountain to visit the Glenwood Caverns Adventure Park, home to the nation's highest-elevation full-sized coaster.
For More Information
Glenwood Springs
970-945-6580
Colorado Tourism Office
800-265-6723