Georgetown
Over the decades, Georgetown has established a reputation as one of the most fashionable and upscale neighborhoods in the District of Columbia. A tour of the area, which sits on the banks of the Potomac River on the district's southeast border, bears this out. Visitors will discover 200-year-old mansions in elegant Federal and Victorian styles, along with charming row houses that once served as homes to celebrated leaders. The town's shopping and restaurant district treats visitors to fine cuisine and opulent retail goods.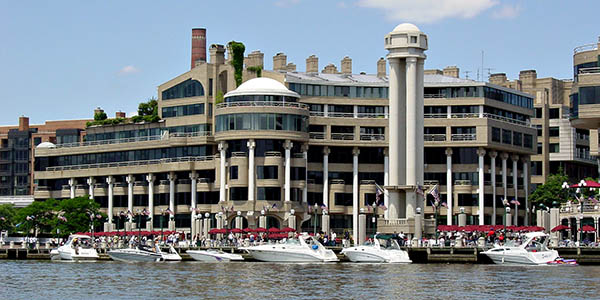 Stomping Ground of Celebrities and Power Brokers
Many residents in Georgetown make their living in the high-pressure political world of Washington, D.C., but the neighborhood has been home to non-politicians as well. Iconic chef and cookbook author Julie Child once lived here, and visitors can take a stroll past the charming house on Oliver Street where the budding chef wrote "Mastering the Art of French Cooking." President John Kennedy left a rich legacy in the area as well. Visitors can see the elegant Federal-style home occupied by Kennedy and his young family during his campaign for president and sit down for a meal at Martin's Tavern, a family-owned establishment where Kennedy reportedly proposed to Jackie. Founded in 1933, the family-run restaurant displays pictures on its walls of the iconic leaders who visited the establishment, from Harry S. Truman to George W. Bush.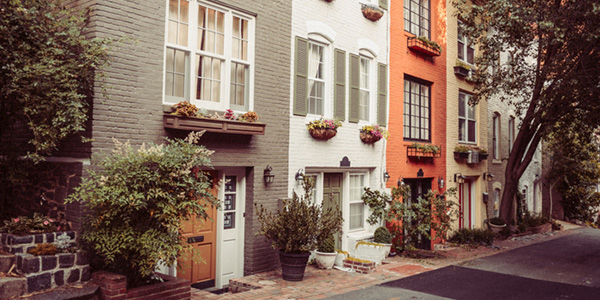 Cool Canal
During his presidency, George Washington embraced a vision of opening up new avenues to the west. This dream was partially realized with the establishment of the Chesapeake & Ohio Canal, which originates in Georgetown and extends 185 miles east into Cumberland, Maryland. Ground was broken on the project in 1828, and the long stretch of waterway, which runs parallel to the Potomac River, is now a national park. The canal's tow path is today used by walkers and runners taking advantage of the park's beautiful scenery. Take one of the boat tours of the canal that disembark from Georgetown.
For More Information
Destination D.C.
202-789-7000
www.washington.org