Eureka Springs
A grand discovery lurks in the heart of the Ozark Mountains just south of Missouri's Southern border. Half natural paradise and half historic town, charismatic Eureka Springs pairs urban thrills with outdoor adventure, Victorian homes with rugged peaks and a colorful past with a thriving arts scene. In town, get swept up in local legends and lore, dine at award-winning restaurants, browse unique shops and soak in a Victorian-era bathhouse. Just outside town, lush forests, rugged mountains, fish-filled waterways and underground worlds invite you to come and play.
Venture into the Heart of the Ozark Mountains
Perched near the northwest corner of Arkansas, Eureka Springs is a charming resort town set in a steep valley within the Ozark Mountains. You can expect hot and humid summers, frigid winters, and partly cloudy weather throughout the year, with temperatures ranging between 29 to 89 degrees. If you're interested in outdoor recreation, the best time to come is between mid-May to late September. Running through the area are highways U.S. 62 (east/west) and U.S. 23 (north/south). It takes about an hour and a half to get here from Springfield, Missouri, and 45 minutes from Branson, Missouri.
Craving Caves and Mountains
Arkansas is known as the Natural State, and it's easy to see why in Eureka Springs. Within minutes of leaving town, you'll be dazzled by rolling hills, soaring peaks, rugged caves, sparkling lakes and roaring rivers. Delve deep into the Ozark Mountains for nature treks, spectacular bird watching, horseback riding and biking. For the high-speed thrills, race past lush forests and dramatic cliffs at Ozark Mountain Ziplines.
Arkansas H2O
There are three lakes and two rivers near Eureka Springs, which means endless opportunities for swimming, canoeing, boating and fishing. Reel in plump trout from White River and North Fork River, and catch smallmouth bass in Buffalo National River and Crooked Creek. Beneath the surface, the sparkling underworld of Onyx Cave Park invites you to descend into the earth and explore subterranean spaces. Journey through maze-like pathways to discover cavern creatures, beautiful rock formations and underground lakes. To the west, Beaver Lake serves up a variety of recreation opportunities.
A Quirky and Cool Town
Weird, wacky, and wonderful attractions abound on the streets of Eureka Springs. Immerse yourself in local legends by visiting Quigley's Castle, the unusual home built by local Elise Fiovanti Quigley, an Italian immigrant who dreamt of a house for a large family that blended indoor and outdoor spaces. In some rooms, trees grow in special areas where there's soil instead of a floor. Catch an illusionist show at the Intrigue Theater, or get up close and personal with lions, tigers, and cougars at Turpentine Creek Wildlife Refuge, a sprawling 459-acre sanctuary for rescued big cats.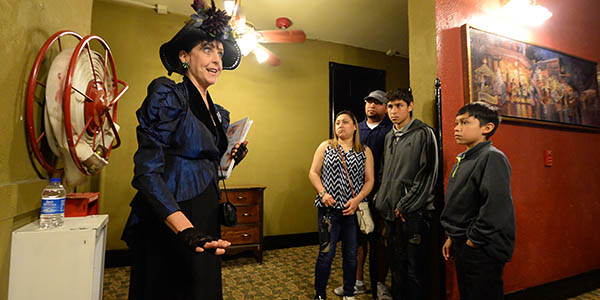 Feel the Heat
After a day of sightseeing, relax in a mineral bath at Palace Bath House, a Victorian-era bath house that uses the hot spring waters for therapeutic relaxation. Eureka Springs also is a haven for almost 400 artists, boasting over 100 shops and galleries. Stop by a few to see some fantastic works and purchase fine crafts.
Events for Everyone
Famed for its vibrant arts scene, Eureka Springs shows off its creative side at the May Festival of the Arts through art exhibits, performances and a crazy block party known as the White Street Walk. Opera fans can catch performances from internationally acclaimed artists at Opera in the Ozarks, while bluegrass enthusiasts can fill up on good tunes and great eats at Bluegrass and BBQ. Other popular summer music festivals include Highberry, Spaceberry and Hillberry the Harvest Moon. When autumn rolls around, check out sweet rides at the Antique Automobile Festival or meet Turpentine Creek Wildlife Refuge's resident grizzly bear and take part in a variety of bear-focused activities at Bam Bam Weekend.
Historic Homes and Haunted Hotels
Founded in 1879, Eureka Springs wears its vibrant history on its figurative sleeve. Take a stroll downtown to see beautiful Victorian-style homes and hotels predating the 1900s; several restored mansions open their doors for visitors. Top sites in the city include the 1929 Municipal Auditorium, Eureka Underground (a Civil War hospital) and the spot where the final outlaw of the Dalton gang was captured. The city is also home to the 1886 Crescent Hotel & Spa, known as America's most haunted lodgings. Join a tour to hear about the spirits that have purportedly haunted the establishment, or stay the night if you're feeling brave. A blast from the past awaits at the Eureka Springs and North Arkansas Railway. Here you can ride on a steam locomotive from the 1940s, watch an authentic train turntable operate, and enjoy a delicious meal in the luxurious dining car.
Religious Roots
Hidden deep in the woodlands is Thorncrown Chapel. Boasting 425 windows comprising 6,000 square feet of glass, this stunning 48-foot-tall structure is considered by many to be the most beautiful chapel in the world. Step inside to experience its exquisite open-air design and be captivated by the contrasting wood and glass architecture. If you prefer historical churches, check out St. Elizabeth's Catholic Church. Listed on the National Register of Historic Places and in Ripley's Believe It or Not, the 1904 structure is the only house of worship in which congregants enter through the bell tower. The structure is also unique in that it blends Byzantine, Romanesque and Gothic architectural styles.
Christ of the Ozarks
Religious pilgrims also make the hike up to the top of Magnetic Mountain to Christ of the Ozarks statue. Standing 65 feet tall and gesturing with arms outstretched, the statue commands a sweeping view of the town below. Constructed in 1966, the statue is visible for miles around the town. Commissioned by Christian clergyman Gerald L.K. Smith, the statue was built by hand; no poured segment was used in its construction. In a nearby outdoor amphitheater, local performers put on one of the nation's most attended outdoor dramas. "The Great Passion Play" depicts Jesus Christ's final week on Earth. Even if you have no religious affiliation, the Christ of the Ozarks statue is a stunning attraction.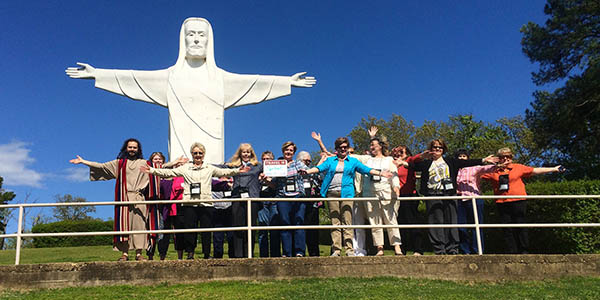 For More Information
Eureka Springs Arkansas
Arkansas Department of Parks & Tourism
501-682-7777