Dallas/Fort Worth
Cowboys, rolling prairies, football and Tex-Mex cuisine — everything you think of when you hear the word "Texas" can be found in Dallas and Fort Worth (also known as DFW). However, if you spend a decent amount of time in these two cities, you'll realize DFW is so much more than its stereotypes of urban cowboys and longhorn steers. Chock-full of historic sites, world-class art and family-friendly attractions, this thriving metroplex will give you a Texas-size good time.
Home on the Prairie
Dallas and Fort Worth are 30 miles apart, with the suburbs of Irving, Arlington and Grand Prairie separating them. They're North Texas' largest cities and located approximately 200 miles north of Austin and 200 miles south of Oklahoma City. Getting between the two cities is easy, thanks to a few major travel arteries (interstates 35, 20 and 30) and the Texas State Highway 183 that runs through the metroplex. Avoid driving during rush hour, as traffic can get heavy. Both cities are nestled along the rolling hills of the Great Plains, with a few branches of the Trinity River converging in the area.
Green Spaces Galore
Despite their ultraurban reputations, Dallas and Fort Worth still have plenty of wide-open spaces devoted to outdoor fun. Kayak or canoe along the Trinity River near Dallas to discover tributaries, hidden coves and unique ecosystems. Get close to giraffes, zebras and other exotic wildlife at Fossil Rim Wildlife Center southwest of Fort Worth. This extensive preserve features trails, guided tours and safari-style accommodation.
Hunting and Fishing, Texas-style
For scenic hikes and excellent bird-watching, head to Cedar Ridge Nature Preserve southwest of Dallas for 9 miles of trails and elevated lookout points. White Rock Lake in Dallas is very popular among the locals. A 10-mile trail encircles the picturesque body of water, and the lake itself is regularly stocked with largemouth bass. Other top fishing spots include Lake Lewisville, Lake Ray Hubbard and Lake Arlington. Hunters can also find a few ranches and lodges that offer whitetail deer hunting expeditions.
A Tale of Two Texas Cities
Dallas and Fort Worth are more like distant cousins than sister cities, but their contrasts make them a fascinating pair. Built on banks and businesses, bustling Dallas is Texas' center of trade. Can't-miss experiences here include watching the Dallas Cowboys kick off at the AT&T Stadium in nearby Arlington, ascending the 470-foot Reunion Tower GeO-Deck for a birds-eye view of the city, and gazing at one of the best gem collections in America at the Perot Museum of Nature and Science. Home to the headquarters of high-end clothing retailer Neiman Marcus, Dallas' upscale shopping districts put it in a league with some of the chicest cities in the globe.
Fort Worth: Cowboy Central
In contrast with Dallas, Fort Worth holds on tightly to its frontier roots. Nicknamed "Cowtown," Fort Worth is famous for its laid-back attitude and iconic cattle drives, which date back to the city's role in America's burgeoning 19th-century livestock business. It's also the cultural capital of North Texas and home to five renowned museums known collectively as the Cultural District. In the heart of downtown is Sundance Square, a Western-themed entertainment district packed with dining options, shops, live theaters and art galleries.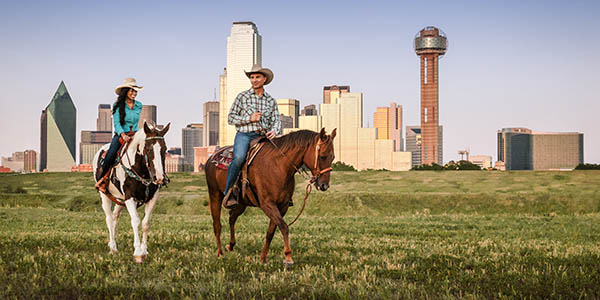 A Whole Other Level of Fun
Fun-loving Texans and spectacular weather year-round mean there's always a party going on. Enjoy rodeo and livestock shows at the 23-day Fort Worth Stock Show and Rodeo in January and February. National Day of the American Cowboy takes to the saddle in July, and there's no better way to celebrate than with parades and rib-eating contests at Fort Worth's Stockyards Station. In Dallas, binge on sweet treats and carnival rides at the State Fair of Texas, 24 days of fun starting in late September. Dance the night away at the Riverfront Jazz Festival in August, or catch a dramatic performance at Detour: A Festival of New Work in March.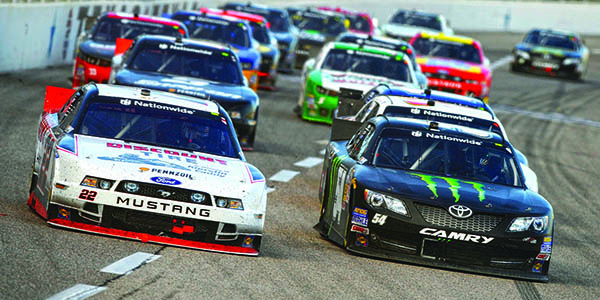 Mouthwatering Tex-Mex
Tex-Mex rules here, and you'll find plenty of opportunities to savor this delicious cuisine during three May festivals: Gorge on tacos at El Fuerte Taco Fest; sip on cocktails at the Dallas Margarita Meltdown; and meet top chefs at Savor Dallas. Taste of Dallas and Taste of Fort Worth, both in June, serve up a variety of Southern delicacies and are two of the biggest food festivals here.
Bust out Your Cowboy Boots
Journey back to Wild West times at Fort Worth's Stockyards National Historic District. Here, you can see the world's only twice-daily cattle drive, grab a drink at an actual saloon and take a tour of the National Multicultural Western Heritage Museum. The Cowtown Coliseum hosts rodeos every Friday and Saturday night, while Billy Bob's Texas puts on live country performances regularly. Don't leave without picking up a new pair of cowboy boots and other Western souvenirs. In Dallas, a tragic historical experience awaits visitors at the Sixth Floor Museum at Dealey Plaza, with exhibits devoted to the 1963 assassination of President John F. Kennedy during a visit to the city (the museum preserves the spot used as a sniper's perch by assassin Lee Harvey Oswald). View artifacts related to the 9/11 terrorist attacks at the George W. Bush Presidential Library and Museum.
Great Gardens
Need a breath of fresh air? Venture into the enchanting gardens of Dallas and Fort Worth. Perched along White Rock Lake, the Dallas Arboretum and Botanical Garden wows visitors with its 19 dazzling garden displays. If you're here from late February to early April, see over 500,000 vibrant spring blooms during Dallas Blooms, the biggest outdoor floral festival in the Southwest. When it's time for a break from the city, unwind at the Fort Worth Water Gardens. Boasting beautifully designed fountains and pools, this tranquil oasis is the perfect place to relax. Flower lovers will want to visit the Fort Worth Botanic Garden, home to 23 gardens and 2,500 types of plants.
Music in Dallas
There's plenty of toe-tapping nightlife in Dallas. The Deep Ellum district is a former industrial center steeped in music history, thanks to the likes of jazz and blues artists like Blind Lemon Jefferson and Huddie William "Lead Belly" Ledbetter. Today, Deep Ellum is still the place to be for music lovers, who will find trendy clubs, hip dining spots and a shopping area where one-of-a-kind finds are the norm. The Lower Greenville area is another hip locale, featuring a vast array of bars, restaurants and shops.
For More Information
Visit DFW
817-756-9434
Texas Office of the Governor, Economic Development and Tourism
512-463-2000