Crystal River
Situated on a warm, spring-fed bay on Florida's Gulf Coast, Crystal River is a nature lover's paradise. There are endless boardwalks to explore and miles of waterways perfect for canoeing and kayaking, where adventurous visitors can swim with the gentle manatees that flock in the remarkably clear water in the winter months. The area's tranquil and idyllic setting is the perfect getaway for those who want to explore natural wonders without sacrificing the easygoing charms of a classic vacation spot.
Big Catches
The headwaters of the nearby Homosassa and Chassahowitzka rivers are top-tier fishing destinations where newbies and experts alike can land boatloads of bluegills, bass and mullet. As anglers head to where the freshwater rivers meet the saltwater Gulf of Mexico, the varieties may change, but the excitement stays the same — lucky fishing enthusiasts have landed 100-pound tarpons.
Eco-Adventure
Dolphins, manatees and migratory sea birds are often observed as well, so a fishing trip doubles as an eco-adventure even if you're not much with the rod and reel. Most of the Crystal River National Wildlife Refuge springs are only accessible by water, but the Three Sisters Springs refuge offers a boardwalk trail and nature hikes that promise ample wildlife viewing and bird-watching in a serene setting.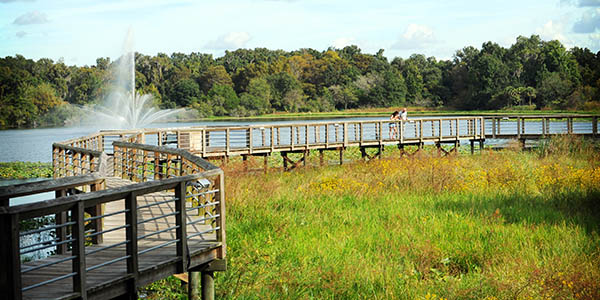 Swim with Manatees
Home to one-sixth of the state's manatee population, Crystal River is the only place in the U.S. where you can legally swim with the mesmerizing creatures. Many tour guides can outfit you with equipment and are trained to ensure the safety of both you and the manatees during your swim. Canoes and kayaks are also available to paddle through the serene waterways.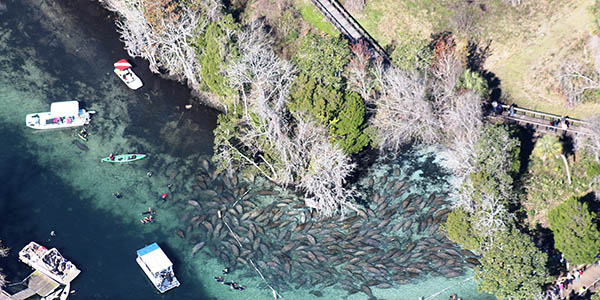 History Unfolding
It's not just nature, though, that draws visitors to this year-round destination. The Plantation on Crystal River is a 232-acre eco-friendly resort that has been serving up locally sourced seafood, surf-and-turf and world-class golf for over 50 years. To step even further back into Florida living, visit the Crystal River Archaeological State Park, where pre-Columbian burial mounds and temple sites rise from the landscape. Interpretive walks and a museum at the visitors center are a great way to learn about Florida's unique Native American history. The site is also located on a marsh plain so bird-watchers will have a field day identifying the numerous species that call the area home.
Crystal River Kayaking
If you love the idea of adventure, kayaking the Crystal River with a planned route is the way to go. Kayak rentals are easy to find and there are guides to show you the routes, which range anywhere from a 10-minute journey to 10 miles or more. Kings Bay is popular among kayakers for its large population of manatees.
For More Information
Discover Crystal River
800-587-6667
www.discovercrystalriverfl.com
Florida Tourism
888-735-2872