Chickasaw Nation
The swath of south-central Oklahoma that encompasses Chickasaw Nation is brimming with the pride, resilience and independent spirit that has come to define the Chickasaw people. Visit traditional villages, enjoy outdoors adventures and chow down on the area's famously delicious fried pies on your sojourn in the Sooner State.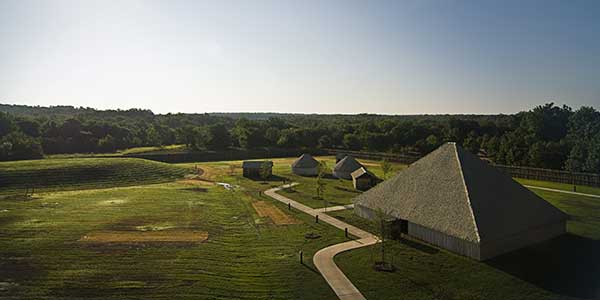 Heartbeat of a Nation
Located on a sprawling 184 acres, the Chickasaw Cultural Center in the town of Sulphur is one of the largest and most innovative tribal heritage experiences in the country. Visitors can wander through an interactive Spirit Forest, watch traditional songs and dances in 360-degree shows and learn about the history and culture of the vibrant Chickasaw Nation through hands-on exhibits. Try the Aaimpa' Café for a taste of traditional dishes like pashofa, Indian tacos and grape dumplings.
Oklahoma Casting
Anglers with an eye for landing the big one will want to head straight for Lake Texoma State Park in Kingston, home to Oklahoma's second-largest lake and one of the finest striped bass hot spots in the country. At Catfish Bay Marina, visitors can connect with guides who can help you discover the lake's best fishing spots. Boating, canoeing and swimming also are available at the lake.
Falling for the Arbuckles
Nestled in the Arbuckle Mountains, Turner Falls Park is another must-see Chickasaw Country getaway. This popular destination offers a swimming hole at the bottom of the state's largest waterfall and a series of short hikes for viewing wildlife and exploring the area's unique caves and geological formations.
Native Capital
The town of Tishomingo, the Chickasaw Nation's historic capital, is home to a variety of smaller museums that give deep insight into the Chickasaw Nation's history. Try the Chickasaw Council House Museum for traditional artwork and jewelry and the Chickasaw National Capitol building to learn about the Chickasaw Nation's centuries-long fight for independence and identity.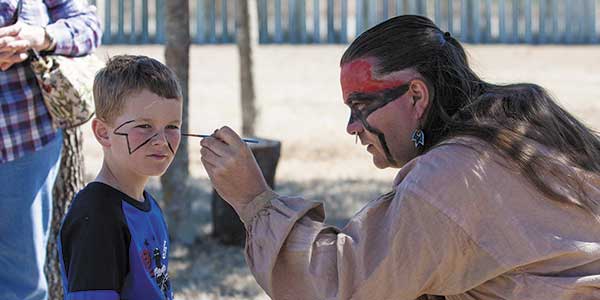 Win at WinStar
The WinStar World Casino and Resort, an hour south in the town of Thackerville, is heaven for gaming fans. Boasting the world's largest casino floor, the casino has thousands of games, tables and events to choose from, as well as the WinStar Golf Course and Academy, which features two 18-hole courses designed to challenge players of all levels.
Chisholm Trail
The Chisholm Trail Heritage Center celebrates Oklahoma's Western heritage with a glimpse into the lives of the cowboys and pioneers who helped mold the American West. The center features an interactive area where guests can try their hand at roping a longhorn and riding a bucking bronco, as well as art galleries and a campfire theater.
For More Information
Chickasaw Nation
580-436-2603
Oklahoma Tourism and Recreation Department
800-652-6552