Charleston
A blend of stately charm, old-fashioned elegance and timeless grace, Charleston is a Southern beauty that holds travelers in her grip. You won't find soaring skyscrapers, a frenetic buzz or that perpetual forward motion so familiar to most iconic cities; Charleston's charm resides in its timeless rituals. Along cobblestone streets infused with aromas of honeysuckle, churchgoers and merchants gather to go about their business, while blushing brides in meringue dresses pose beneath ancient willows in languid parks. Charleston is a city that remains unmolested by modernity.
Coastal Charms
South Carolina's oldest city, Charleston sits on the state's Atlantic coast, and its big harbor has helped it prosper as a thriving port city. Interstate 526 is Charleston's outer northern bypass, while U.S. Route 17 connects with Charleston's sprawling suburbs. Dotted with well-preserved historic buildings, Charleston ranks as one of the best-preserved cities in the South. Founded in 1670, the town is a visual timeline of 17th- to 19th-century building styles.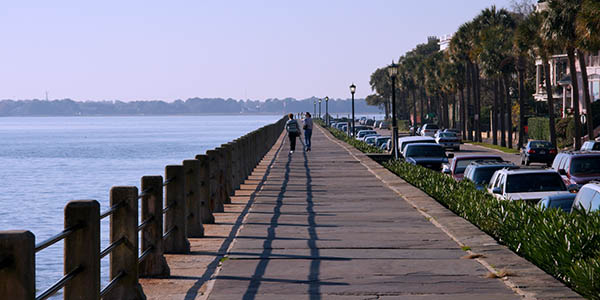 Wild Outside of Charleston
Some 25 miles northeast of Charleston, Cape Romain National Wildlife Refuge comprises maritime forests, barrier islands, salt marshes, beaches and coastal waterways. More than 293 species of birds have been logged at the refuge, as well as black fox squirrel, white-tailed deer, alligator and dozens of reptiles. From the mainland refuge, a short ferry ride dispatches wildlife watchers to the remote Bulls Island, where ponds teem with alligators and the wild Boneyard Beach draws photographers and solitude seekers. The island is laced with novice hiking trails, including the forested 1-mile Middens Trail, which leads to the remains of Native American shell mounds, and the 2-mile Turkey Walk Trail, which traverses salt marsh and forests.
Local Color and Attractions
With its old-school glamour and historical touchstones, visiting Charleston can feel as though you have fallen into the silver screen of yore. Looking like an elegant holdover from the roaring '20s, the Belmond Charleston Place is the city's most illustrious hotel and a destination in its own right. It's surrounded by eclectic boutiques, stores purveying regional specialties and some of the city's most acclaimed restaurants.
See You in the Gardens
To see the slower side of the area, drive across the stunning Arthur Ravenel Jr. Bridge to Mount Pleasant. Here, accessed by a scenic drive through a parade of live oaks draped in Spanish moss, Boone Hall Plantation & Gardens is one of America's oldest working plantations, having been in operation for over 300 years. Tours explore the gorgeous mansion (the current house was built in 1936), a butterfly pavilion and rose garden, as well as eight former slave cabins which now house the "Black History in America" exhibit. The Aiken-Rhett House, built in 1820, showcases décor and rooms practically unchanged since the mid-19th century and provides insight into upper-class life in antebellum Charleston. Equally spectacular are the lush grounds of the Magnolia Plantation and Gardens northeast of downtown.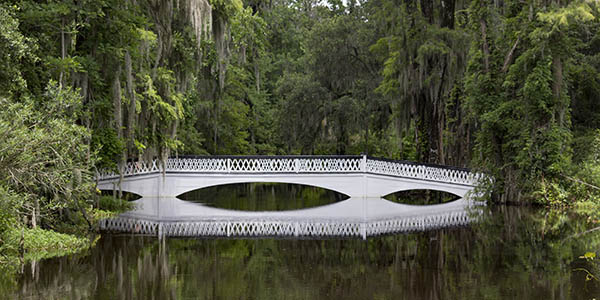 Festivals and Events
Charleston hosts some of the nation's liveliest festivals. A dizzying slew of activities appeal to foodies, artists and music and movie lovers. In January, Charleston plays host to the world's largest oyster fest: the Low Country Oyster Festival, a one-day extravaganza with frenzied shucking and eating contests. A five-day event that spans the first full weekend in March, more than 100 food and wine vendors convene at Marion Square to host the Charleston Wine + Food Festival, one of the nation's top gastronomic spectacles, with tastings, cooking demos and celebrity appearances.
Charleston Creativity
Memorial Day weekend through early June, the Spoleto Festival plays host to established and up-and-coming artists from across the musical and performance arts spectrum, with opera, theater, modern dance, chamber, rock and jazz music. The last weekend in September, the MOJA Arts Festival, a celebration of African-American and Caribbean creativity, offers performances in dance, theater and music.
Charleston After Dark
A walkable city, Charleston's historic streets offer an eclectic ensemble of innovative restaurants, cozy taverns, sultry dance clubs and renowned live music venues. Most of Charleston's famed bars are clustered around the Market Street and Upper King Street areas, but branching out will lead you to more intimate, under-the-radar venues. A short ride from the center, The Royal American has an outdoor deck, vintage décor, an unpretentious vibe and a robust live music schedule. An off-beat neighborhood brewery with a welcoming and rustic vibe, Closed for Business is among Charleston's top craft beer bars, with over 40 beers on tap, beer flights of the day, liquor, wine and hearty local fare
Past on Display
The Charleston Museum explores the low country's Native American history, the Colonial era, and Charleston's seminal role in the American Revolution. The best way to appreciate Charleston is to stroll through the historic district, with over 200 homes and buildings, including stunning antebellum mansions that have remained in the same families for hundreds of years. Antique stores in the area sell treasures from the past.
Outdoor Recreation
Charles Towne Landing preserves the original 1670 settlement. Along with an interactive museum that presents the history and culture of South Carolina, there are plenty of adventurous activities, including a full-size replica of the 17th-century tall ship that transported colonists to the New World.
Pirates of the South
The legends of the pirates who sailed the Atlantic Ocean near Charleston's shores still loom large in the city. Charleston's pirate history is shared through any number of guided tours, including one exclusively for children, complete a balloon parrot and even a pirate bandana. You can also go for a voyage aboard the tall ship Schooner Pride. Modeled after an 18th-century trading vessel, the Pride offers day sails and sunset sails.
For More Information
Charleston Area Convention and Visitors Bureau
800-774-0006
South Carolina Department of Parks, Recreation and Tourism
803-734-0124