Auburn-Opelika
Do your family vacation dreams this year include some hiking and biking, shopping for local wares and taking in the sights? Do your fancy golfing, golfing and more golfing? Well, you'll find it all in the delightful twin cities of Auburn-Opelika, Alabama.
Getting There
This area is home to Auburn University and is located near the eastern border of the state in Lee County. This college town and surrounding area conveniently sit between Montgomery and Atlanta, Georgia, on Interstate 85. Locals here don't like to boast, but they do mention that they have some of the nicest weather in the nation. It's practically summer nearly 12 months out of the year, making it an ideal snowbird location.
Outdoor Activities
Did you pack your fishing pole? Great, because Lees Lake offers public fishing just 6 miles south of Opelika. Here, you'll find largemouth bass, bluegill, redear sunfish, channel catfish and crappie. To the southwest of town, Chewacla Lake is ideal for anglers looking to catch bass, bream, crappie and catfish. The park also has a pair of creeks. If you're a hunter, head to High Log Creek or Crooked Oaks Hunting Preserve. At the latter location, former Auburn coach Pat Dye is one of the hosts. The hunts, conducted by experienced guides, include turkey, quail and deer.

Riding and Hiking
If you're the type that likes to camp with your horses, then you'll feel right at home in Auburn-Opelika. There are boarding stables, an equestrian center and loads of trails to ride in the area. For walkers, urban and rural parks surround the area for hiking or biking. In addition, there are motocross parks, arboretums, nature preserves, raptor centers and birding trails. No matter what your tastes, you'll be sure to find an activity to make you happy in Auburn-Opelika.
Golfing, 'Bama-style
This college town has a lot to do for the locals and visitors alike, but one of the premier reasons to visit Auburn-Opelika is the golf. The Auburn-Opelika area is home to several golf courses including Grand National. This course lays claim to being one of the most challenging and award-winning courses along the Robert Trent Jones Golf Trail. The RTJ Golf Trail has 11 trail sites with 26 courses. This equates to 468 amazing holes in which to sink that little white ball. This place is a golfer's paradise and you can hop on right in Opelika, which was proclaimed to be the No. 1 golf city in the United States. The best part of the courses on the trail is that they are all public and will not break your bank account to play a round. Check out one course or make it a goal to do them all. You certainly won't be disappointed.
Tiger Rampage
Auburn is an iconic college town that's home to Auburn University, where the school's legendary Tigers football team brings thousands of fans to the Jordan-Hare Stadium. After the game, the town becomes a scene of fun and festivity. Fans throw toilet paper into the trees, and many folks congregate at Toomer's Drugs, a signature Auburn establishment founded in 1896. Needless to say, most Saturdays in the fall in Auburn are taken up with football. If it's a home game or you're watching on the big screen at one of the local pubs, you'll enjoy watching the Tigers do their thing.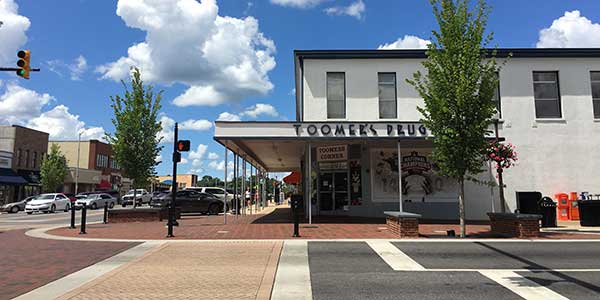 Events and Festivals
Looking for spring fun? The Auburn CityFest, held on the last Saturday in April, is a family-fun day filled with arts and entertainment. To whet your whistle, check out Opelika's Red Clay Brewing Company. Stop in, try a few samples and then stick around for live entertainment. Culture mavens can check out the events and exhibitions held at the Jule Collins Smith Museum of Fine Art.
Vittles
Auburn-Opelika is known for one more thing: amazing food! No matter what you're looking for from barbecue to the catch of the day, ice cream to salads or a burger, you'll not go home hungry or disappointed. There are as many tastes as there are restaurants in the Auburn-Opelika area. Try the Acre Restaurant, where Southern-inspired fare is served in a rustic environment.
For More Information
Auburn and Opelika Tourism Bureau
866-880-8747
www.aotourism.com
Alabama Tourism Department
800-252-2262
www.alabama.travel