Arcadia
From vintage antiques to world-class rodeos, visitors are in for a treat in this bustling corner of the Sunshine State. The area's pioneer spirit is on full display at spring festivals and in exciting outdoor adventures, but a charming Southern vibe prevails in town where long afternoons fly by between the vintage ice cream parlors, tea rooms and antique shops of the historic downtown district.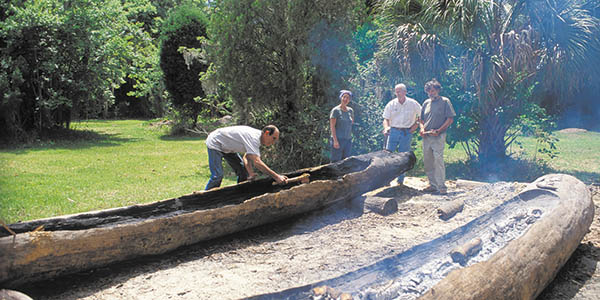 Cowboy Compass Point
Located 33 miles north of Port Charlotte, Arcadia sits near the Peace River and was a key stop in Florida's once-dominant cattle industry. Although this industry was eventually eclipsed by Florida's other business sectors, the cowboy lifestyle endures. Cowpokes travel to Arcadia from across the world each spring and fall for one of the area's most exciting and fun-filled events — the Arcadia All-Florida Championship Rodeo.
Hit the River (and Bring a Pole)
From biking to hiking to golf, there's no shortage of outdoor activities in Arcadia, but the real draw is canoeing the diverse waterways that wind through the region. Outfitters in town can get you everything you need to enjoy the spring-fed Santa Fe River's crystal-clear water, the white sand beaches along the Suwannee or the fossil-rich shores of the quaint Peace River. For a faster way to get around, hop on one of the ecotour airboat rides that are as exciting as they are informative. And don't forget to pack your fishing pole: Bass, catfish and snook teem in the waters for anglers to catch. As you ride the river, keep an eye out for spoonbills and other colorful birds.
Ride 'em Cowboy
Saddle up for some bronco-busting fun when the Arcadia All-Florida Championship Rodeo comes to town. Each spring, Arcadia welcomes cowboys and cowgirls to compete in barrel racing, steer wrestling, mutton busting and bull riding. Watch rodeo action in the new Mosaic Arena.
Rustlin' Up Relics
While the riders draw huge crowds, many visitors prefer to comb the city's famed antique shops for one-of-a-kind finds. On the fourth Saturday of every month, vendors take to the streets, meaning even more chances to discover something special. It's worth timing your visit for this extravaganza. If you need a break, the cafes and restaurants that dot downtown have a distinctly vintage feel and serve up homemade ice cream and shakes, as well as locally produced citrus snacks during harvest season.
Fun Florida Festivals
Arcadia stages several festivals to keep visitors busy. You can show off your seed-spitting skills at the annual Watermelon Festival in May or enjoy the family-friendly Pumpkin Festival each fall, featuring music, hayrides and more. March's Pioneer Day is a chance to learn about crafts and trades that made life possible in the early days of Arcadia.
Arcadia Links
Sunnybreeze Golf Course is a nine-hole course replete with tree-lined fairways that stretch across lush landscapes. The Peace River runs adjacent to the par-35 course, which offers guests frequent wildlife sightings.
For More Information
Discover DeSoto County
863-491-7574
Florida Tourism
888-735-2872