Allen Parish/Kinder
At the heart of Cajun culture are family-style food, two-step rhythms and an easygoing attitude. You'll find all three in the southwestern Louisiana spot of Allen Parish/Kinder. From crawfish cookouts and zydeco dance halls, to life-changing jackpots and a healthy dose of the great outdoors, there's plenty to do and see in a part of the country known as a crossroads of culture. Add Southern hospitality to the mix and you'll get a real treat.
Letting it Roll in Louisiana
Just 5 miles north of Kinder, it's hard to miss the Coushatta Casino Resort, where most visitors make an early stop to see if luck is on their side. The casino and event space draw visitors from across the country. With thousands of slots and table games, a water park, 10 restaurants and one of the state's best 18-hole golf courses, it's well worth the trip. The destination also is home to an annual summertime Coushatta Powwow, which celebrates the art and culture of the region's deep Native American roots and includes dances, food, and arts and crafts.
Big Hauls
Float fishing is the name of the game on the rivers and creeks of Allen Parish, and boat launches are located at many of the bridge crossings. This is a kayaker's dream, and by quietly paddling upstream, you can soak in the natural surroundings and sneak up on some of the catfish, striped bass and crappie that have managed to avoid anglers so far. Thankfully, even if you don't land the big one, creeks like the Ouiska Chitto boast wide sand beaches and plentiful space for overnight camping and moonlit nights. Back on dry land, the sprawling West Bay Wildlife Management Area is a hunter's paradise, with more than 59,000 acres of roaming deer, game turkey and fowl in a pristine landscape that harkens back to Louisiana's past.
Trotting Time
Just east of the town of Oberlin on Louisiana Highway 104, the Metro Soileau Downs is a trottingbred horse-racing track that boasts some of the state's top competitions. Visitors in the know, however, will show up early to learn a thing or two about race-day Cajun cookouts — the bimonthly Soileau tailgates are one-of-a-kind hootenannies you won't want to miss. History buffs can learn about the town's past at the Elizabeth Town Hall, which houses the compelling Hospital Museum.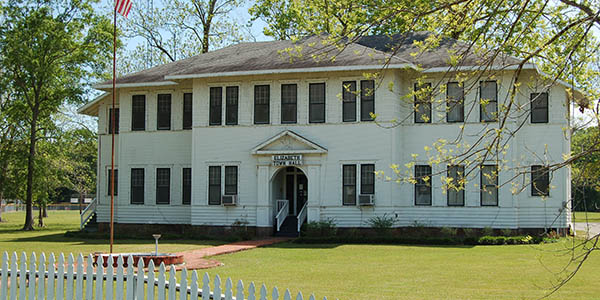 Mardi Gras Mania
A visit during Mardi Gras in early March will shatter your beads-and-booze expectations, with locals donning masks and pranking their way from house to house, gathering supplies to boil up enough gumbo for the community to share. To learn more about the area's vibrant traditions, follow the Myths and Legends Byway, a 181-mile scenic route with stops at the area's museums and fabled historic sites.
For More Information
Allen Parish Tourist Commission
888-639-4868
Louisiana Office of Tourism
800-677-4082