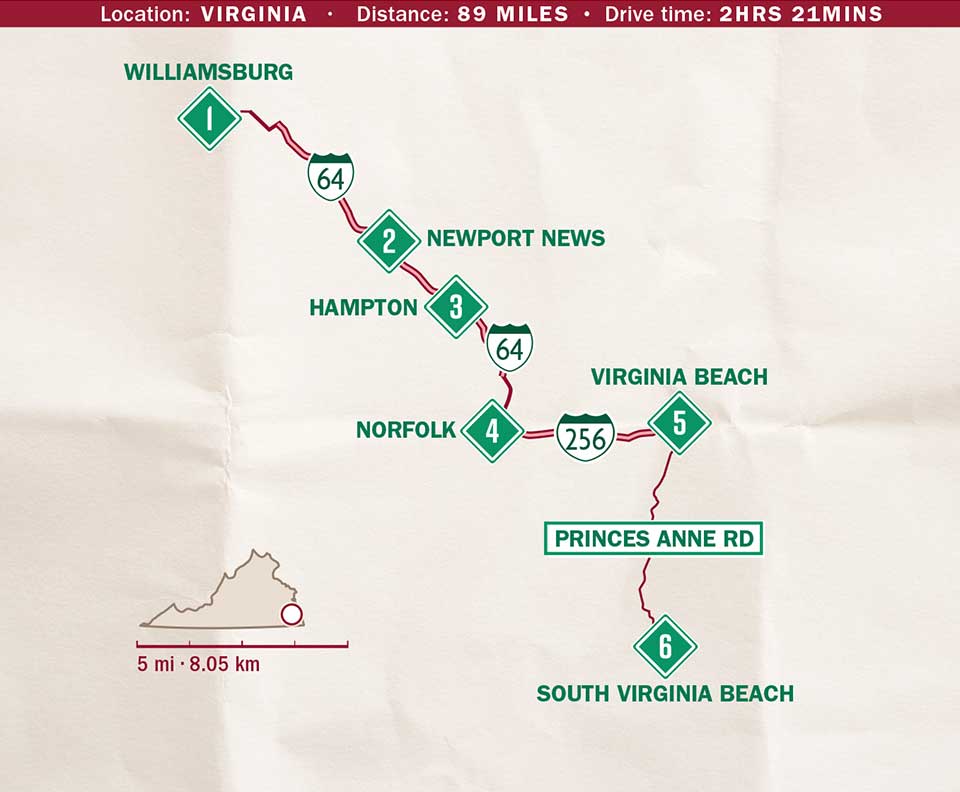 Virginia is for lovers — of history, recreation and great foods. Explore the Old Dominion State's Atlantic coast for the journey of a lifetime that encompasses America's Colonial past along with modern vacation luxuries.
1. Williamsburg
Starting Point
Arguably the finest living history museum in the world, Colonial Williamsburg's historic kernel has been faithfully restored to its 1770s heyday, when the town held sway as Virginia's capital. There's a British flag flying atop the Capitol building and horses trot down cobblestone streets where pubs serve hearty Colonial fare. Along Duke of Gloucester Street, impassioned actors and interpreters dressed in period garb bring to life the traditional 18th-century techniques of cobblers, silversmiths and blacksmiths. Also on Duke of Gloucester Street, the Episcopalian Bruton Parish Church is preserved as the place of worship for the Nation Builders who shaped America's ideals during the Revolutionary period.
2. Newport News
Drive 21 miles, 39 minutes
A bastion of maritime, military and Civil War history, Newport News dates back to the early 1600s. The exhaustive Mariners' Museum is arguably the best museum in the state and is home to the remains of the USS Monitor, the Navy's first ironclad warship. The Monitor Collection includes Civil War era relics and artifacts, including guns, a gun turret and Monitor's engine, recovered in 1973. The stellar Virginia War Museum traces military history from 1775 to the Gulf War with extensive displays that include a chunk of the Berlin Wall, a World War II U.S. anti-tank cannon and a section of the wall from the Dachau concentration camp.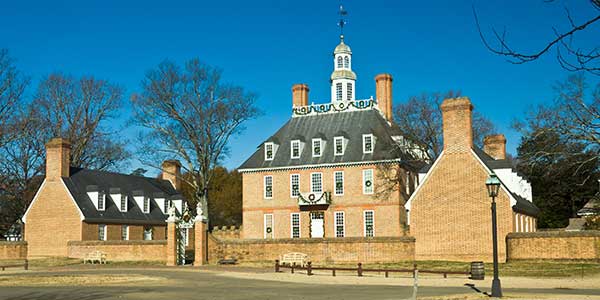 3. Hampton
Drive 10 miles, 15 minutes
Historic Hampton came into being when a fort was built in 1610 on the western shore of Hampton Roads. As the colony's first seaport and the nation's oldest English-speaking settlement, the town is chock full of interesting sights that speak to the town's turbulent history. The excellent Hampton University Museum, founded in 1868, is the nation's oldest African American museum and home to over 9,000 objects, including an African American fine arts collection that includes paintings by acclaimed artist Henry O' Tanner as well as seminal works from the Harlem Renaissance artists of the 1960s. Aviation buffs won't want to miss the Virginia Air and Space Center, a world-class museum that showcases over 30 historic aircraft, in addition to the Apollo 12 Command Module, and a Mars meteorite.
4. Norfolk
Drive 17 miles, 29 minutes
A navy town through and through, Norfolk has been in the throes of a renaissance. As well as historic monuments, memorials and buildings that evoke Norfolk's glorious past, the city has gained kudos as a lifestyle town that looks to the future. The lively Waterside district is the hub for live music and festivals with a dynamic mix of bars, cafes and restaurants. Granby Street's commercial corridor has been recast as Norfolk's Restaurant Row, with a slew of hip new eateries that cater to both foodies and traditional palettes. The stellar Nauticus Museum celebrates the city's maritime history with guided tours of the USS Wisconsin battleship and interactive exhibits that cover everything from weather to underwater archaeology.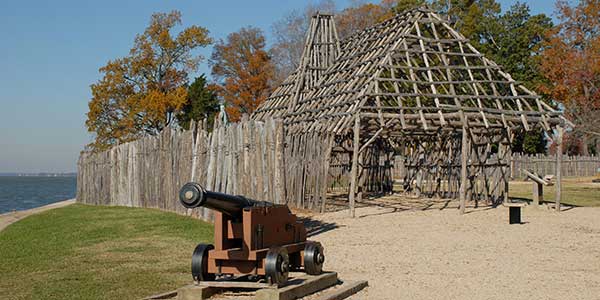 5. Virginia Beach
Drive 18 miles, 24 minutes
With 20 miles of sandy beach with every conceivable amenity and activity imaginable, Virginia Beach is a magnet for vacationing families. With slick new hotels and manicured parks, the oceanfront area has cast off its dubious image and now cultivates a more glitzy vibe. The hub of activity is the Oceanfront, a sprawling resort area studded with large hotels, restaurants, souvenir shops and video-game arcades. Active travelers can stroll, rollerblade, bike or rent a wheeled surrey cart and ply Virginia Beach's three-mile ocean-front boardwalk fronted with landscaped gardens. One of the area's most popular activities is a jaunt aboard one of Virginia Beach's double-decker nature-watching boats, which afford the opportunity to spot humpback whales in the winter and cavorting bottlenose dolphins during summer.
6. South Virginia Beach
Drive 23 miles, 44 minutes
Some 18 miles south of Virginia Beach, wild-at-heart travelers can immerse themselves in nature at Back Bay National Wildlife Refuge, a haven for bird-watchers, canoeists and kayakers. Located on the northern end of North Carolina's Outer Banks, the refuge protects 9,000 acres of beaches, dunes, marshes and backwaters, which provide a migratory habitat for tundra swans and snow and Canada geese during their winter and fall migration. The refuge also provides sanctuary for the loggerhead sea turtle, piping plover, brown pelican and bald eagle. While swimming, surfing, or sunbathing is prohibited on the beach, Back Bay is laced with eight miles of nature trails and there are marked canoe trails through the marshes.