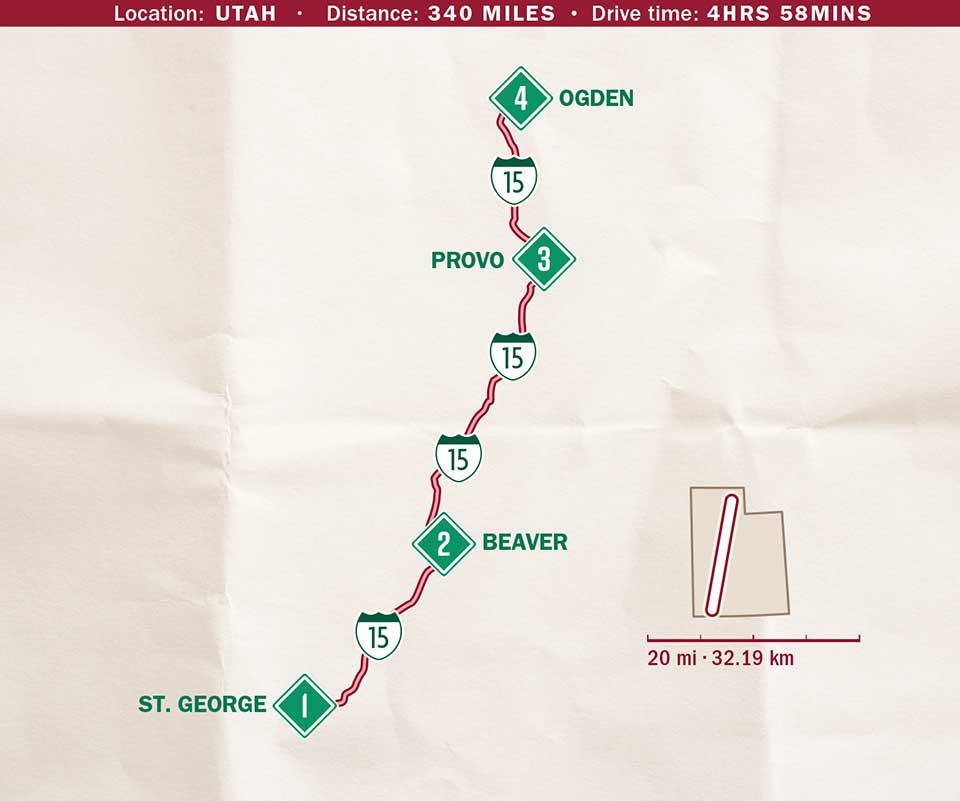 This trip encompasses some of Utah's most beautiful landscapes along with compelling cities and towns. Take it slow, pull over and savor the stark but stunning scenery. Take time to try unique local adventures like hiking, mountain biking, river rafting and rock climbing.
1. St. George
Starting Point
The St. George area is a year-round destination that's a haven for outdoor enthusiasts. It's not just the mild climate — it's also the great variety of activities and adventures that await "outdoorsy" folks. Golfers take their picks from over a dozen well-groomed courses. Our favorite? Entrada at Snow Canyon. Rock climbers scale sandstone hills, bluffs and formations in nature havens like Pioneer Park and Moe's Valley. And camping in St. George gives you easy access to Zion National Park, one of America's very finest recreation areas. Tip: hike the breath-taking trail up to Observation Point!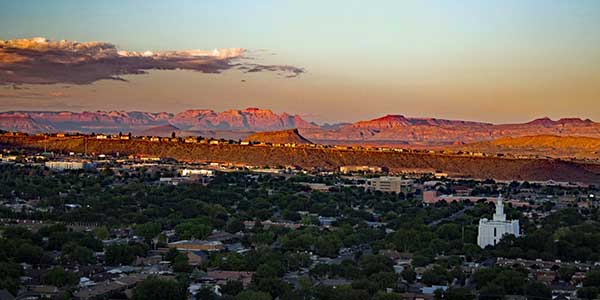 2. Beaver
Drive 104 miles, 1 hour, 32 minutes
Welcome to "Color Country," home to an endless vista of naturally colorful mountains in rainbow hues. Beaver sits just west of Delano Peak in the Tushar Mountains. At over 12,000 feet, Delano is Utah's seventh-highest mountain. There's great high-altitude rock climbing and hiking. West of town are the Mineral Mountains, a favorite stop for rock hounds — fill your pockets with Smokey quartz and feldspar crystals. There's much more outdoor adventure around Beaver, too: explore nearby ghost towns, fish clear lakes, hunt in the mountains, go mountain biking, snowmobiling and even horseback riding.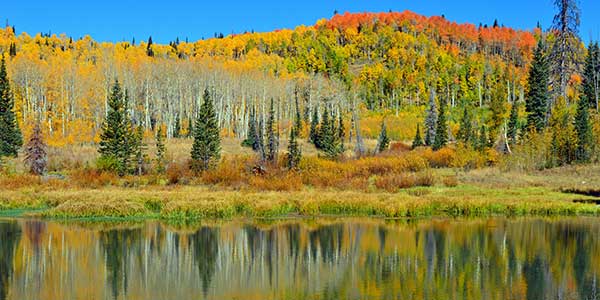 3. Provo
Drive 155 miles, 2 hours, 12 minutes
Get your fill of outdoors excitement in spectacular surroundings. The Provo area is what many call the best, most dramatic section of the Wasatch Front range. It's home to Mount Timpanogos — nearly 12,000 feet of nature's remarkable craftsmanship. If you're an outdoor adventurer, you will definitely want to put Provo Canyon on your "must-see" list. You can hike to Bridal Veil Falls, bike on the Provo River Parkway trail, go river rafting and more, including zip-lining, horseback riding, kayaking and river tubing. RVing in winter? Try ice climbing in Provo Canyon.
4. Ogden
Drive 81 miles, 1 hour, 14 minutes
Wasatch Mountains…Great Salt Lake…Ashley National Forest…it's all adventure and it's all around Ogden. Here are some of Ogden's outdoor favorites: hike and/or bike the Skyline Trail to the very top of the Northern Wasatch and drink in long vistas from both sides of the ridgeline. Go rock climbing right near town — the 9th Street Crag gives you dramatic views of downtown. Swimming more your style? Or paddleboarding? Do either or do both in Pineview Reservoir's calm waters. Pack a lunch and enjoy the sandy beach, boating facilities and great fishing. Camp, hike and go birding in the nearby wetlands.