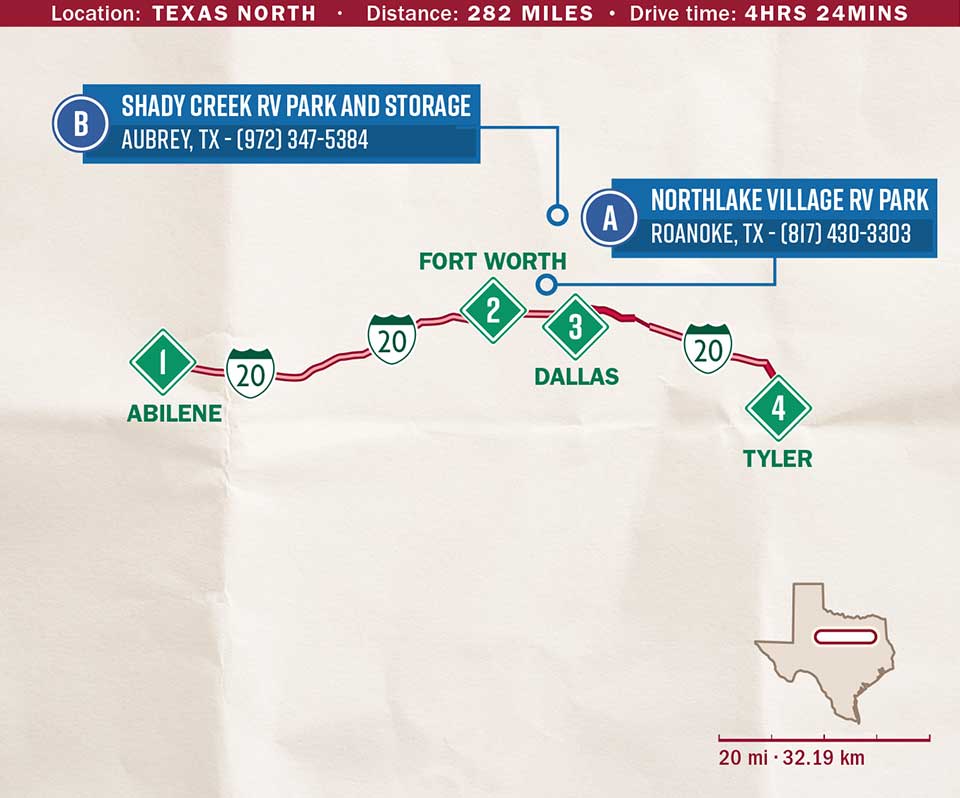 Huge herds of cattle once kicked up dust as they trudged across the plans of northern Texas. Today, RVs now cruise on paved roads that connect modern cities and towns. But the cattle-driving spirit hasn't died and several spots along this trip bring that roustabout spirit to life. You'll also discover Texas-size luxuries and thrills that will make you want to extend your stay.
1. Abilene
Starting Point
Once a major stop along the legendary Chisolm Trail, Abilene celebrates its transformation from prairie outpost to vibrant city. At Frontier Texas, life-size holographic figures tell the story of the region's development, with Comanche warriors, explorers and pioneers sharing their experiences in a dazzling virtual medium. At the Taylor County History Center, visitors can tour a series of historically authentic buildings that date back to the 1800s.
2. Fort Worth
Drive 152 miles • 2 hours, 15 minutes
Although Fort Worth is part of a sprawling metroplex, it hasn't let go of its cattle-driving roots. Make a beeline for the Fort Worth Stockyards, a 98-acre historic district that once served as a vital cattle shipping center. Visitors can tour historic buildings, watch a rodeo or duck into Western-themed shops to buy a new pair of cowboy boots. The crowds turn out for the twice-daily Herd, in which legendary Texas Longhorns are driven through the district on their way to market by seasoned cowhands. Check out the National Cowgirl Museum and Hall of Fame.
Recommended Stopovers
Northlake Village RV Park • Roanoke, TX – (817)430-3303
Shady Creek RV Park and Storage • Aubrey, TX – (972)347-5384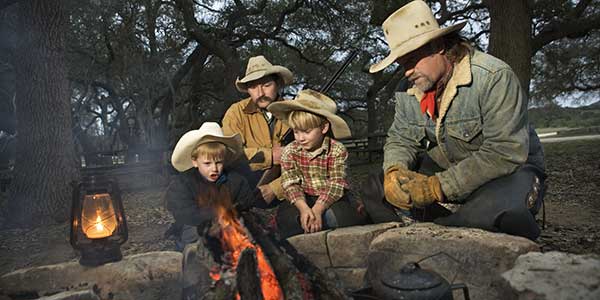 3. Dallas
Drive 32 miles • 34 minutes
To the east, Dallas is Fort Worth's more glamorous and cosmopolitan sibling. Discover world-class art museums in the city's art district along with upscale shopping — Neiman Marcus's headquarters are based here — along with fine dining. You can also put on a pair of jeans and cowboy boots and explore the honky tonks of the Deep Ellum district. Nature lovers can explore the lush Dallas Arboretum and Botanical Garden.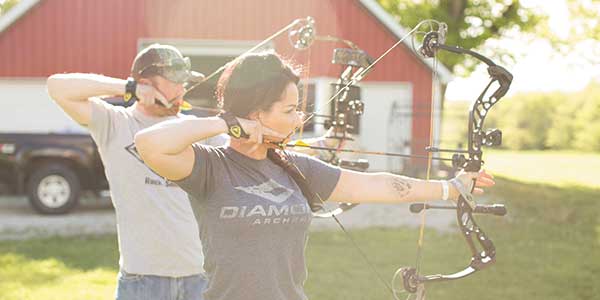 4. Tyler
Drive 98 miles • 1 hour, 35 minutes
More cowboy culture can be found in Tyler Texas, but the big attraction to this town is the fabulous array of flower gardens that have made this Lone Star Town the Rose Capital of America. Stroll through the Tyler Rose Garden Center and savor the scent of 38,000 rose bushes. For something wild, saunter over to the Caldwell Zoo, home to 3,400 animals in exhibits designed after natural habitats.