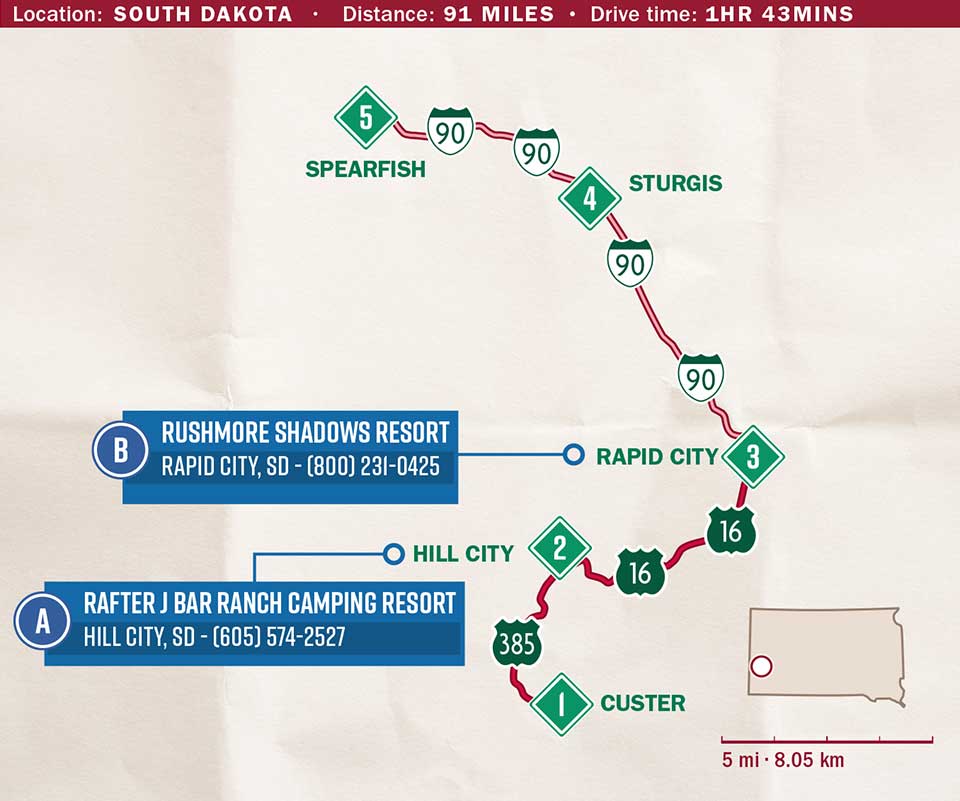 Featuring larger-than-life marvels both natural and human-made, this road trip through the Black Hills and beyond is a testament to South Dakota's place among the most beautiful destinations in the U.S. From the endless vistas of Custer State Park to Mount Rushmore's timeless draw, to the bountiful waters of Spearfish Creek, the majesty of Mother Nature is on full display as you journey through a truly astonishing corner of the American landscape.
1. Custer
Starting Point
The perfect jumping off point for exploring the Black Hills, Custer is situated at the edge of Custer State Park, one of the country's premiere destinations for wildlife viewing. The 18-mile Wildlife Loop Road winds through the park's prairies and canyons and you're almost certain to catch glimpses of the park's famous buffalo herd, as well as bighorn sheep, pronghorn, elk and many more along the way. Be prepared to meet the famous "begging burros," known to amble right up to vehicles in search of snacks. Although they're feral, these equine can get quite bold around humans. Nearby, Wind Cave National Park is the sixth-longest cave system in the world; join a ranger-led tour.
2. Hill City
Drive 14 miles • 18 minutes
Hill City is known as the "Heart of Black Hills" for its central location to many of South Dakota's greatest hits. On the road north you'll pass the Crazy Horse Memorial, the world's largest ongoing mountain carving, and will find yourself minutes from the stunning views from Black Elk peak and the extraordinary Cathedral Spires rock formations. The biggest draw here is of course nearby Mount Rushmore and the adjacent Information and Visitor Center that offers insight into the sculpture's one-of-a-kind legacy. For a different view of the area's natural beauty, hop on the 1880 Train for a scenic 20-mile trip across the rugged countryside.
Recommended Stopovers
Rafter J Bar Ranch Camping Resort • Hill City, SD – (605)574-2527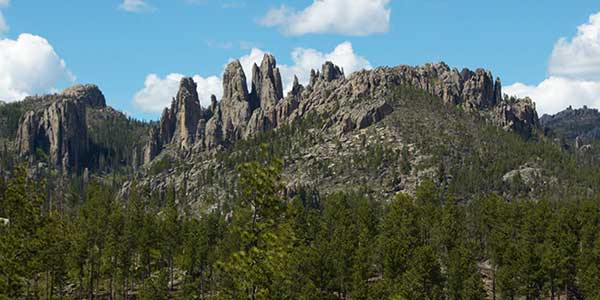 3. Rapid City
Drive 27 miles • 34 minutes
Rapid City rests between the Black Hills and the Badlands and offers that perfect small-town vibe for a home base when exploring either. Start with the self-guided city tour that includes the 42 bronze sculptures of past Presidents that stand on various corners. Coupled with the quirky, life-size concrete replicas in Dinosaur Park, you'll quickly find that Rapid City is a fun-loving place with a hip downtown full of artsy boutiques and cafes. From there, branch out and explore the 18-miles of trails in the Hanson-Larsen Memorial Park or the Skyline Wilderness Area.
Recommended Stopovers
Rushmore Shadows Resort • Rapid City, SD – (800)231-0425
4. Sturgis
Drive 28 miles • 29 minutes
In August, Sturgis' population explodes when the famous annual Motorcycle Rally rides into town; you'll also find plenty of opportunities to explore the region's Wild West history. Get the lay of the land in nearby Bear Butte State Park, where you can camp, fish or take a short 1.85-mile hike to the top of Bear Butte, a sacred Native American site. Boulder Canyon is a 12-mile drive that heads west out of town and winds through high canyon walls before arriving in historic Deadwood, where you can gamble in saloons and enjoy reenactments of famous shootouts.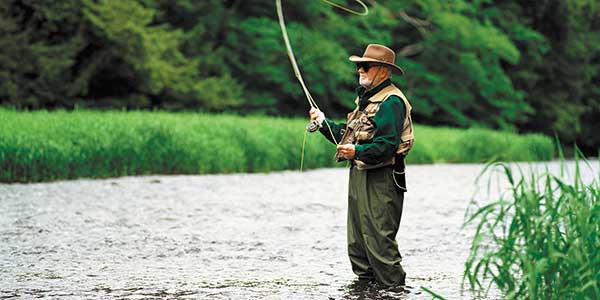 5. Spearfish
Drive 22 miles • 22 minutes
At the confluence of a handful of famed fly-fishing streams, Spearfish has earned its reputation as an angler's mecca. Spearfish Creek is home to plentiful brown trout right in town and quality brown and rainbow catches can be caught deeper in Spearfish Canyon near Squaw Creek. The Little Spearfish and Iron Creek Lake are great places to nab yellow perch and brook trout as well. While looking for the perfect place to cast, explore the Spearfish Canyon Scenic Byway, which twists its way for 22 miles through the gorge's stunning limestone cliffs and offers easy access to photographer-friendly landmarks like Bridal Veil and Roughlock Falls. During fall, the region's foliage changes to spectacular orange and rust hues.