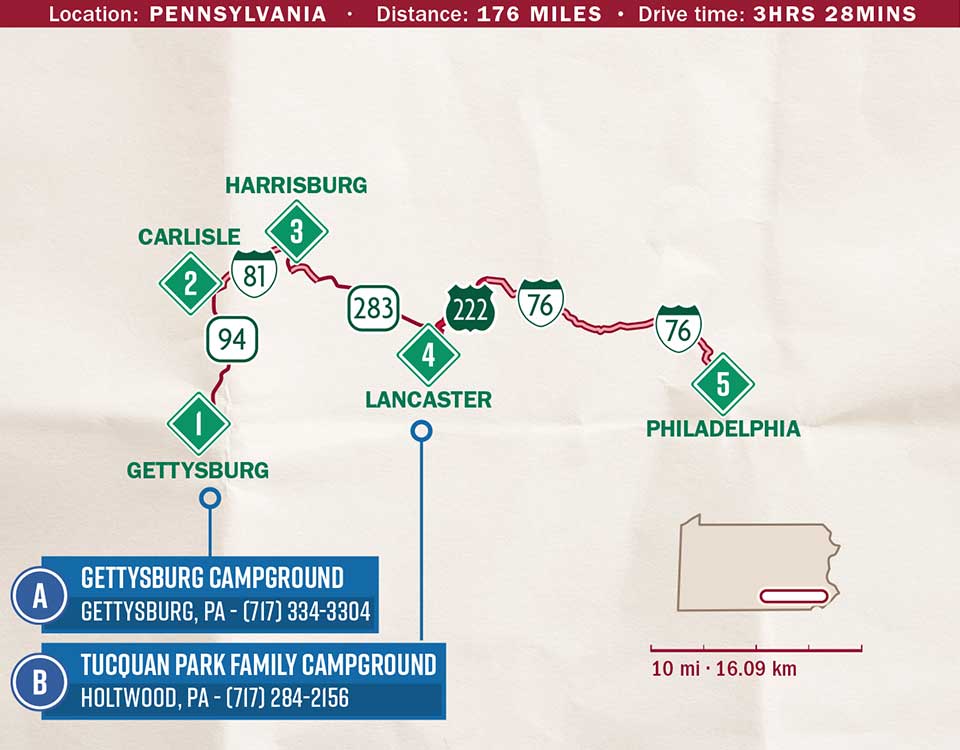 Tailor-made for history buffs, this trip traces the foundations of American freedom in the Keystone State. From the Gettysburg Address to the Liberty Bell, Pennsylvania's long history on the frontlines of the fight for independence make for a one-of-a-kind road trip that takes travelers from battlefield memorials, to museums, to the farms and meadows of Amish country, where a different kind of freedom abounds.
1. Gettysburg
Starting Point
A visit to Gettysburg is a must for anyone looking to understand the great price paid in the fight for freedom. Head first to the Gettysburg National Military Park and Visitor Center, which sheds light on the battle's crucial importance in the Civil War. You can tour the battlefield itself on your own, but for a truly immersive experience, arrange a personal tour with one of the expert licensed Battlefield Guides. At many sites costumed reenactors bring history to life.
Recommended Stopovers
Gettysburg Campground • Gettysburg, PA – (717)334-3304
2. Carlisle
Drive 32 miles • 45 minutes
Head north to Carlisle, the historic small-town home to Revolutionary War icon Molly Pitcher and George Washington's choice for the army's first arsenal and school. The long traditions of those institutions continue today in the form of the U.S. Army War College and the U.S. Army Heritage and Education Center, which offers the outdoor Army Heritage Trail. Nature lovers will be busy exploring the nearby Cumberland Valley Rail Trail, a 13-mile route perfect for hiking, biking and horseback riding that winds through scenic farmland and picnic areas. Pole Steeple and Flat Rock trails are also close by and offer majestic views of the foothills of the Appalachians.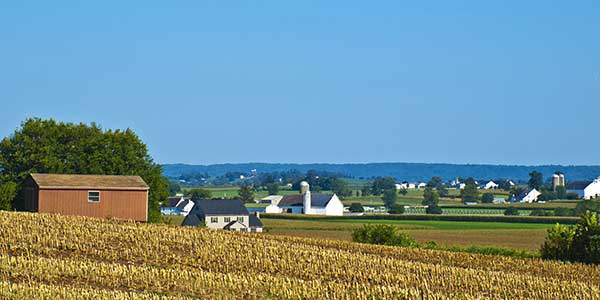 3. Harrisburg
Drive 25 miles • 31 minutes
On the banks of the Susquehanna River, Pennsylvania's capital city expertly blends a relaxing outdoor retreat with a historic American destination. Spend the morning canoeing or kayaking along the river's calm, slow-flowing water to one of the many secluded islands or follow an upstream creek to discover wildlife and nesting birds. By afternoon, you'll be exploring both 19th-century mansions and modern galleries in the downtown district.
4. Lancaster
Drive 40 miles • 48 minutes
A visit to Pennsylvania Dutch Country means horse-and-buggies, handmade crafts and endless acres of rolling hills and farmland. To learn more about the Amish experience, visit attractions like Amish Village or the Amish Farm and House, which offer back roads tours of various nearby communities and the chance to try your hand at living the "plain and simple" life on a working farm. Don't leave without sampling regional dishes like savory scrapple or sweet shoo fly pie, a delicious molasses  dessert.
Recommended Stopovers
Tucquan Park Family Campground • Holtwood, PA – (717)284-2156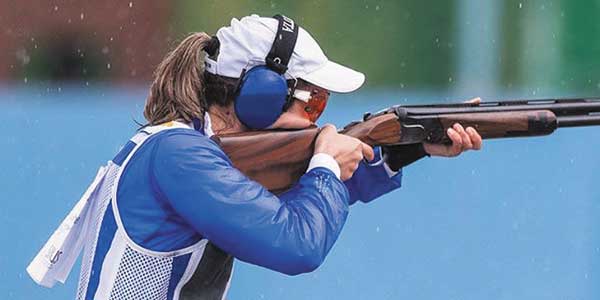 5. Philadelphia
Drive 79 miles • 1 hour, 24 minutes
With fascinating museums and timeless historical sites, the City of Brotherly Love is a mecca for history and culture buffs alike. One of the shining examples of independence, the Liberty Bell at Independence National Historic Park illuminates the powerful history and myths surrounding the country's founding. About twenty miles northwest of Philly, you can walk, bike or hike the trails of Valley Forge National Historic Park, where history and nature collide in a monument to one of the Revolution's toughest tests. While there, enjoy historic buildings and reenactments that bring the site's storied history to life.