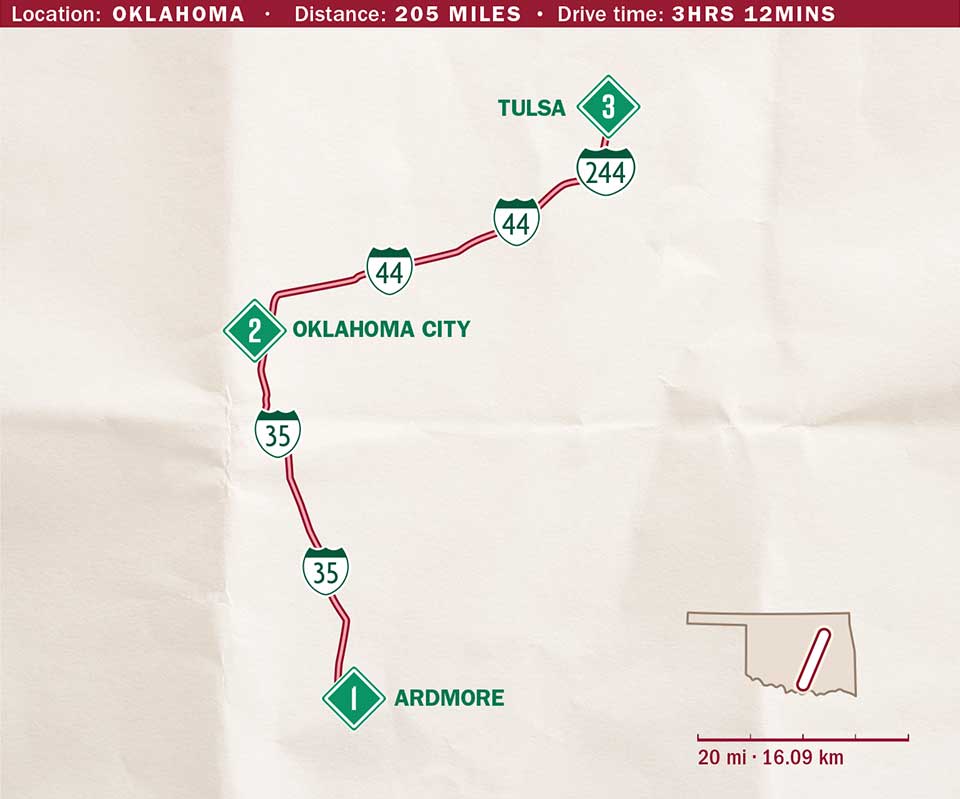 In the late 1800s, settlers of Oklahoma raced to be the first to lay claim to the land, resulting in the nickname, "Sooners." Today portions of that frontier have been developed into thriving communities. Cultural districts, architectural showcases and enticing entertainment venues beckon visitors to their museums, performances and galleries. Follow the Sooner State's trail of adventure through boom and bust times and feel the frontier spirit along the way.
1. Ardmore
Starting Point
The pioneer spirit lives on in Ardmore, a town once known as the Cotton King. More recently the community found itself at the center of one of the richest oil fields in Oklahoma and today's population is the recipient of generosity from early wildcatters and investors. Philanthropic endeavors in the arts and education have produced several venues for the performing arts, museums and training centers. Lake Murray State Park provides a beautiful outdoor setting for boating, fishing and golfing just south of town. And for those who feel lucky, the Gold Mountain Casino is a favorite attraction.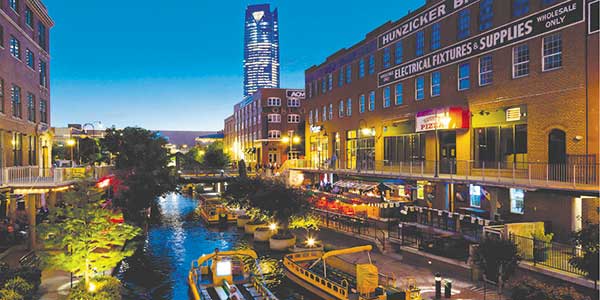 2. Oklahoma City
Drive 98 miles • 1 hour, 32 minutes
Settled by some 10,000 citizens during the Oklahoma Land Run of 1889, OKC currently touts a vibrant downtown. Take a water taxi down the Bricktown Canal to see the Oklahoma City Dodgers play ball, then head out to the Boathouse District to paddleboard, kayak or canoe on the Oklahoma River. Spend the day in the Adventure District, rounding up the herd at the National Cowboy & Western Heritage Museum or stepping into the wild at the Zoo and Botanic Gardens. End your visit with a beautiful evening tribute at the Oklahoma City Memorial and Museum.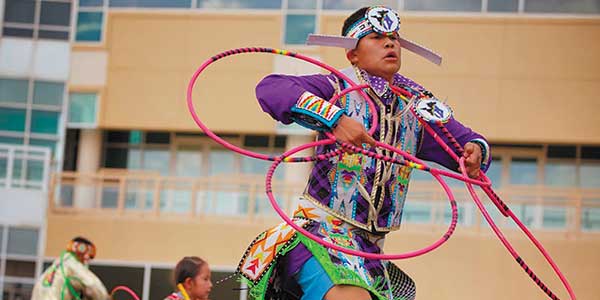 3. Tulsa
Drive 107 miles • 1 hour, 40 minutes
This "Oil Capital of the World" sits on the banks of the Arkansas River and was actually settled in 1836 by the Creek and Lochapoka Indian tribes long before black gold was discovered here. The Father of Route 66, Cyrus Avery formulated his plan for a highway connecting Chicago with Los Angeles in Tulsa and many remnants of the Mother Road can still be found in the city, along with the largest collection of art deco architecture in the country. And don't miss one of the most respected museums anywhere — the Philbrook Museum of Art, which exhibits groundbreaking American creativity.