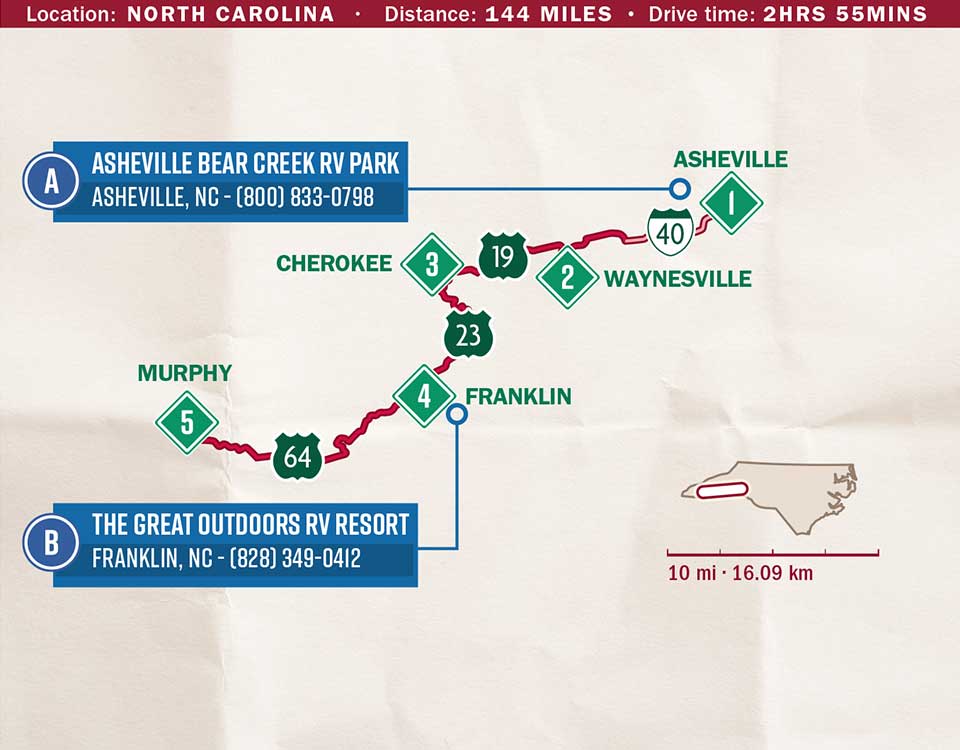 The Great Smoky Mountains occupy more than 250,000 acres of land in North Carolina and amid the mountains and valleys of this region lie fantastic small towns and uncrowded outdoor adventure. Explore charming communities that bustle with homey shops and restaurants, then set out on a hiking or fishing expedition in the rivers and lakes found throughout the region.
1. Asheville
Starting Point
It's hard not to fall for Asheville's off-beat charms. The historic district is dotted with art deco buildings and a dynamic arts scene complements historic attractions, including the world's largest home, the 8,000 acre Biltmore Estate. Built by George Vanderbilt in 1889, the opulent French Renaissance chateau provides the backdrop for stunning artworks, including works by Pierre August Renoir. A few miles from downtown Asheville, the River Arts District showcases the life and works of over 200 artists.
Recommended Stopovers
Asheville Bear Creek RV Park • Asheville, NC – (800)833-0798
2. Waynesville
Drive 31 miles • 38 minutes
With a prime location close to Great Smoky Mountains National Park, Waynesville provides a well-rounded base for outdoor exploration and partaking of the finer things in life. A short ride from downtown, Pisgah National Forest's calling card is the 6,030-foot Cold Mountain, the inspiration behind Charles Frazier's eponymous novel about the Civil War. The literary landmark is best viewed from the Cold Mountain Overlook located on the Blue Ridge Parkway; the thrilling hike to the summit is only recommended for experienced hikers. Pisgah is also a popular destination for hunting white-tailed deer and wild turkey; there are ample fly fishing spots where a profusion of trout swim in the current. The walkable town is home to farm-to-table restaurants.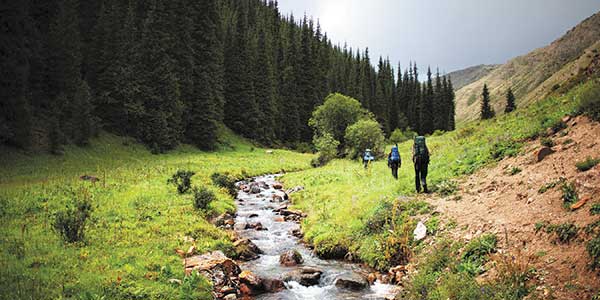 3. Cherokee
Drive 33 miles • 39 minutes
The Cherokee Indians' rich heritage and traditions are celebrated at the Museum of Cherokee Indian with a number of permanent and temporary exhibits that trace the Indian's history from 11,000 years ago to the present day. With easy access to 800 miles of hiking trails within Great Smoky Mountains National Park, Cherokee is the launch pad for strenuous backcountry hikes and pleasant ambles in the woods. A short walk from the Oconaluftee Indian Village in Cherokee, the 10-mile, multi-use Fire Mountain Trails share the Smokies' signature breathtaking views and wild terrain.
4. Franklin
Drive 31 miles • 39 minutes
One of the nation's most appealing small towns, Franklin combines cultural verve with an incredible natural setting and an infectiously mellow vibe. A vibrant cache of quaint stores, wholesome restaurants and performing arts venues is befitting of Franklin's status as the first designated Appalachian Trail community. Franklin lies just 12 miles from the iconic 2,200-mile trail, famed for its spectacular mountain trails carpeted with wildflowers, cascading waterfalls, and prime wildlife watching opportunities.
Recommended Stopovers
The Great Outdoors RV Resort • Franklin, NC – (828)349-0412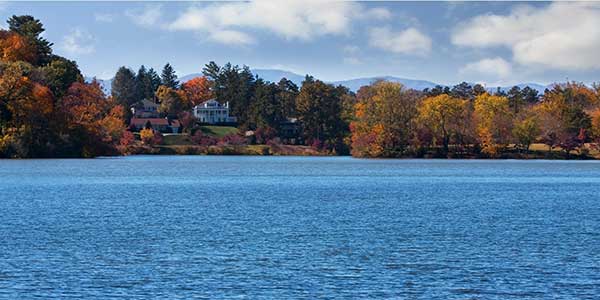 5. Murphy
Drive 48 miles • 58 minutes
Most of Murphy's activity
centers on the River Walk, a three-mile paved trail brimming with native flora that flanks Murphy River. The town's signature attractions is the Hiwassee Dam, which stretches for over 13,700 feet across the river banks. Visitors can walk across the dam via two pathways or fish from the banks at the base of the dam. Ringed with 180 miles of shoreline, the 200-foot deep Hiwassee Reservoir is home to recording breaking numbers of smallmouth and striped bass, as well as a profusion of catfish, crappie, walleye and sunfish.