Southern Nevada's reputation as a vacation hotspot is built largely on the Las Vegas Strip, a one-of-a-kind playground that never disappoints. But that's not all this unique corner of America has to offer. From engineering marvels to natural wonders – not to mention a fun-loving, thrill-seeking attitude – there's plenty of adventure on the menu for those willing to get off the beaten track and discover the Silver State's lesser-known gems.
1. Pahrump
Starting Point
A small town serving up a diverse array of exciting adventures, Pahrump is surrounded by National Parks, conservation areas and vast desert landscapes, not to mention hundreds of miles of trails. Just east of town, Carpenter Canyon is popular with off-road enthusiasts and ATV riders, as well as mountain bikers and hikers looking for a wide range of trails from beginner to extreme. The Red Rock Canyon National Conservation Area is another go-to spot that boasts a 13-mile loop for sightseeing from the comfort of your car, as well as dozens of day hikes that lead to rejuvenating natural springs. Hunting, fishing and camping are popular in designated areas as well. Relax after a day in the sun at local wineries like the Sanders Family Winery and Pahrump Valley Winery, which offer tours and tastings of their desert-hardy and delicious varietals.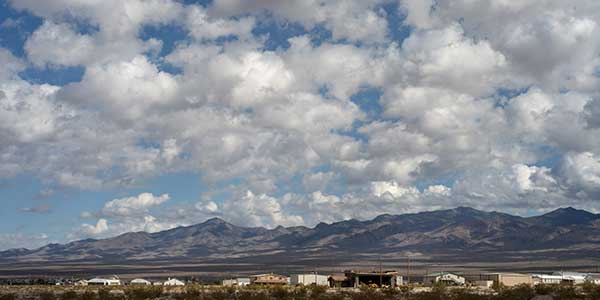 2. Las Vegas
Drive 63 miles, 1 hour, 12 minutes
Sin City needs no introduction. With casinos galore, top-notch restaurants, never-ending nightlife and some of the biggest performers in the world, the hardest part of visiting Las Vegas is deciding what to do. Exploring the Strip is an adventure in its own right, but once you've had your fill tempting Lady Luck at the slot machines and table games, as well as the decadent foodie options all over town, including the famed all-you-can-eat champagne brunches, be sure to indulge in the other unique Vegas attractions. Adventure Theme Park has rollercoasters and rides, and the Neon Museum sheds light on the city's history through displays and exhibits of its retired neon signs. Springs Preserve, three miles west of downtown, is a living museum with nature walks and displays illuminating the flora and fauna of Vegas' desert landscape.
3. Boulder City
Drive 26 miles, 31 minutes
Just thirty minutes southeast of Las Vegas proper, Boulder City feels a world away from the glitz and glam of the Strip. One of two Nevada towns that prohibits gambling, it's easy to take it slow in this historic community, where nature trails and cultural attractions are the name of the game. The Historic Railroad Hiking Trail winds 3.5 miles through five different former railroad tunnels that were used to ferry materials to the Hoover Dam. You can hike or bike along the flat smooth path, but keep a lookout for bighorn sheep, owls and other animals that are sometimes seen along the trail. The Nevada State Railway Museum has even more information about the state's long history, with locomotive travel dating back to 1827. Take a 7-mile excursion in a historic 1930's Pullman coach for a truly immersive experience on the Nevada Southern Railway.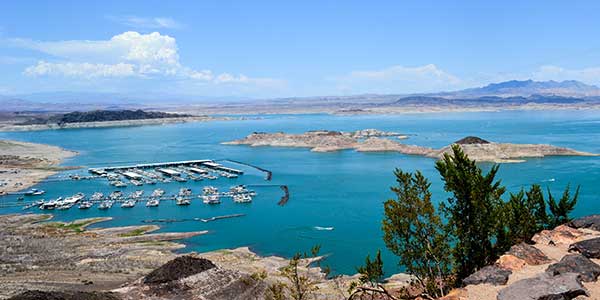 4. Hoover Dam
Drive 8 miles, 20 minutes
A true modern marvel, the Hoover Dam has stood for over eighty years as a testament to American ingenuity. Blocking the flow of the Colorado River as it descends into Black Canyon, the amazing hydroelectric operation offers both power plant and dam tours, both of which can fill up quickly, so be sure to reserve in advance. Just down the river, the Mike O'Callaghan-Pat Tillman Memorial Bridge spans the canyon and, as the highest concrete arch bridge in the world, offers stunning vistas and photo opportunities of the concrete structure and beyond. Finish your trip with a visit to nearby Lake Mead National Recreation Area where boating, kayaking, swimming and sports fishing combine for one of the country's best four-season places for outdoor fun. Boasting over 700 miles of shoreline, Lake Mead, the largest reservoir in the U.S., is truly heaven for anglers who can look forward to landing bass, bluegill, trout and more.