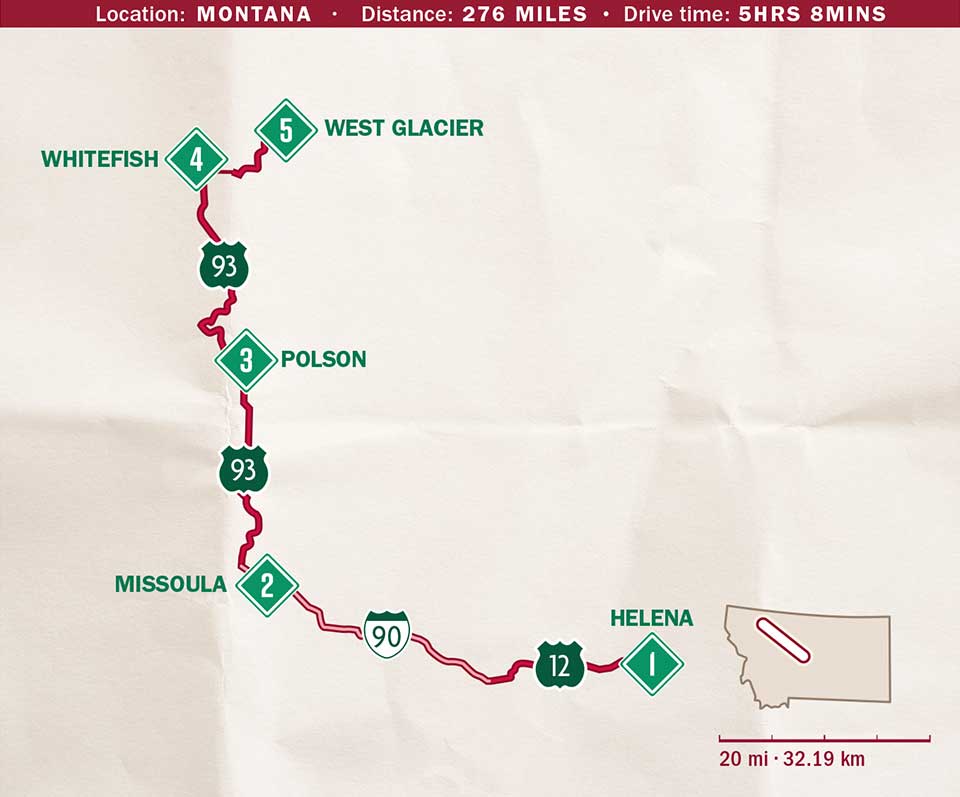 Some visitors to Montana prefer looking down for hefty trout instead of gazing up at the state's fabled Big Sky. You can't blame them. In places like Flathead Lake and Whitefish Lake, anglers fill their nets with sizable trout, pike and salmon. Prefer fly-fishing in the city? Wade into Clark Fork River in Missoula, where brown and rainbow trout swim the current. If you seek something that pumps the adrenaline, strap on some water skis and jump the wake. Dry-land pursuits also beckon. The trails that run through Glacier National Park lead hikers to unforgettable mountain vistas and wildlife sightings.
1. Helena
Starting Point
Downtown Helena resonates with its gold rush past, when the town became one of the world's richest gold-producing areas in the mid-1800s. Reeder's Alley is the oldest intact piece of early Helena and this stretch of town preserves the spirit of the pioneers. Take a walking tour to see historic structures and businesses that honor the past. Outside of town, the Helena-Lewis and Clark National Forest comprises over 2.8 million acres of terrain explored by Lewis and Clark between 1804 and 1806. Opportunities to mountain bike, ride off-highway vehicles, hike, horseback ride, cross-country ski and snowmobile on 2,600 miles of scenic trails. Lift a tall one at the Lewis & Clark Brewing Company and visit Anchor Park to learn about ships named after the town.
2. Missoula
Drive 113 miles • 1 hour, 55 minutes
Nestled in a pretty valley along the Clark Fork River, this attractive and thriving city is sprinkled with independent bookstores, brewpubs, a wonderful art museum and scores of locally run restaurants. The river that does run through town, the Clark Fork River, is Missoula's iconic backyard, with long, wide runs, riffles and flats that yield consistently large numbers of rainbow, cutthroat and brown trout.
3. Polson
Drive 70 miles • 1 hour, 20 minutes
Flathead Lake is the largest natural freshwater lake west of the Mississippi in the lower 48 states, Flathead Lake draws novice and seasoned anglers for lake trout (often as big as 20 pounds), whitefish, northern pike and bull trout. Prefer a current? The Flathead River is the setting for scenic, family-friendly floats and whitewater raft trips on the lower Flathead River as well as kayaking and paddleboard rentals. Several outfitters in town will prep you for the trip.
4. Whitefish
Drive 68 miles • 1 hour, 19 minutes
In downtown Whitefish, the sidewalks of popular Central Avenue are flanked by galleries and eclectic, locally run businesses. The Stumptown Historical Society Museum is filled with artifacts and memorabilia that chart the town's birth and development as a railroad town. On nearby Whitefish Lake, anglers will find significant numbers of large mountain whitefish, as well as bull trout, rainbow trout and northern pike. The lake is a haven for water sports with power boat, canoe and sea kayak rentals. There's a calm swimming area at City Beach that's ideal for families with small children.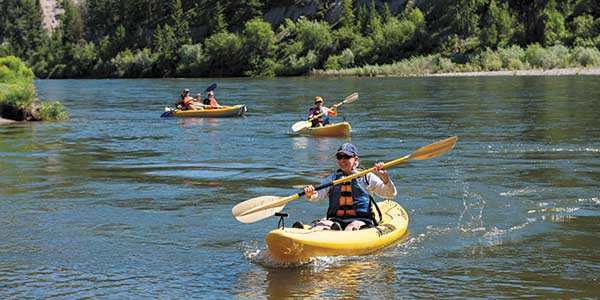 5. West Glacier
Drive 25 miles • 34 minutes
After exploring the town of West Glacier, take a jaunt into the sprawling Glacier National Park to explore the 700 miles of hiking and biking trails that snake through mountainous landscapes. Hitch a ride aboard one of the park's iconic red buses to enjoy the jaw-dropping views of the Going-to-the-Sun Road. Still haven't scratched that fishing itch? Lake McDonald, the park's largest body of water, stretches for 10 miles on the floor of the stunning Lake McDonald Valley. Although the fishing isn't perfect here — there are cutthroat and rainbow trout — the surrounding beautiful scenery may very well make up for it. Test your golfing skills with stellar views at a nearby course or go biking on a challenging trail.