This Missouri RV trip features stops at two jumbo-sized lakes with all the water-based fun you can handle. Get ready for great opportunities for boating, swimming and plain old relaxing. Roll into your last stop in Branson, "The Live Show Capital of the World," then choose between musical performances and fishing on nearby Table Rock Lake.
1. Truman Reservoir
Starting Point
The Truman Reservoir (also known as Harry S. Truman Lake) is the largest man-made lake in Missouri — the whole park encompasses 259 square miles. You'll find marinas for boat rentals and endless fishing for largemouth bass, spotted bass, channel catfish, flathead catfish and more. The Truman Dam's visitors center provides long, spectacular views and detailed info and displays of centuries of life in the Osage River valley, from pre-history to modern times.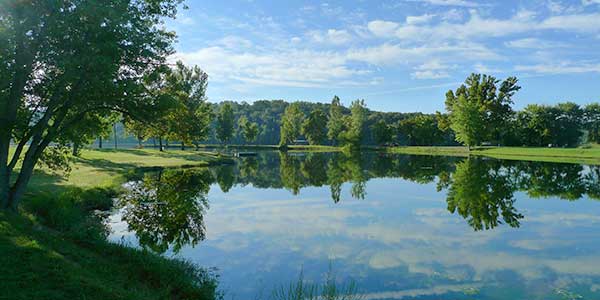 2. Lake of the Ozarks
Drive 42 miles • 54 minutes
There's a cove on the lake in Lake of the Ozarks State Park the New York Times called "the oldest established permanent floating bacchanal in the country." Join the party or find quieter waters (and better fishing) on this man-made lake's 54,000 acres. The lake's famous as one of the best spots to reel in largemouth bass, crappie, catfish and bluegill. Back on shore, hike 34 area trails or explore underground in four local caves. Nearby, visit a local winery, museums and even an aquatic center. The Coakley Hollow Trail is a one-mile interpretive loop that traverses a variety of habitats, including an Ozark spring branch.
3. Springfield
Drive 93 miles • 1 hour, 41 minutes
This city-on-the-rise has all the charisma that you would expect from a pivotal stop on Route 66. Start by checking out the boutiques and eclectic, handcrafted goods for sale along the stretch of Commercial Street known as the "C-Street Stroll." See the outdoors without leaving the city at the Springfield Conservation Nature Center, where the Ozark environs are on display.
4. Branson
Drive 44 miles • 50 minutes
Branson is the undisputed capital of entertainment in the Midwest. Throughout the town, theaters put on shows by entertainers from the singing Osmonds to comedian Yakov Smirnoff. Find more fun in Silver Dollar City, an amusement park with wholesome diversions. Take a breather at Table Rock State Park. Great fishing, picnic spots and bike trails abound. Rent a canoe, a ski boat, a paddleboard — even take a scuba diving excursion! During the holidays, the town gleams in fantastic light displays. Work up an appetite then enjoy a dinner cruise on Table Rock Lake aboard the Showboat Branson Belle, the largest vessel built on a landlocked lake. Performers keep guests entertained during the voyage.
Recommended Stopovers
America's Best Campground • Branson, MO – (800)671-4399