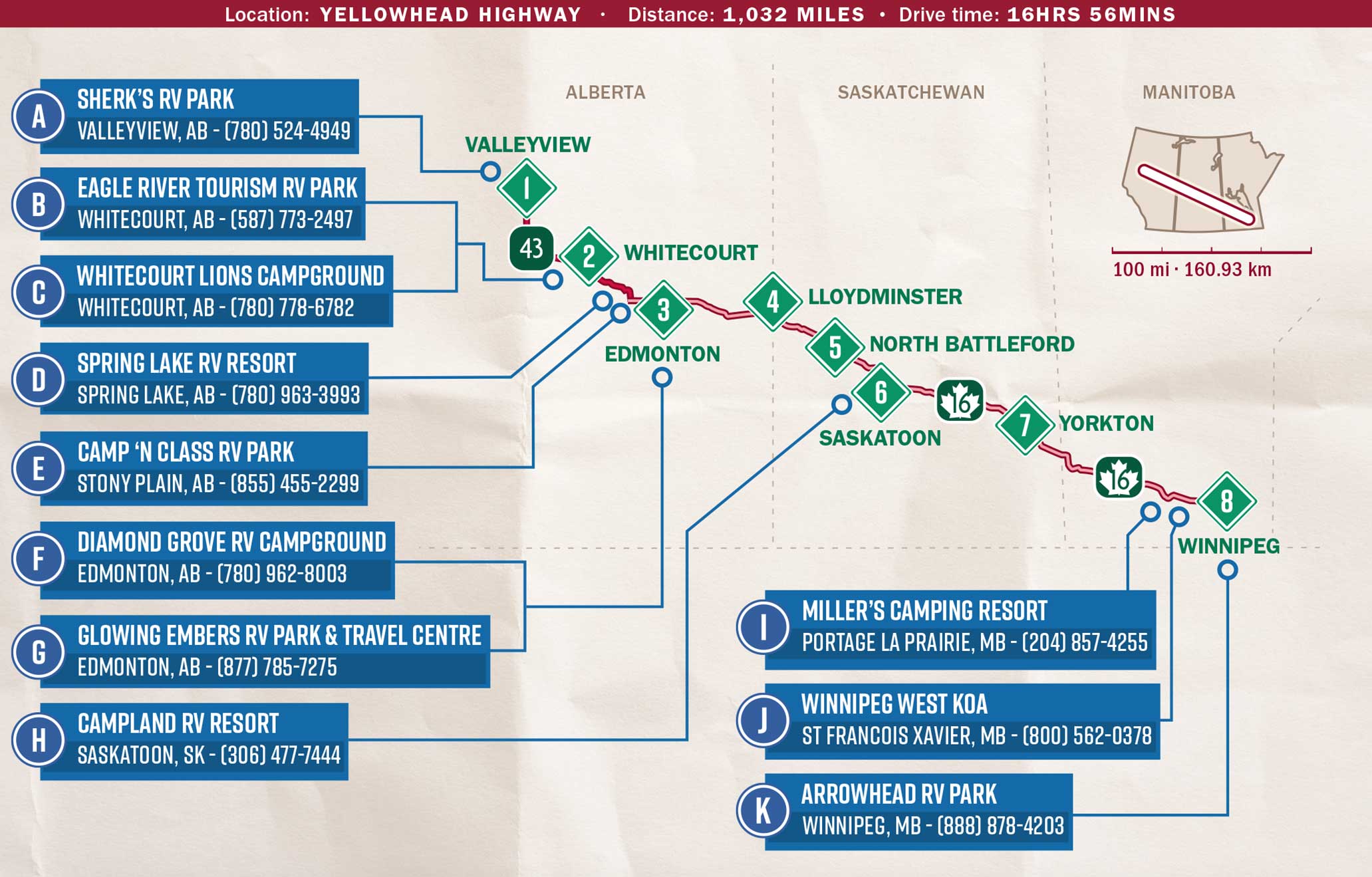 This classic thousand-mile trip along the Yellowhead Highway introduces travelers to the diverse landscapes and unique cultures of Canada's heartland. From the serene valleys of Peace River Country, to the sweeping prairies of Saskatchewan and the city skylines that punctuate the route along the way, you'll have the chance to enjoy everything from catching rainbow trout to riding rollercoasters as you head east from Valleyview to Winnipeg.
1. Valleyview
Starting Point
Known as the "Portal to the Peace," the small town of Valleyview sits at a crossroads of adventure. Head north and you'll soon hit the majestic Peace River, which boasts ample canoeing, hiking and fishing and the Mackenzie Highway, which leads to far-flung destinations in northern Alberta and the Northwest Territories. Head west and it's on to Dawson Creek and the famed Alaska Highway that takes intrepid travelers all the way to Fairbanks. Highway 43 leads south to the Yellowhead Highway and all points east.
Recommended Stopovers
Sherk's RV Park • Valleyview, AB – (780)524-4949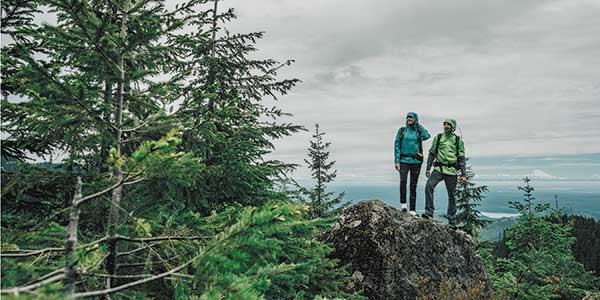 2. Whitecourt
106 miles • 1 hour, 39 minutes
On the banks of the Athabasca River, Whitecourt is surrounded by a ruggedly beautiful landscape that draws visitors looking to explore some of the most pristine woodlands in the country. Head to the Carson Pegasus Provincial Park, just 12 miles north of town, to enjoy trails through aspen, poplar and white spruce forests or fish for rainbow trout in Mcleod Lake. Canoes and kayaks are also available to rent on-site. Fort Assiniboine Sandhills Wildlands Provincial Park is a haven for birdwatchers and wildlife photographers. Take a trip to the nearby Eagle River Casino and Travel Plaza for gaming along with entertainment from top musical acts.
Recommended Stopovers
Eagle River Tourism RV Park • Whitecourt, AB – (587)773-2497
Whitecourt Lions Campground • Whitecourt, AB – (780)778-6782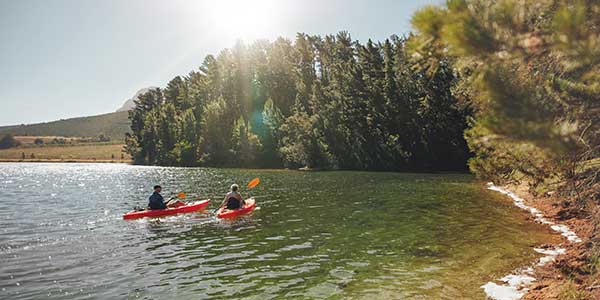 3. Edmonton
Drive 113 miles • 1 hour, 54 minutes
It's only a quick drive southeast from Whitecourt before you connect with the historic Yellowhead Highway and arrive in Edmonton, Alberta's fast-growing capital city. Head straight to the West Edmonton Mall, a sprawling collection of shops and attractions that puts just about every other mall in North America to shame. Equivalent to nearly 48 city blocks, you could spend days exploring the hundreds of boutiques and restaurants, as well as the casino, mini-golf courses, aquarium and amusement park rides that call the mall home. More attractions await outside at Fort Edmonton Park where the city's history from the fur-trading era to the Roaring Twenties comes to life through a collection of themed streets and costumed reenactors.
Recommended Stopovers
Spring Lake RV Resort • Spring Lake, AB – (780)963-3993
Camp 'N Class RV Park • Stony Plain, AB – (855)455-2299
Diamond Grove RV Campground • Edmonton, AB – (780)962-8003
Glowing Embers RV Park & Travel Centre • Edmonton, AB – (877)785-7275
4. Lloydminster
Drive 156 miles • 2 hours, 30 minutes
Founded in 1903, Lloydminster was settled by colonists hoping to create a utopian community. Though their original plan might not have worked, the colonists inadvertently bestowed the new city with a different claim to fame. Situated directly on the 4th Meridian border between Alberta and Saskatchewan, Lloydminster isn't split in half by the two provinces, but instead shared by both. It's a unique arrangement that the city explores at landmarks like the Lloydminster Cultural & Science Centre, where the area's history, art and wildlife come together in immersive exhibits. During the summer, festivals dominate the social scene in town with events like the annual bull-riding rodeo, the Arts Without Border Festival and the Colonial Days Fair as local favorites.
5. North Battleford
Drive 86 miles • 1 hour, 20 minutes
Located in west-central Saskatchewan, North Battleford unfurls along the North Saskatchewan River. The Western Development Museum celebrates Saskatchewan's agricultural heritage with engaging exhibits that spotlight the region's indigenous culture and outlines Saskatchewan's history from 1905 to 2005. Visitors can take a trip down an elevator shaft to a subterranean exhibit space that focuses on Saskatchewan's mineral bounty. Enjoy fresh vegetables and other treats at the Battleford & District Framers Market, or drop a line in the North Saskatchewan River.
6. Saskatoon
Drive 86 miles • 1 hours, 25 minutes
The "City of Bridges" is the largest in Saskatchewan and serves up more than its fair share of cultural and outdoors amenities. Start your visit by exploring The Meewasin Trail, which encompasses pathways on both sides of the South Saskatchewan River and winds under bridges, through landscaped parks and past museums and historical sites. It's a great way to get the lay of the land and introduce yourself to the sweeping scenic vistas that define the city. First Nations sites like the nearby Wanuskewin Heritage Park and frontier-life institutions like the famed Western Development Museum are unique to this part of Saskatchewan and shouldn't be missed.
Recommended Stopovers
Campland RV Resort • Saskatoon, SK – (306)477-7444
7. Yorkton
Drive 204 miles • 3 hours, 18 minutes
About 180 miles southeast of Saskatoon, the small town of Yorkton is an angler's paradise. Dotted with lakes, the landscape offers plentiful opportunities for landing walleye, trout and pike, but few are better than nearby Good Spirit Lake Provincial Park. Home to one of the "top ten beaches in Canada" according to Maclean's, the park strikes the perfect balance between fun-loving and relaxing. There's mini-golf, volleyball, swimming, sand dunes and enough room on the water to land the big one. For fun on dry land, hit the links at Deer Park Golf Course or nearby York Lake Golf and Country Club.
8. Winnipeg
Drive 281 miles • 4 hours, 50 minutes
The Yellowhead Highway ends in Winnipeg, a gateway city that lies at the east-west center of North America. One of Canada's cultural hotspots, it's home to numerous museums and festivals that keep visitors coming back year after year. The Forks, an historic site and green space where the Red and Assiniboine Rivers meet, includes a scenic viewing platform, market, Children's Museum, the Canadian Museum for Human Rights, gardens, historic bridges and more. It's major hub where Winnipeg's 6,000 year history as a meeting place comes alive. Lucky folks who arrive during late summer will be treated to Canada's largest and longest-running festival, Folklorama, which features crafts, music and dance from cultures around the globe. The Assiniboine Park Zoo exhibits polar bears and other creatures.
Recommended Stopovers
Miller's Camping Resort • Portage La Prairie, MB – (204)857-4255
Winnipeg West KOA • St Francois Xavier, MB – (800)562-0378
Arrowhead RV Park • Winnipeg, MB – (888)878-4203