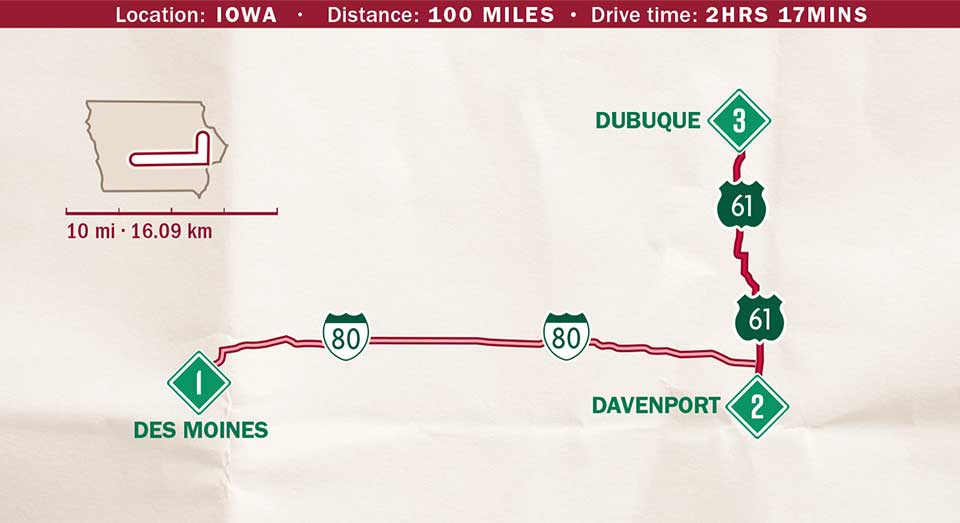 Set your cruise control and drink in the placid beauty of our All-American heartland on your Iowa road trip. Start in Des Moines, home of the country's most famous state fair in August (there's always something going on at the fairgrounds). Wander east to Davenport, the gem of the region's Quad Cities, for outdoor fun and a convenient day-trip base. Push north to the Mississippi River town of Dubuque. You'll be surprised at the adventures you'll find there (we were!) — you can actually hit the ski slopes or take a high-speed Mississippi River cruise in an ex-military cruise boat and more.
1. Des Moines
Starting Point
Since way back in 1854, Iowa's state capital has hosted a huge, 11-day State Fair in August. And there's plenty to see all year at America's most famous state fairground, from horse shows to flea markets to quilt shows. And there's a lot of outdoor adventure here, too. Hike and bike over 800 miles of trails throughout the area, tee off at five great golf courses, sluice down a water slide or go tubing on the Raccoon River. Sports fans can cheer the home team at an Iowa Cubs baseball game. On a rainy day, visit the Wells Fargo History Museum — we found it fascinating.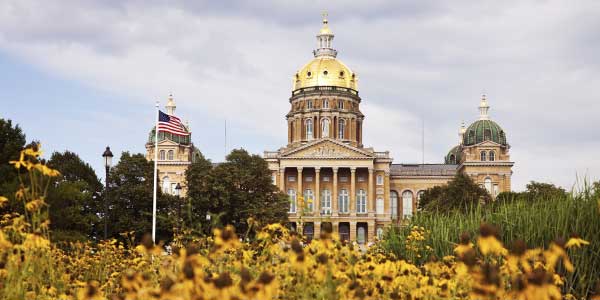 2. Davenport
Drive 168 miles, 2 hours, 35 minutes
Davenport's the heart of the region's "The Quad Cities," where you'll find a wide variety of outdoor adventure venues. Shoot a round of golf at local courses. Cheer the River Bandits ball team. Rip down a zip line, scream at a drag race, watch a waterskiing show or catch a flick at a classic drive-in. Make the Quad Cities your base and take RV day trips for fun and adventure in nearby urban hubs, including Chicago, Des Moines, St. Louis, Kansas City and Minneapolis. Head back to Davenport in time to watch sunsets over the Mississippi from the pedestrian-friendly Davenport Skybridge.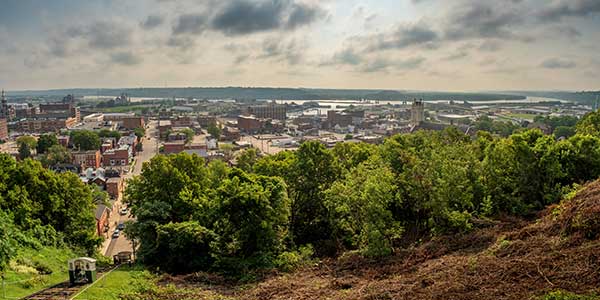 3. Dubuque
Drive 72 miles, 1 hour, 13 minutes
Who knew? You can actually go downhill skiing and snowboarding in the heart of America's Midwest. Dubuque's Sundown Mountain has over 475 feet of vertical drop, 6 lifts and 21 trails. But if you want a truly extraordinary, one-of-a-kind adventure, try our hands-down favorite: SWAT River Tours — not your everyday boat tour. This one's on the mighty Mississippi in a high-performance, ex-military, rigid-hull inflatable boat powered by a 480-horsepower diesel engine and water-jet propulsion. Don't forget to fasten your seat belt.