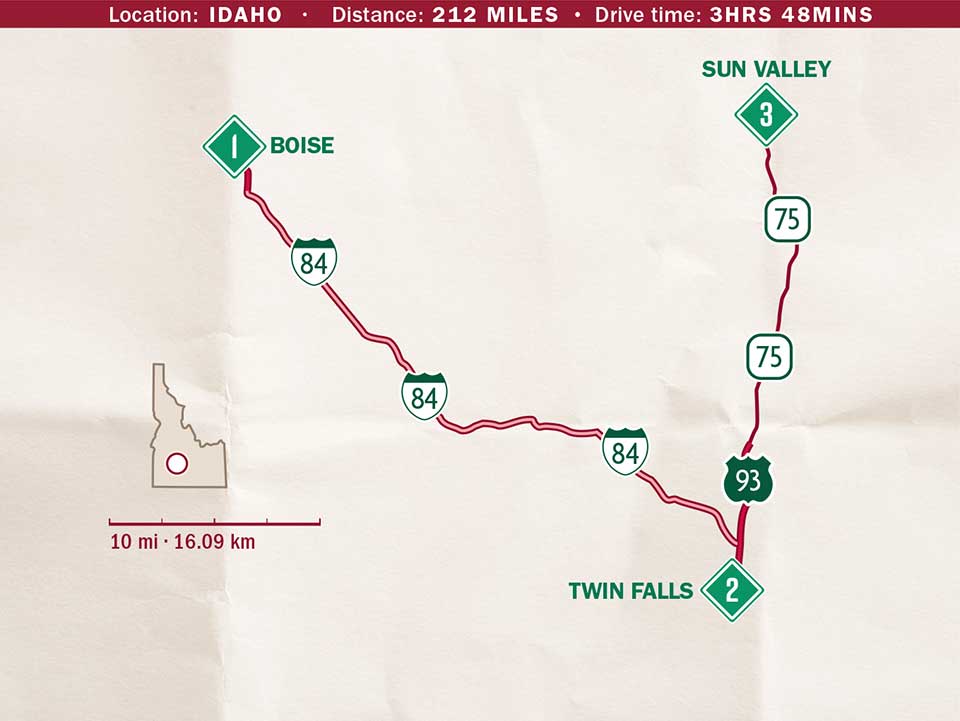 Idaho covers the spectrum of outdoor adventure possibilities. Find big-city thrills in Boise, then hit the highway for adventures in the surrounding mountains. Geological history and cowboy lore blend seamlessly in the Gem State, an underrated (and uncrowded) vacation destination.
1. Boise
Starting point
Nicknamed City of Trees for its abundance of cottonwoods, willows and pines, Boise gives you something to do no matter what your interest. Take a stroll through the woods in the Boise National Park or brave the rapids down Boundary Creek. Stop by one or all of the city's microbreweries or just kick back and enjoy a day of fishing on the Snake River. Challenge yourself to a ghost hunt at the Old Idaho Penitentiary or take the kids the zoo.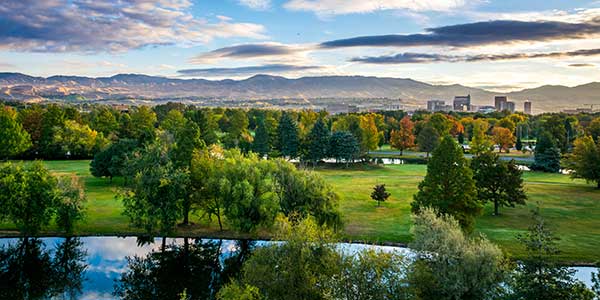 2. Twin Falls
Drive 129 miles, 2 hours, 2 minutes
If you're into taking pictures of beautiful waterfalls, then you'll want to check out the Niagara of the West near the town of Twin Falls. Start at Shoshone Falls, with a 212-foot drop and a width of 900-feet, making it one of the largest waterfalls in the U.S. Then, charge up your camera and make your way to Snake River Canyon, Pillar Falls, Perrine Coulee Falls and, of course, Twin Falls. You'll marvel at the natural beauty and your friends will be jealous when they see your pictures.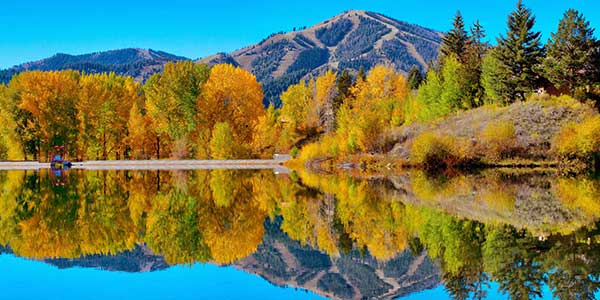 3. Sun Valley
Drive 83 miles, 1 hour, 46 minutes
The picture-perfect mountains and crystal-clear lakes of Sun Valley make it an all-season destination for the whole family. In the winter, the area is known for its skiing, but as the snow melts, the mountains come alive with meadows carpeted in wildflowers. Miles of mountain trails and equestrian routes guide visitors to jaw-dropping vistas. Check out the Sawtooth Recreation Area, where you can enjoy a soak in a hot spring, go fly-fishing in a fishing stream or white-water rafting in Salmon River.